Medical Student Performance Evaluation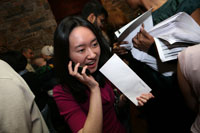 The Medical Student Performance Evaluation (MSPE) represents an evaluation of a medical student's performance during the process of medical education. Each current student will have their MSPE/Dean's letter scanned into the system on or before the Oct. 1 deadline. All MSPEs transmitted via ERAS are automatically held until Oct. 1. Paper copies sent to programs are not mailed before Oct. 1.
Prior-year graduates applying to immediately vacant positions that are not open to U.S. medical school seniors are not subject to the Oct. 1 MSPE release date. MSPEs for these applicants may be sent outside of ERAS as soon as they are available.
Steps to Complete MSPE Worksheet
The MSPE worksheet is one of the documents that we use to help us construct your MSPE. It is critical that you submit this to us by the designated date in July. In order to submit your worksheet, you will need to have competed your CV and personal statement. These only need to be drafts. They do not need to be your finalized versions. Please follow the directions below:
1.   Login to eMerg.
2.   Click "MSPE Worksheet" on the left.
3.   Complete the form and click "Submit" at the bottom of the page.