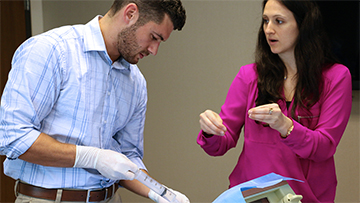 Evidence-based Approaches to Learning
Our approach to fostering continued academic success is based on the application of learning strategies that have been supported by research evidence and by students' experiences. Learning strategies such as active retrieval practice, spaced repetition, elaboration, and reflection are integrated into the curriculum at every level, and a number of services are offered to help students adjust their approach to the rigors of the Feinberg curriculum:
All students are invited to complete a learning strategies assessment and receive feedback on how to approach the transition to the Feinberg curriculum based on their strengths and potential for growth.   
One-on-one guidance in the implementation of self-regulated learning strategies are available in meetings with faculty and staff.
Using learning guides, time management, organizations, executive functioning skills, and other topics are also the focus individual meetings and asynchronous learning sessions.
Contact Us