Early Career Launch Program
The Department of Urology is committed to ensuring that our faculty members are in the best possible position to succeed professionally. We realized that mentorship is an essential ingredient for faculty success. As a result, we have developed a robust mentorship program that is tailored to the values of Northwestern and the needs of our junior faculty members.
Program Overview
The Northwestern Urology Early Career Launch Program is a three-year mentorship program designed for early career faculty (1-3 years post-training), emphasizing the areas of research, teaching, and clinical skills, particularly concerning career satisfaction, career management, and collegial networking. Launch teams (mentees, mentors, Dr. Ross and Dr. Schaeffer) will focus on key aspects of faculty growth and development. The goals, metrics, and deliverables for each meeting and academic year will be developed by the early career faculty member with their Launch Team.
Suggested areas of focus for meetings and deliverables include:
Clinical: case mix, clinical volume, resources, scheduling, acquisition of new techniques, OR block time
Education: development of teaching skills, formal teaching roles within Department and Institution
Leadership: management and organizational skills, career goals, professional strengths, leadership education and development
Promotion Planning: metrics to achieve, references and support, timing and trajectory
Academic (Optional Track): research portfolio and focus, grant writing and funding, resources and space, utilization of resources and funding
Timeline 
Mentors and mentees will meet bimonthly during the first year of the program followed by quarterly meetings in years 2 and 3. Participants will also be required to attend a twice-annual group meeting with the entire Launch Team cohort. The group meeting will take place in September and March. The goals, metrics, and deliverables for each meeting and academic year will be developed by the early career faculty member with their Launch Team.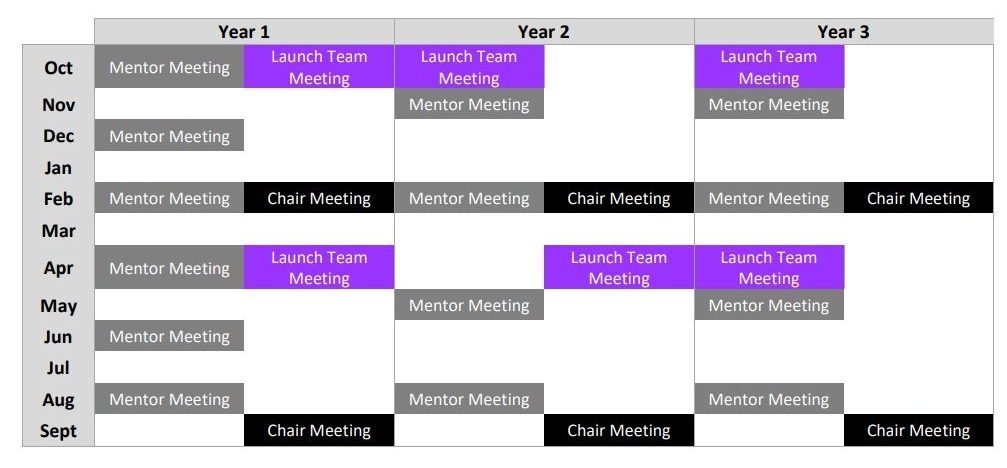 Program Documents 
The following documents were designed to support a smooth process for the Launch Team cohort and to evaluate and continuously improve the mentorship program. These documents are password protected and if you are a part of the Launch Team cohort, you should have received the password at the beginning of the program (if you are having any issues locating the password, please email Mildred Okwuedei):
Workbook
The workbook is designed to provide an orientation to the program and mentoring process, sample mentorship meeting agendas, self-assessments, journal templates, and recommended readings and activities. The resources in this workbook are reflective of the focus areas of the program: personal development, professional development, skill development, academic career guid­ance, and leadership. 
Modules
The Launch Team Program includes six training modules that align with key developmental domains for new faculty. Modules are designed to provide a framework for meeting discussions. Modules may be completed in an order that best supports mentee goals. These areas are: 
What is Your Why? 
Building a Clinical Practice 
Becoming an Educator 
Strategic Service 
Mentorship 
Promotion Planning 
Optional Modules 
Building Teams and Culture
Scholarly Work 
2022-23 Inaugural Launch Team Pairing-Designated Folders- A pairing designated folder was created at the beginning of the program to make it easier for each mentorship pairing to organize and store files.  
Access 2022-23 Inaugural Launch Team Pairing-Designated Folders
Mentee Action Plan - To determine activities that ensure mentoring goals are met; a mentee action plan is a must. The mentee will complete the plan with help from the mentor. 


Access Mentees action plan

Mentorship Meeting Log - The mentee and mentor should record their meetings and activities to show progress achieved and assist with end-of-program feedback. 


Access mentorship meeting logs

Evaluation - At the mid-point of the program and at the end, mentees and mentors will be asked to evaluate the program. Their input will help make any necessary adjustments to ensure the program remains effective. 


Access evaluation form
Meet Our Launch Team Cohort for 2022-23
Learn more about the Early Career Launch Program inaugural Launch Team cohort members for 2022-23
Faculty Resources
The Northwestern University Feinberg School of Medicine offers numerous resources to assist faculty in pursuing the careers they want. Browse or search the programs, services and resources available to faculty.