Female Pelvic Medicine
Conditions we treat within this category include:
Fistula, an abnormal hole in the wall of the vagina or other organs
Incontinence
Overactive bladder
Pelvic organ prolapse
Urethral diverticula
Voiding dysfunction
The Female Pelvic Medicine and Reconstructive Surgery (FPMRS) program focuses on treatment options for urological conditions such as voiding disorders, pelvic floor disorders, vaginal prolapse, and female incontinence. These conditions impact up to 25% of women and can have significant negative impact on one's quality of life. Our team is conducting research to improve current treatment options while partnering with women to provide them with the highest quality of care to meet their individual needs.
The goal of our research is to develop breakthrough treatments and to enhance the quality of care of women suffering from pelvic floor disorders. We are currently conducting clinical trials as well as outcomes-based research focused on reducing symptom burden and improving the overall quality of life for women with pelvic floor disorders.
Selected Publications
Abdominal Versus Standard Placement of the Sacral Nerve Stimulator Implantable Pulse Generator. Manjunath A, Keeter MK, Koloms K, Kielb SJ. Urology. 2019 May; 127: 49-52.

A Review of Botulinum Toxin A for the Treatment of Neurogenic Bladder. Cooley LF, Kielb S. PM and R. 2019 Jan. 
 
Female Voiding Dysfunction and Urinary Incontinence. Vo A, Kielb SJ. Medical Clinics of North America. 2018 Mar; 102(2): 313-324.

Prolapse repair with and without apical resuspension—Practice patterns among certifying American urologists. Liu JS, Nettey O, Vo AX, Hofer MD, Flury SC, Kielb SJ. Neurourology and Urodynamics. 2017 Feb; 36(2): 344-348.

Characterizing Pelvic Organ Prolapse in Adult Spina Bifida Patients. Liu JS, Vo AX, Doolittle J, Hamoui N, Lewicky-Gaupp C, Kielb SJ. Urology. 2016 Nov; 97: 273-276.

Anatomic outcomes of robotic assisted supracervical hysterectomy and concurrent sacrocolpopexy at a tertiary care institution at initial adaptation of the procedure
Prendergast E, Silver H, Johnson LL, Simon M, Feinglass J, Kielb S, Hairston J, Lewicky-Gaupp C Female Pelvic Medicine and Reconstructive Surgery. 2016 Jan; 22(1): 29-32.
Many women are reluctant to talk to their physicians about these issues, but these conditions are very common and, in many cases, have a simple resolution. Our team is led by Dr. Stephanie Kielb, a board certified urologist with fellowship training in FPMRS. We offer sacral neuromodulation and botulinum toxin injections for urinary leakage in addition to minimally invasive procedures for stress incontinence and pelvic organ prolapse, including robotic surgery as well as native-tissue and mesh slings.
Specialty Chief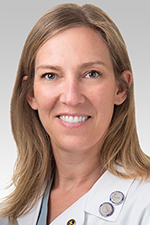 Stephanie Kielb, MD
Division Chief, Reconstructive Urology, Neurourology, and Pelvic Medicine
Professor, Department of Urology, Medical Education, and OB/GYN