Congenital Genitourinary Disorders
A congenital anomaly is an anatomic variation present at birth that can cause health problems or affect how the body works.
The Transitional Urology Program at Northwestern Medicine provides comprehensive and continuous care for all congenital conditions of the genitourinary system. These conditions often affect the reproductive and urinary systems, and require long-term, expert urologic care from childhood into adulthood.
Our team combines the expertise of an adult urologist who has been treating these conditions since 2002 with a urologist who has a joint appointment in adult urology at Northwestern Memorial Hospital and pediatric urology at Ann & Robert H. Lurie Children's Hospital. Our team of experienced urologists has specialized training to facilitate uninterrupted care for all patients with long-term urologic problems diagnosed in childhood.
Our goal is to provide effective and streamlined care for all complex congenital conditions of the genitourinary system, including
Spina Bifida
Exstrophy and Epispadias
Cloacal Anomalies
Neurogenic Bladder and Bowel
Ureteral Anomalies (Ureterocele, Duplicated Kidneys, Ectopic Ureter)
Vesicoureteral Reflux
Posterior Urethral Valves
Prune Belly Syndrome (Eagle Barrett Syndrome)
Pediatric Urologic Cancer (Rhabdomyosarcoma, Wilms)
Hypospadias
Differences of Sexual Development
To learn more or to schedule an appointment, call 312.695.9694.
Dr. Stephanie Kielb and Dr. Diana Bowen are conducting research on the needs and outcomes of patients with congenital disorders in adulthood. Proper care of these patients requires vigilant follow-up throughout the patient's life, including longitudinal care as they transition from childhood to adolescence and then to adulthood.Drs. Kielb and Bowen aim to identify the long-term needs of this population in order to improve care and quality of life for these patients.
Selected Media
In this podcast, Drs. Bowen and Kielb discuss Northwestern's adult multidisciplinary Transitional Urology Program. They discuss a study that summarized perceptions and best practices for the care of adult spina bifida patients. They also share top recommendations for physicians or healthcare providers to consider when creating a successful transition experience and monitoring adults with these conditions, and how best to serve these populations most effectively. Listen here
Selected Publications
Long-term Kidney Outcomes in Exstrophy-Epispadias Complex: How Patients Present as Adults. Handa N, Bowen DK, Guo J, Chu DI, Kielb SJ. Urology. 2021 Aug. 
Complications in adulthood for patients with paediatric genitourinary reconstruction. Nettey OS, Bowen DK, Santiago-Lastra Y, Metcalfe P, Kielb SJ. World J Urol. 2020 Jun 11.
Healthcare transition for patients with differences of sexual development and complex urogenital conditions. Chulani VL, Gomez-Lobo V, Kielb SJ, Grimsby GM. Semin Pediatr Surg. 2019 Oct.
Urologic provider experiences in transitioning spina bifida patients from pediatric to adult care. Agrawal S, Slocombe K, Wilson T, Kielb S, Wood HM. World Journal of Urology. 2019 Apr.
Management of Recurrent Pelvic Fluid Collections in Adult Male Bladder Exstrophy Patients With Maintenance of Erectile Function. Wong V, Cina DP, Alexeeva O, Brannigan R, Nadler RB, Hairston JC, Kielb S, Hofer MD. Urology. 2019 Mar; 125: 256-259.

Characterizing Pelvic Organ Prolapse in Adult Spina Bifida Patients. Liu JS, Vo AX, Doolittle J, Hamoui N, Lewicky-Gaupp C, Kielb SJ. Urology. 2016 Nov.
 
The recommendations of the 2015 American urological association working group on genitourinary congenitalism. Eswara JR, Kielb S, Koyle MA, Wood D, Wood HM. Urology. 2016 Feb.
 



Our approach to care will be tailored to your specific condition. We work with our network of providers in nephrology, plastic and reconstructive surgery, colorectal surgery, physical medicine and rehabilitation, orthopedics and neurosurgery to develop a care plan that focuses on quality of life and independence. This multidisciplinary and collaborative approach helps to provide comprehensive and uninterrupted care for patients.
To learn more or make an appointment, please call (312) 695-9694 or visit the Transitional Adult Congenital Genitourinary (TRAC) Clinic of Northwestern Medicine.
Specialty Chief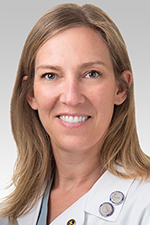 Stephanie Kielb, MD
Division Chief, Reconstructive Urology, Neurourology, and Pelvic Medicine
Professor, Department of Urology, Medical Education, and OB/GYN