Our research program is ranked third nationally among all urology departments for National Institutes of Health Funding. Our multidimensional, highly transformative approach aims to translate scientific discoveries into impactful medical solutions for patients.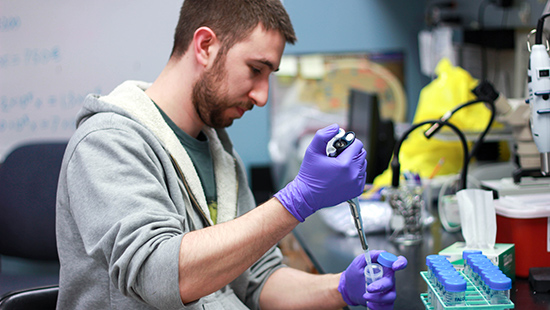 Clinical Trials
Clinical trials test or study drugs, surgical procedures, medical devices or interventions with human subjects. Read more about our actively recruiting clinical trials.
Policies & Resources
Our department wants to support our investigators in their efforts by making sure they're updated on all of our policies for conducting responsible research and the many resources available to them.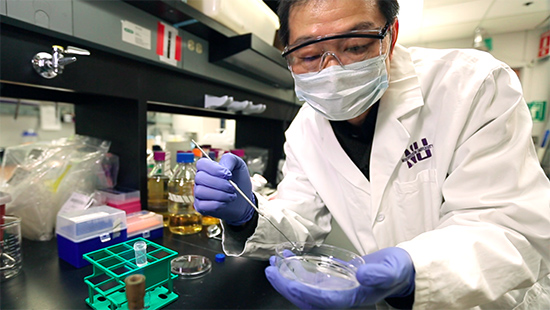 Resident Research
Our residents spend a year working with Northwestern faculty to design and implement a basic science or clinical research project of their choice. See our Residency Curriculum section for more information on the role of research in our residency program.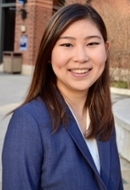 Jenny Guo
Dr. Guo is working under mentor, Dr. Amy Krambeck, to design and lead a prospective randomized controlled trial involving a novel mobile health platform designed for chronic kidney stone formers to evaluate improvements in quality of life and quantitative measures of stone risk. The mobile application was designed in partnership with GetWell Loop and will feature interactive dietary and medication reminders, stone educational material, and secure messaging. In addition, she will be working on projects evaluating commercial lemonade beverage and effects on 24-hour urine collections and HoLEP outcomes in neurological disease states.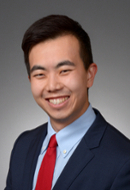 Eric Li
Dr. Li is working with Dr. Ashley Ross to understand the utility of digital pathology and artificial intelligence (AI) for prostate cancer risk stratification. His primary focus is using several AI algorithms to improve gleason grading, identification of variant histology, and prognostication for patients undergoing active surveillance and radical prostatectomy. Furthermore, he has an interest in understanding the interplay between prostate cancer histology, genomic alterations, and subtypes of prostate cancer which may predict response to systemic therapies. He will also be working on projects to integrate a prostate MRI nomogram into the Northwestern EMR, examine rates of genetic testing in patients with advanced prostate cancer, and characterize the use of relugolix within the Northwestern system.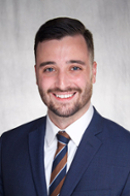 Noah Frydenlund
Dr. Frydenlund is working with Dr. Meeks to better understand the molecular features of response to intravesical therapies in non-muscle invasive bladder cancer using digital spatial profiling. The goal of this research is to identify possible biomarkers to help predict response to BCG. Additionally, Dr. Frydenlund is evaluating the use of mesh strips in radical cystectomy to reduce the rate of parastomal hernia occurrence.