Urologic Oncology
Accounting for almost 20% of cancers worldwide, urologic cancers include malignancies of the prostate, bladder, kidney and testes. The Department of Urology is home to an outstanding team of scientists, clinicians and fellowship-trained urologic oncologists with significant expertise in urologic cancers. Together, our physicians and basic science researchers are working to increase our understanding of the biology of urologic cancers, create innovative tools to distinguish aggressive disease, develop novel and more effective treatments, and to improve the overall survival and wellbeing of patients.
Conditions we treat within this category include:
Bladder cancer
Kidney cancer
Testis cancer
Prostate cancer
The Polsky Urologic Cancer Institute of the Robert H. Lurie Comprehensive Cancer Center of Northwestern University at Northwestern Memorial Hospital offers comprehensive care for patients with all forms of urologic cancer. Our new multidisciplinary institute sets a new standard in urologic cancer care. Learn more about the types of cancers we treat, their symptoms, and our approach to diagnosis and treatment.
Selected Media
In the United States, there are an estimated 72,570 new cases of bladder cancer each year. Our team is committed to conducting innovative research to increase our understanding of the biology of bladder cancer and identifying new therapies and technologies for bladder cancer in order to improve quality of life for our patients. In this podcast, Joshua Meeks, MD, PhD, shares how his team of scientists are involved in three active trials focused on genetic and epigenetic changes in bladder cancer, as well as immuno-oncology in bladder cancer. Listen here
Dr. Meeks is investigating the gender disparities in bladder cancer by dissecting the tumor and immune mechanisms of resistance to chemotherapy and immunotherapy. This research may translate into novel pathways and potential therapeutic targets to improve outcomes and reduce gender disparities in bladder cancer. In this video, Meeks shares details about his work. Watch here
Urologists treating men with non-muscle invasive bladder cancer (NMIBC) are facing a global shortage of standard-of-care Bacillus Calmette-Guérin (BCG). Shilajit D Kundu, MD, chief of Urologic Oncology in the Department of Urology, shares how Northwestern Medicine is handling the shortage and allocating the drug to patients with NMIBC. Watch here
 Research
Clinical Investigator, Joshua Meeks, MD, PhD, is researching the underlying genetics of bladder cancer to develop new treatments for the disease while Shilajit Kundu, MD, is conducting research on cancer outcomes and quality-of-life issues. The Department of Urology is also participating in several clinical trials to test the efficacy of new therapies and technologies for bladder cancer and to identify effective ways to improve quality of life.
Selected Publications
A Pilot Study Assessing Aspects of Sexual Function Predicted to Be Important After Treatment for Prostate Cancer in Gay Men: An Underserved Domain Highlighted. Amarasekera C, Wong V, Jackson K, Yura E, Patel M, Manjunath A, Kundu S. LGBT health. 2020 Jul; 7(5): 271-276.
Technology-Based Psychosocial Intervention to Improve Quality of Life and Reduce Symptom Burden in Men with Advanced Prostate Cancer: Results from a Randomized Controlled Trial. Penedo FJ, Fox RS, Oswald LB, Moreno PI, Boland CL, Estabrook R, McGinty HL, Mohr DC, Begale MJ, Dahn JR, Flury SC, Perry KT, Kundu SD, Yanez B. International Journal of Behavioral Medicine. 2020 Jan.
Antibody targeting of B7-H4 enhances the immune response in urothelial carcinoma. Podojil JR, Glaser AP, Baker D, Courtois ET, Fantini D, Yu Y, Eaton V, Sivajothi S, Chiang M, Das A, McLaughlin KA, Robson P, Miller SD, Meeks JJ. OncoImmunology. 2020 Jan; 9(1).
Molecular footprints of muscle-invasive bladder cancer in smoking and nonsmoking patients. Fantini D, Seiler R, Meeks JJ. Urologic Oncology: Seminars and Original Investigations. 2019 Nov; 37(11): 818-825.
Diagnosis and Treatment of Early Stage Testicular Cancer: AUA Guideline. Stephenson A, Eggener SE, Bass EB, Chelnick DM, Daneshmand S, Feldman D, Gilligan T, Karam JA, Leibovich B, Liauw SL, Masterson TA, Meeks JJ, Pierorazio PM, Sharma R, Sheinfeld J. Journal of Urology. 2019 Aug; 202(2): 272-281.
 Patient Care
The Department of Urology offers access to the most advanced approaches in genitourinary cancer prevention, diagnosis and treatment from experts who understand the challenges and concerns unique to patients faced with urologic cancers. We pursue a multidisciplinary approach to the evaluation and management with recognized experts specializing in each branch of cancer care. The integrated approach with input from all related services allows for the formulation of an appropriate treatment plan individualized for each patient based upon tumor stage, medical condition, and patient preferences.
Specialty Chief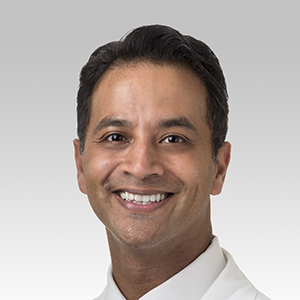 Shilajit Kundu, MD
Chief of Urologic Oncology in the Department of Urology
Associate Professor of Urology