Reconstructive Surgery
Reconstruction of the genitourinary tract in adults becomes necessary when normal function of one or more of its components are impaired. In the United States, genitourinary reconstruction is typically necessary as a result of general trauma or tissue damage that occurs following cancer treatment, specifically surgical and radiation treatment for prostate cancer.
Conditions we treat within this category include:
Genitourinary trauma
Ureteropelvic junction obstruction
Urethral strictures
Urinary fistulas
 Research
Our faculty are actively conducting research to develop new urethroplasty techniques as well as leading quality improvement projects improve excellence in surgical outcomes.
Selected Publications
Revisiting the penoscrotal approach to artificial urinary sphincter surgery: how does it compare to a perineal incision for initial implantation? Staniorski CJ, Singal A, Nettey O, Yura E, Keeter MK, Kielb S, Hofer MD. World J Urol. 2020 May 21.
Antibiotic prophylaxis after urethroplasty may offer no benefit. Manjunath A, Chen L, Welty LJ, Wong VJ, Amarasekera C, Gonzalez CM, Hofer MD.World J Urol. 2020 May;38(5):1295-1301
Prolapse repair with and without apical resuspension-Practice patterns among certifying American urologists. Liu JS, Nettey O, Vo AX, Hofer MD, Flury SC, Kielb SJ. Neurourol Urodyn. 2017 Feb;36(2):344-348.
Use of Bowel in Reconstructive Urology: What a Colorectal Surgeon Should Know. Morrison CD, Kielb SJ. Clin Colon Rectal Surg. 2017 Jul;30(3):207-214
Evaluation and Management of Failed Bladder Reconstructions. Jordan BJ, Palmer C, Kielb SJ. Current Bladder Dysfunction Reports. 2015 Dec; 10(4): 398-403.
 Patient Care
The Department of Urology at Northwestern University continues to stand at the forefront of the field of genitourinary reconstruction with cutting-edge techniques and world-class reconstructive surgeons, including Matthias Hofer, MD, PhD, who is fellowship-trained in Urologic Trauma, Reconstruction, and Prosthetics. Reconstructive surgeries are complex and demand specialized operative skills found among fellowship-trained reconstructive urologists like Dr. Hofer. 
Specialty Chief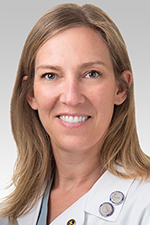 Stephanie Kielb, MD
Chief of Reconstruction and Neurourology in the Department of Urology
Associate Professor of Urology, Medical Education and Female Pelvic Medicine and Reconstructive Surgery in the Department of Obstetrics and Gynecology