Residency Program Director's Message
The Department of Obstetrics & Gynecology at Northwestern University Feinberg School of Medicine seeks to provide comprehensive training to the next generation of leaders in the field of obstetrics and gynecology. We provide extensive clinical educational opportunities for our residents through our affiliated care sites with a large, diverse patient base. Our faculty includes full-time academic physicians and scientists, as well as a multitude of dedicated clinicians and teachers. Our commitment to graduate medical education encourages residents to fully participate as members of the healthcare team.
Residents spend two-thirds of their time at Prentice Women's Hospital, a state-of-the-art dedicated women's hospital that is part of Northwestern Medicine. Residents spend the other one-third of their time at John H. Stroger Jr., Hospital of Cook County, the primary safety net hospital for the city of Chicago. Faculty at both hospitals are integrally involved in and devoted to the education of residents and medical students.
Weekly conferences include departmental grand rounds and a clinical service review, as well as individual specialty conferences that take place regularly in Ultrasound, Reproductive Genetics, Endoscopy, Maternal-Fetal Medicine, Gynecologic Oncology, Female Pelvic Medicine and Reconstructive Surgery, Family Planning and Reproductive Endocrinology and Infertility. During the summer, departmental grand rounds are replaced by a resident-led Summer Series focusing on advocacy, ethics, humanities and professionalism, which help residents acquire skills in applying these principles to clinical decision-making.
A weekly residency-wide didactic session provides a comprehensive two-year curriculum in which residents are protected from their clinical duties. Every week, a class is sequestered for simulation training. Journal clubs are designed to enhance the critical evaluation of the literature and reinforce evidence-based medicine. Monthly small-group resident research meetings are led by members of our research faculty, during which all residents present research status updates and receive guidance and mentorship.
We believe that the Northwestern residency program in obstetrics and gynecology provides the very best training for our residents in addition to excellent patient care and research opportunities. We look forward sharing our plans with you personally.
We hope you find this information about our residency program helpful. Please continue to explore this site to learn more about the residency program and opportunities that are available within the Department of Obstetrics & Gynecology. Should you have further questions about our residency program, please email our residency coordinator, Reneé Poland.
Best Regards,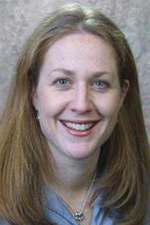 Susan E. Gerber, MD, MPH
Associate Professor, Maternal-Fetal Medicine
Residency Program Director