Lee P. Shulman, MD
Lee Shulman, MD, is professor of Clinical Genetics in the Department of Obstetrics & Gynecology. He and his research team conduct both clinical and basic research on new approaches to prenatal diagnosis.
Research Programs
Genetic Analysis of Fetal Cells in Maternal Blood
A series of techniques are being developed to:
Differentiate fetal cells from maternal cells
Isolate single fetal cells
Conduct complete chromosome analysis as well as DNA analysis for single-gene mutations
New Maternal Serum Markers
Currently, division scientists are testing a relatively new maternal serum marker to identify chromosomally abnormal pregnancies.
Amnioinfusion in Cases of Oligohydramnios
Another study being developed is one to determine the safety and efficacy of amnioinfusion in pregnancies associated with oligohydramnios. The goal is to determine if amnioinfusion is useful in pregnancies characteristically associated with adverse outcome by providing diagnosis, therapy and genetic counseling concerning etiology and recurrent risks.
In Utero Magnetic Resonance Imaging
With the Department of Radiology, division investigators are developing a study to determine the efficacy of MRI in the prenatal diagnosis of structural abnormalities in the central nervous system.
Preimplantation Genetic Diagnosis: Role of FISH in Improving Clinical Pregnancy Rate
In this study, fluorescent in situ hybridization probes for chromosomes X, Y, 13, 16, 18, 21 and 22 will be applied to both polar bodies and single blastomeres to determine whether pregnancy rates can be improved for women <35 years and >35 years of age.
Working Group on Internet-Mediated Genetic Counseling and Information Services
This interdisciplinary group is developing and conducting internet-based clinical genetic and information services. In addition, the group is studying the ethical and legal implications of internet-mediated genetic services and their impact on the practice of clinical genetics and genetic counseling. This group is composed of practitioners and scholars drawn from various disciplines, including clinical genetics, genetic counseling, adult education, library and information sciences and law.
Contact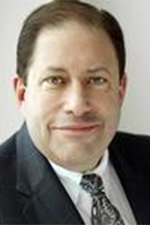 Lee P. Shulman, MD
Professor of Clinical Genetics in the Department of Obstetrics & Gynecology
lee.shulman@nm.org