Family Planning Fellowship
Fellowships in family planning train physician-leaders in family planning research, education and clinical practice. During the two-year program, fellows receive extensive training in all aspects of contraception and abortion care. 
Since its inception in 2002, Northwestern's fellowship graduates have gone on to lead other fellowship and residency family planning programs at major U.S. and European academic medical centers and to work for organizations such as the World Health Organization. For further information on Family Planning fellowships, please visit the national website.
Our Program
The trainees receive mentorship in epidemiologic research as well as perform an international field experience.  Listed below are a few of the ongoing research projects that are currently being conducting in Family Planning:
Utility of Pathologic Examination in Surgically Managed Fetal Demise
Principal Investigator: Linda Ernst, MD
Fellow: Lori Gawron (Graduated 2012)
Co-Investigator: Cassing Hammond, MD
Status: Manuscript accepted to Archives of Clinical Pathology and Laboratory Medicine
Assessing Simulation Training for Dilation and Evacuation
Principal Investigator: Cassing Hammond, MD
Fellow: Sloane York, MD
Collaborators: William McGaghie, PhD, Suzanne Banuvar
Funding: Society of Family Planning
Termination Setting for Fetal Abnormality Patients
Principal Investigator: Lori Gawron, MD
Resident Project: Allison Linton, MD
Study Design: Retrospective Cohort Study
Status:  Writing IRB
The Effect of Progesterone-based Contraceptives on Postpartum Diabetes Testing in Gestational Diabetics
Principal Investigator: Jessica Kiley, MD
Co-Investigators: Emily Miller, MD, Sloane York, MD, Leanne Griffin, MD
The clinical experience for the trainee is a hands-on experience. The trainee will have an active role within the Family Planning service at Prentice Women's Hospital, the outpatient clinic in the Galter pavilion and at Family Planning Associates.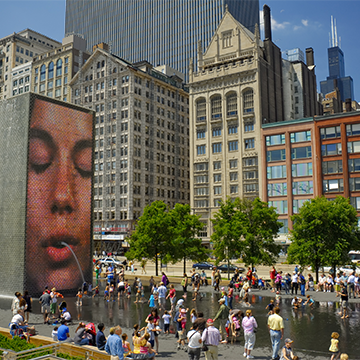 Housestaff training through McGaw Medical Center of Northwestern University provides diverse and challenging clinical experiences and world-class education located in the heart of the beautiful city of Chicago. Learn more via the links to the McGaw website below.
Watch Our Videos
McGaw Experience Discover Feinberg Northwestern Medicine Community Partnership Program Learn More About Chicago Get to Know Streeterville
Physician-Scientist Training & Resources
We offer a wide range of resources, mentorship opportunities and training to help our residents and fellows excel as physician-scientists. Explore all of the resources and hear from housestaff who are making research a major part of their career development plans.
Visit the Starzl Academy Site