Reproductive Endocrinology & Infertility Fellowship
The Fellowship Program in Reproductive Endocrinology & Infertility at Northwestern University's Feinberg School of Medicine was initiated in 2003. Currently, one fellowship position is filled per calendar year. This three-year fellowship is roughly divided into two 18-month segments.
Our Program
The first year of the program consists primarily of clinical training. Trainees are provided the opportunity to master all of the clinical teaching goals as outlined by the board in both the clinical and operating room settings. The unit also has a busy and successful in vitro fertilization program, which carries out approximately 1,300 oocyte retrievals per year. Fellowship applicants are encouraged to view our summary statistics on the SART page of the Centers for Disease Control and Prevention website. Fellows return to the clinical setting for their final six months of training where they also rotate with urology, medical genetics, medical endocrinology and pediatric endocrinology.
During the second 18 months of the fellowship, trainees spend most of their time working in one or more of a number of basic science settings on the medical school campus in Chicago. In some cases, the trainee may also find opportunities for basic science training on the main Northwestern campus in Evanston.
We participate in the National Resident Matching Program match and adhere rigidly to the rules governing the match. Applications for our REI Fellowship are accepted through the Electronic Residency Application Service (ERAS). We accept one fellow per year. Applications for our fellowships beginning August 1, 2023, must be submitted through ERAS by May 1, 2023. Our interview dates will scheduled in September 2023.
Your ERAS application should include:
All ERAS documents
Photo
Curriculum vitae
Personal statement
Medical Student Performance Evaluation
Three to four letters of recommendation with one being from your program director
USMLE steps I, II, III scores
CREOG scores
If you have any questions regarding the application process, please contact Angela Scott at angela.scott3@nm.org or 312-926-8244.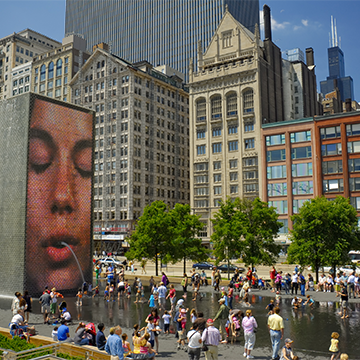 Housestaff training through McGaw Medical Center of Northwestern University provides diverse and challenging clinical experiences and world-class education located in the heart of the beautiful city of Chicago. Learn more via the links to the McGaw website below.
Watch Our Videos
McGaw Experience Discover Feinberg Northwestern Medicine Community Partnership Program Learn More About Chicago Get to Know Streeterville
Physician-Scientist Training & Resources
We offer a wide range of resources, mentorship opportunities and training to help our residents and fellows excel as physician-scientists. Explore all of the resources and hear from housestaff who are making research a major part of their career development plans.
Visit the Starzl Academy Site