Maternal-Fetal Medicine Fellowship
The Maternal-Fetal Medicine (MFM) fellowship program at Northwestern University Feinberg School of Medicine is approved for three fellowship positions. Applications for a first-year position for July 2022 will be available in December 2020, with interviews scheduled for Summer 2021  Application deadline is May 31. The fellowship is designed to provide fellows with the clinical and research background necessary for a successful academic career in Maternal-Fetal Medicine.
Our Program
 Education
Coursework leading to a degree is supported by the fellowship and typically pursued by candidates. Many fellows have chosen to obtain a Master's in Public Health or a Master's in Clinical Investigation degree. However, other opportunities exist, including a Master's in Biostatistics and Epidemiology and a Master's in Patient Safety. Also, some fellows have chosen to combine their Maternal-Fetal Medicine fellowship with postdoctoral training in health services research (through an NRSA fellowship).
 Research
The focus of research training is at the discretion of the fellow. Clinical intervention, perinatal epidemiology, health services and basic science research are all possibilities. Fellows will design their research projects under the direction of mentors and collaborators within the Divisions of Maternal-Fetal Medicine and Reproductive Genetics, as well as from the Institute for Healthcare Studies. Fellows also may participate in activities of the NICHD Maternal-Fetal Medicine Units Network.
 Patient Care
The clinical program is based at Prentice Women's Hospital, the obstetrics and gynecology pavilion of Northwestern Memorial Hospital, which is the primary teaching affiliate of Northwestern University Feinberg School of Medicine. Our diverse and large (over 10,000 deliveries annually) patient population provides excellent opportunities for challenging clinical care. Each fellow has a high-risk continuity clinic throughout their three years, and rotates during their 12 months of clinical work on the inpatient clinical service as well as in ultrasound and reproductive genetics.
 Why Northwestern?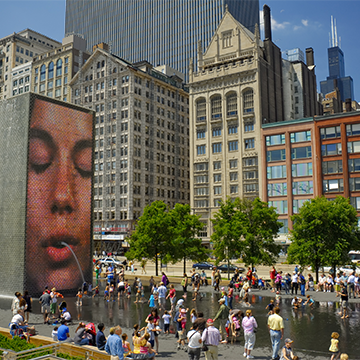 Housestaff training through McGaw Medical Center of Northwestern University provides diverse and challenging clinical experiences and world-class education located in the heart of the beautiful city of Chicago. Learn more via the links to the McGaw website below.
Watch Our Videos
McGaw Experience Discover Feinberg Northwestern Medicine Community Partnership Program Learn More About Chicago Get to Know Streeterville
Physician-Scientist Training & Resources
We offer a wide range of resources, mentorship opportunities and training to help our residents and fellows excel as physician-scientists. Explore all of the resources and hear from housestaff who are making research a major part of their career development plans.
Visit the Starzl Academy Site