Bulun Lab
The laboratory research of Serdar E. Bulun, MD, studies steroid hormone action and production in hormone-dependent human diseases such as endometriosis, uterine fibroids, and skeletal muscle atrophy.
About Our Work
The lab is studying endometriosis research, which has informed the introduction of aromatase inhibitors into endometriosis treatment. Using human tissues and a primate model, the group has examined the cellular and molecular mechanisms responsible for the development of endometriosis. In particular, the lab members uncovered genome-wide epigenetic defects in stromal cells leading to estrogen-driven inflammation and progesterone resistance in endometriosis. The role of progesterone action and tissue stem cells are also studied in uterine fibroids, benign tumors that require progesterone for growth. The lab currently concentrates on the interaction between mutated genes and progesterone receptors that drive uterine fibroid growth. Recently, the lab used a mouse model and human tissues to demonstrate that excess estrogen via estrogen receptor-α causes lower skeletal muscle atrophy and inguinal hernia, which can be treats with an aromatase inhibitor. The lab has identified novel mutations that cause familial excessive estrogen formation syndrome.
Treatment of Endometriosis with Aromatase Inhibitors
Treatment with aromatase inhibitors is the most commonly used form of nontoxic treatment in postmenopausal breast cancer. Aromatase is the key enzyme for estrogen formation in human tissues. Our research recently showed large amounts of aromatase thus estrogen formation in endometriosis. Inhibition of this enzyme in animal models and human disease decreased inflammation and growth in endometriosis and significantly reduced pain associated with endometriosis. In postmenopausal women, use of an aromatase inhibitor in combination with a bisphosphonate is the treatment of choice in patients who do not respond to surgical resection.
In premenopausal women, aromatase inhibitors are used in combination with an additional drug that suppresses the ovaries because aromatase inhibitor-only treatments may give rise to ovarian stimulation. This additional drug may be a GnRH agonist (eg, Zoladex), progestin (eg, norethindrone acetate) or a birth control pill (eg, Alesse). Currently, some physicians prescribe these regimens to treat premenopausal endometriosis not responding to currently available treatments or in patients who cannot use existing treatments because of their side effects. The majority of these premenopausal patients respond favorably having decreased pelvic disease and reduced pain. Treatment of endometriosis with aromatase inhibitors is still considered experimental, since there are no current efforts known to the public for obtaining FDA approval for their use in treating endometriosis.
The side effects of aromatase inhibitors include mild hot flashes and decreased libido. If aromatase inhibitors are administered alone to postmenopausal women, they cause osteoporosis and should be combined with a bisphosphonate. In premenopausal women, the combination of an aromatase inhibitor with a progestin or birth control pill does not cause osteoporosis, whereas that combination with a GnRH agonist (eg, Zoladex) causes osteoporosis.
Suggested Reading
Clinical Trials and Case Reports (Aromatase Inhibitors for Treatment of Endometriosis)
Takayama, K, Zeitoun, K, Gunby, RT, Sasano, H, Carr, BR and Bulun, SE, Treatment of severe postmenopausal endometriosis with an aromatase inhibitor. Fertil Steril. 1998; 69: 709-713. 
Ailawadi, RK, Jobanputra, S, Kataria, M, Gurates, B and Bulun, SE, Treatment of endometriosis and chronic pelvic pain with letrozole and norethindrone acetate: a pilot study. Fertil Steril 2004; 81: 290-6.
Amsterdam L, GW, Rubin S, Jobanputra S, Wolf M,  Bulun SE, Anasrozole and oral contraceptives: A novel treatment for endometriosis. Fertil Steril. 2005. In Press.
Soysal, S, Soysal, M, Ozer, S, Gul, N and Gezgin, T, The effects of post-surgical administration of goserelin plus anastrozole compared to goserelin alone in patients with severe endometriosis: a prospective randomized trial. Hum Reprod 2004; 19: 160-167.
Shippen, ER and West, WJ, Jr., Successful treatment of severe endometriosis in two premenopausal women with an aromatase inhibitor. Fertil Steril 2004; 81: 1395-8.
Razzi, S, Fava, A, Sartini, A, De Simone, S, Cobellis, L and Petraglia, F, Treatment of severe recurrent endometriosis with an aromatase inhibitor in a young ovariectomised woman. Bjog 2004; 111: 182-4.
Bulun, SE, Imir G, Utsunomiya H, Thung S, Gurates B, Tamura M, Lin Z. Aromatase in endometriosis and uterine leiomyomata. J Steroid Biochem Mol Biol.  2005.  In Press.
Reviews and Original Articles on the Role of Aromatase in Endometriosis
Zeitoun, KM and Bulun, SE, Aromatase: a key molecule in the pathophysiology of endometriosis and a therapeutic target. Fertil Steril 1999; 72: 961-9.
Bulun, SE, Zeitoun, K, Takayama, K, Noble, L, Michael, D, Simpson, E, Johns, A, Putman, M and Sasano, H, Estrogen production in endometriosis and use of aromatase inhibitors to treat endometriosis. Endocr Relat Cancer 1999; 6: 293-301.
Noble, LS, Takayama, K, Putman, JM, Johns, DA, Hinshelwood, MM, Agarwal, VR, Zhao, Y, Carr, BR and Bulun, SE, Prostaglandin E2 stimulates aromatase expression in endometriosis-derived stromal cells. J Clin Endocrinol Metab 1997; 82: 600-606.
Zeitoun, K, Takayama, K, Michael, MD and Bulun, SE, Stimulation of aromatase P450 promoter (II) activity in endometriosis and its inhibition in endometrium are regulated by competitive binding of SF-1 and COUP-TF to the same cis-acting element. Molec Endocrinol 1999; 13: 239-253.
Noble, LS, Simpson, ER, Johns, A and Bulun, SE, Aromatase expression in endometriosis. J Clin Endocrinol Metab 1996; 81: 174-179.
Bulun, SE, Yang, S, Fang, Z, Gurates, B, Tamura, M, Zhou, J and Sebastian, S, Role of aromatase in endometrial disease. J Steroid Biochem Mol Biol. 2001; 79: 19-25.
Tsai, SJ, Wu, MH, Lin, CC, Sun, HS and Chan, HM, Regulation of steroidogenic acute regulatory protein expression and progesterone production in endometriotic stromal cells. Journal of Clinical Endocrinology & Metabolism 2001; 86: 5765-5773.
SE Bulun, Imir AG, Utsunomiya H, Thung S, Gurates B, Tamura M, Lin Z. Aromatase in Endometriosis and Uterine Leiomyomata. J Steriod Biochem Mol Bio. 95:57-62 (2005).
Attar E and Bulun SE, Aromatase and Other Steroidogenic Genes in Endometriosis: Translational Aspects. Human Reproduction. In Press.
Articles on the Use of Aromatase Inhibitors in Breast Cancer
Goss, PE and Strasser, K, Aromatase inhibitors in the treatment and prevention of breast cancer. J Clin Oncol 2001; 19: 881-94.
Buzdar, A and Howell, A, Advances in aromatase inhibition: clinical efficacy and tolerability in the treatment of breast cancer. Clin Cancer Res 2001; 7: 2620-35.
Buzdar, AU, Robertson, JF, Eiermann, W and Nabholtz, JM, An overview of the pharmacology and pharmacokinetics of the newer generation aromatase inhibitors anastrozole, letrozole, and exemestane. Cancer 2002; 95: 2006-16.
Haynes, BP, Dowsett, M, Miller, WR, Dixon, JM and Bhatnagar, AS, The pharmacology of letrozole. J Steroid Biochem Mol Biol 2003; 87: 35-45.
Goss, PE, Qi, S, Cheung, AM, Hu, H, Mendes, M and Pritzker, KP, Effects of the steroidal aromatase inhibitor exemestane and the nonsteroidal aromatase inhibitor letrozole on bone and lipid metabolism in ovariectomized rats. Clin Cancer Res 2004; 10: 5717-23.
Coleman, RE, Hormone- and chemotherapy-induced bone loss in breast cancer. Oncology (Huntingt) 2004; 18: 16-20.
Buzdar, AU, The ATAC (Arimidex, Tamoxifen, Alone or in Combination) trial: an update. Clin Breast Cancer 2004; 5 Suppl 1: S6-S12.
Articles on the Use of Aromatase Inhibitors for Ovulation Induction
Mitwally, MF and Casper, RF, Use of an aromatase inhibitor for induction of ovulation in patients with an inadequate response to clomiphene citrate. Fertil Steril 2001; 75: 305-9.
Kafali, H, Iriadam, M, Ozardali, I and Demir, N, Letrozole-induced polycystic ovaries in the rat: a new model for cystic ovarian disease. Arch Med Res 2004; 35: 103-8.
Kilic-Okman, T, Kucuk, M and Altaner, S, Comparison of the effects of letrozole and clomiphene citrate on ovarian follicles, endometrium, and hormone levels in the rat. Fertil Steril 2003; 80: 1330-2.
Cortinez, A, De Carvalho, I, Vantman, D, Gabler, F, Iniguez, G and Vega, M, Hormonal profile and endometrial morphology in letrozole-controlled ovarian hyperstimulation in ovulatory infertile patients. Fertil Steril 2005; 83: 110-5.
Fisher, SA, Reid, RL, Van Vugt, DA and Casper, RF, A randomized double-blind comparison of the effects of clomiphene citrate and the aromatase inhibitor letrozole on ovulatory function in normal women. Fertil Steril 2002; 78: 280-5.
Sebastian, S and Bulun, SE, A highly complex organization of the regulatory region of the human CYP19 (aromatase) gene revealed by the human genome project. J Clin Endocrinol Metab 2001; 86: 4600-4602.
Moudgal, NR, Shetty, G, Selvaraj, N and Bhatnagar, AS, Use of a specific aromatase inhibitor for determining whether there is a role for oestrogen in follicle/oocyte maturation, ovulation and preimplantation embryo development. J Reprod Fertil Suppl 1996; 50: 69-81.
Our Team
For more information, contact Elena Babineau at 312-472-3980.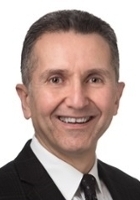 Serdar E. Bulun, MD
Principal Investigator
Chair, Department of Obstetrics & Gynecology
John J. Sciarra Professor of Obstetrics & Gynecology
Bulun studies steroid hormone action and production in hormone-dependent human conditions, such as uterine fibroids and skeletal muscle atrophy.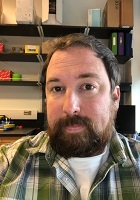 John Coon V, MS
Lab Manager
Coon is the Lab Manager and Senior Research Technologist for the Bulun lab. He graduated with honors in biochemistry from Knox College and received his Master of Science degree in biotechnology from Penn State University. After graduating from Penn State, he joined GlaxoSmithKline as a research scientist, helping to develop novel antibiotics. Upon returning to Chicago, he joined the Bulun Lab in the early spring of 2009. Coon has worked in many areas of research, but particularly enjoys the varied and challenging research of the Bulun Lab.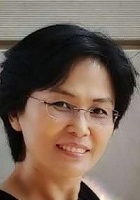 Hong Zhao, MD, PhD
Research Associate Professor
Zhao received her MD in China and her PhD in molecular endocrinology at the Nanjing Medical University in China and the Utrecht University in the Netherlands. After completing the postdoctoral training in the NIH, she moved to Chicago and began working for Northwestern University. Her current research interests are in defining how aromatase and estrogen cause abdominal muscle fibrosis and hernia formation, pelvic floor disorders, and Alzheimer's diseases using the humanized aromatase transgenic mouse model and the tissue-specific aromatase knockout mouse models.
Ping Yin, MD, PhD
Research Associate Professor
Yin joined Northwestern as a senior research associate in November 2004. She is investigating mechanisms underlying the formation of uterine leiomyoma and exploring therapeutic strategies for its treatment.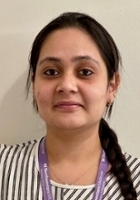 Azna Zuberi, PhD
Post-Doctoral Research Scholar
Zuberi is currently working as a Post-doctoral research scholar in Dr. Bulun's lab, joining in June 2020. She completed her PhD from AMU, INDIA, where she worked on mechanism to inhibit bacterial biofilms through CRISPRi gene editing technology and now she is working with fibroid group in exploring underlying the formation of uterine fibroids by targeting different involved pathways.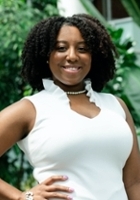 Ariel Dotts
Graduate Student
Ariel is a 5th year Driskill Graduate Program in Life Sciences (DGP) graduate student and is a recent inductee in the Edward A. Bouchet Graduate Honor Society "recognizing outstanding scholarly achievement and promote diversity and excellence in doctoral education and the professoriate." She joined the group in 2016 after finishing her master's degree in molecular, cellular and developmental biology at University of Michigan – Ann Arbor. She is currently working on understanding the involvement of progesterone receptor and estrogen receptor in the mechanism underlying labor initiation in the human myometrium.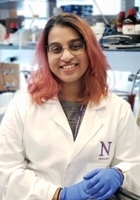 Tanvi Potluri
Graduate Student
Tanvi Potluri is a PhD student in the Driskill Graduate Program. She researches the role of estrogens in abdominal muscle fibrosis and inguinal hernias. Previously, Tanvi completed her master's degree from Johns Hopkins Bloomberg School of Public Health in microbiology & immunology.
Ariel Halle
Research Technologist 3