Box Migration
Northwestern Box is a cloud-based file sharing solution that has been centrally provided by the University since 2014. Recently, Northwestern announced plans to migrate its cloud-based storage from Box to Microsoft OneDrive, SharePoint and Teams at the conclusion of the Box annual contract on August 31, 2022.

For more information and to learn about what you can do to prepare for the migration, please review our Frequently Asked Questions below. If you have additional questions about the Box to One Drive and SharePoint migration please visit the Northwestern IT web site.
On Demand Webinar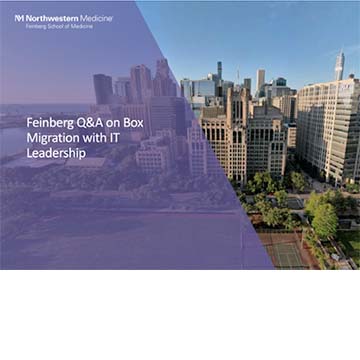 Watch an on-demand Webinar Q&A with Andrew Winter, Feinberg IT deputy chief information officer, and Curtis Hanawalt, Feinberg IT director of IT customer support, to learn more about the project. This webinar was recorded on December 6, 2021.
Frequently Asked Questions
Most of Feinberg will begin migrating in January 2022, and the migration will be completed by March 2022.  The migration will occur in conjunction with the rest of the university -- starting with the largest accounts earlier in the timeline, and finishing with the smaller accounts.
Northwestern University will remove Box by August 2022. Starting in November 2021, files will be migrated out of Northwestern University Box accounts. 
Personal Box folders (those accounts not in an ORG-SCHOOL folder), will be migrated to OneDrive.   Organizational Box files (accounts using an ORG-SCHOOL folder) will be migrated to SharePoint sites.  
In OneDrive, your personal Box files will be found in a folder named "_FromNUBox".  Security and access settings will be migrated as well, however you will need to reshare with anyone outside of Northwestern. 
Once migration is complete, your migrated files will be read-only and downloadable in Box for 4 weeks. Files shared with you in Box from another institution will remain available to you in Box.

Your will receive an email notifying you of your migration date at least two weeks in advance of your migration.  If that date is disruptive for you, just reply to the sender letting them know, and a new date will be proposed. 
Account size and number of documents will determine migration timing. Migrations being at noon on a Friday.
All files migrate in under on top-level folder (from_NUBox). Folder structure and permissions are retained in the top-level folder.
If you require access to files for folks who are no longer at the institution, please submit a ticket to
FSMhelp@northwestern.edu
 and we can assist with facilitating approval from HR to move files/folders belonging to someone else into an approporiate location. 
Folders with an ORG-SCHOOL naming structure will go to SharePoint, all other folders will go to OneDrive.
Syncing is done through the OneDrive app.
Cleaning up files and folders that are no longer needed will help speed up the migration. This involves deleting folders you don't need, moving departmental files into ORG-SCHOOL folders if necessary, and checking for files owned by employees who are no longer at Northwestern.  
Once you have cleaned your Box files, you should wait for everything to be automatically migrated so that permissions and file history are retained.  
You can request a SharePoint Site be created at any time with this
request form
. For most people, waiting until after migration will be best since migrating from OneDrive to SharePoint is easy and efficient. How to move files from
OneDrive to SharePoint
. 
OneDrive and SharePoint Files and Folders can be shared with and accessed from clinical affiliate accounts. However, you may need to re-share files with external collaborators, including nm.org users, after your files are migrated.
If you are uncertain which address they use as their primary, we recommend sharing with both their Northwestern and clinical affiliate address.  This will give them maximum flexibility to access the files wherever they need. 
Once files are migrated to OneDrive or SharePoint, they can be re-shared with external collaborators who will receive an invitation to access the shared content. Instructions for sharing externally can be found in this
Knowledge Base Article
. 
Collaborative documents are best stored in SharePoint.  Once files are migrated to OneDrive or SharePoint, they can be shared with external collaborators who will receive an invitation to access the shared content.  Instructions for sharing externally can be found in this Knowledge Base Article 
In order to share with a group, you will need to add email addresses individually. Unfortunately, distribution list aren't supported for assigning SharePoint permissions.
No, it is not required. It is accessible both on-site and remotely. 
No, this project does not impact email usage.