Adult Cardiothoracic Anesthesiology Fellowship
Our ACGME-accredited Adult Cardiothoracic Anesthesiology Fellowship program is a diversely balanced year of clinical, educational and academic experience. Training is completed at the Bluhm Cardiovascular Institute at Northwestern Memorial Hospital, ranked seventh in the nation by U.S. News & World Report for Cardiology and Heart Surgery and first on the list of cardiology and heart programs in Chicago and Illinois. It is ranked the top hospital in the nation for heart failure survival by Centers for Medicare & Medicaid Services.
With over 1,200 cardiac operations performed annually, the breadth and depth of our fellows' clinical experience is unmatched in the region. In addition to "routine" coronary revascularization, fellows can expect to become very familiar with more advanced procedures such as complex mitral valve repair, transcatheter aortic and mitral valve implantation, complex aortic reconstruction and minimally invasive cardiac surgery. The heart failure program provides exceptional exposure to heart transplantation, mechanical assist devices and extracorporeal membrane oxygenation. The Department of Anesthesiology's clinical practice also cares for 600 non-cardiac thoracic patients per year, providing experience with lung transplantation, tracheal and esophageal reconstruction, open and thoracoscopic lung resection, mediastinal surgery and interventional pulmonology procedures.
Despite the high clinical volume, fellows' education remains a priority for our clinicians. Operating room assignments are based on educational need instead of staffing requirements, and fellows generally participate in the most complex procedures of the day. In order to cultivate the nuances of supervision and independent practice, approximately half of fellows' experience involves resident supervision.
Our faculty come from diverse clinical backgrounds and work closely with the fellows to foster a supportive learning environment. We are confident in the training we provide to the fellows, and consequently the caliber of patient care our graduates provide to their own patients.
About the Program
Didactic Curriculum 
During every weekday in July and August, fellows attend a multidisciplinary, introductory lecture series for advanced housestaff on cardiology.

On Friday mornings before Grand Rounds, the cardiothoracic section holds a weekly didactic session geared mainly toward fellows and attendings. Fellows are actively involved in preparing some of these lectures (two to three a year). The lecture series also includes journal club, echo rounds and quality management conferences.

The Department of Anesthesiology Grand Rounds is held Fridays at 7 a.m. This is the forum for lectures from the department's various sections, as well as quality improvement and visiting professorships. Fellows will present at Grand Rounds once during their fellowship. With the guidance of a faculty mentor, fellows will choose and research an appropriate advanced topic in cardiothoracic anesthesiology.
Scholarly Activity 
Fellows will participate in scholarly activity during their fellowship year. Typically this involved a case report or case series submission to a peer-reviewed journal. There are also opportunities for fellows to join or design an IRB-approved research study.

The Society of Cardiovascular Anesthesiologists Annual Meeting occurs each spring. Fellows are expected to prepare and submit either an abstract or case report for presentation at this conference. The department will grant funding for fellows to attend the meeting.

Fellows are also expected to perform a quality improvement project at some point during the year. This project is open-ended and should improve an aspect of the intraoperative experience of the fellows or residents on the rotation.
Duty Hours, Learning Environment & Moonlighting
Clinical responsibilities from Monday through Friday will begin at 6:30 a.m. and continue through 5 p.m., subject to the demands of the service. 
Fellows will have one nonclinical day per work week, on average.
Pager call is 5 p.m. through 7 a.m., Monday through Friday. 
Pager call on weekends is 7 a.m. through 7 a.m. the following day.
With rare exceptions, there should always be a fellow assigned to home beeper call.
The fellow team is responsible for making the call schedule. 
If the fellow comes into the hospital on call and stays past 10 p.m., they will have no duty the next day, except in exceptional circumstances. 
Each fellow will have two weekends free from any call obligation per month.
There is no in-house call for fellows.
During cardiothoracic OR rotations, trainees reliably average one non-clinical day per week for educational and academic pursuits. All past fellows have resultantly presented posters at the SCA's annual meeting; several of these projects have progressed to peer-reviewed publication. Fellows also use this time to work on QI projects and peer-reviewed publications. With attending mentorship, each fellow is also expected to research a novel and advanced cardiothoracic topic for presentation at the department's grand rounds.

Fellows assigned to research rotations will not have fixed duty hours, but will be subject to the same 80-hour per week limit, with at least one day off per week, averaged over four weeks. Time spent in research activities and in the hospital when on weekend call will all be counted in determining total duty hours.

Moonlighting will not be permitted during the first three months of fellowship to allow for smooth integration into and undivided attention to the cardiac ORs. After three months, paid internal weekend moonlighting on the OB and ICU anesthesia service will be permitted. These moonlighting shifts must not interfere with scheduled rotation or call duties on any rotation.
The fellowship provides extensive training experience in multiple McGaw-affiliated care settings.
| Month(s) | Name | Location |
| --- | --- | --- |
| 7 | Adult Cardiothoracic Anesthesiology | Northwestern Memorial Hospital |
| 1 | Cardiothoracic Intensive Care Unit | Northwestern Memorial Hospital |
| 1 | Echocardiography | Northwestern Memorial Hospital |
| 1 week | Blood Bank | Northwestern Memorial Hospital |
| 2 weeks | Perfusion | Northwestern Memorial Hospital |
| 2 | Electives: Research, CTICU, Pediatric Cardiothoracic Anesthesia or Echocardiography | Northwestern Memorial Hospital/Ann & Robert H. Lurie Children's Hospital of Chicago |
Cardiothoracic Anesthesiology
Fellows work with the core cardiothoracic faculty in intraoperative care of patients undergoing cardiac and thoracic surgery. Approximately 80 percent of our cardiac cases are complex procedures — valve repair or replacement in conjunction with CABG and/or Maze, heart transplant, ventricular assist devices or extracorporeal support. Cardiac cases are largely single-covered, with an attending covering just that one room. An attending will sometimes cover a cardiac and a non-cardiac OR, with a fellow's involvement.
Approximately 50-60 percent of the clinical experience will be comprised of supervising junior residents in the OR. In these cases, fellows are expected to assist in teaching the resident to provide a safe anesthetic, and they should be available for the majority of the operative course. For the remaining portion, fellows will function as the primary housestaff. Past fellows and residents have created helpful step-by-step guides for the usual flow of cardiac cases.
Transesophageal Echocardiography
In addition to the fellows' TEE experience during the CT anesthesiology rotations, fellows will spend a month on the Echocardiography Service. Proficiency with transesophageal echocardiography is an essential skill for the cardiothoracic anesthesiologist. Our fellows work closely with the TEE attending anesthesiologist and consulting cardiologists to become adept at perioperative imaging, including 3D technology. Fellows learn the cognitive, manual and technical skills requisite for National Board of Echocardiography certification in Advanced Perioperative Transesophageal Echocardiography. The Department of Anesthesiology is responsible for all intraoperative TEEs.
In order to facilitate efficient simultaneous intraoperative management and image interpretation, there is one designated Echo Attending each day. Fellows on the echo rotation will assist this attending in reading all intraoperative pre- and post-bypass echoes, as well as with writing the reports. Additionally, there are organized opportunities for fellows acquire and interpret TTEs on the floor or in the ICU.  If further experience with echo interpretation is desired, more opportunities are available in the Echo Lab, reading both TEEs and TTEs with cardiology attendings and fellows.
In addition to echo conferences, trainees are allotted full funding to attend the SCA's invaluable Comprehensive Review & Update of Perioperative Echo each spring. This five-day course covers the fundamentals and applications of echocardiography. This interdisciplinary program has been developed to meet the continuing demand for education on the applications of ultrasound technologies as a fundamental diagnostic modality and monitor of perioperative cardiac performance. All graduates since the program's 2007 inception have passed the NBE's PTEeXAM, supported by ample numbers for subsequent certification in Advanced Perioperative Transesophageal Echocardiography.
Pediatric Cardiothoracic Anesthesiology
This rotation at Lurie Children's provides invaluable experience in providing pediatric cardiothoracic anesthesia. As the leading pediatric heart center in Illinois, through cases and didactics, fellows will learn about topics such as cardiovascular development, congenital defects and single-ventricle physiology. Under the supervision of a pediatric cardiac anesthesiologist, fellows directly manage children undergoing complex congenital operations. Pediatric cardiologists further enrich this experience with expertise in TEE.
Cardiothoracic Intensive Care Unit
A month in Northwestern Memorial Hospital's 23-bed CTICU offers insight into the postoperative implications of cardiothoracic surgery. Fellows interact with anesthesiology residents, the cardiothoracic surgical care team and critical care anesthesiologists to consult on patients who have undergone cardiac operations. Several faculty within the Section of Critical Care Medicine also work in the Section of Cardiothoracic Anesthesiology, providing perspective on the larger scheme of perioperative cardiothoracic care.
Blood Bank & Perfusion
Because fellows should learn the intricacies of all aspects of a cardiac case, there is a designed month split between the blood bank and the perfusion services. During the two weeks of blood bank, fellows will work with the Department of Pathology to learn a wealth of information regarding blood products, testing and storage.
During the two weeks on perfusion, fellows will learn about the cardiopulmonary bypass machine and the important relationship CT anesthesiologists have with perfusionists in providing the best care for our patients. In general, fellows will be expected to "pump" one to two cases a day.
Elective Rotations
Two elective months offer flexibility for tailoring the year to each fellow's needs. Fellows can choose additional weeks on any above rotations or a structured research block.
In addition to McGaw Medical Center of Northwestern University benefits and wellness resources, Cardiothoracic Anesthesiology fellows receive:
$700 education fund for professional development (e,g., board fees, books or a tablet)
Membership in the Society of Cardiovascular Anesthesiologists (SCA)
CME time and funding to attend the Basic & Advanced Comprehensive Review and Update of Perioperative Echo training
Fellows who present at the SCA annual meeting will receive three days of funding to attend
Dedicated office space with desktop computer
Opportunity for weekend OB Anesthesia call moonlighting pay ($100/hour)
All Cardiothoracic Anesthesiology fellowship positions are filled through the San Francisco Match. Please register and apply at the San Francisco Match website.
To be considered for a Cardiothoracic Anesthesiology fellowship position, candidates must be eligible for certification or fully certified by the American Board of Anesthesiology before fellowship training begins.
Candidates must have taken USMLE Step 3 and obtain a temporary or permanent Illinois Medical License before starting their fellowship training. Licensing information and application can be found at the Illinois Department of Financial & Professional Regulations website. To apply for a permanent license, the applicant must already have taken the USMLE Step 3. Please be aware that it may take up to 60 days to process and grant an Illinois license.
For more information, contact Northwestern's Office of Graduate Medical Education:
McGaw Medical Center of Northwestern University
420 E. Superior St.
Suite 9-900
Chicago, IL 60611
312-503-7975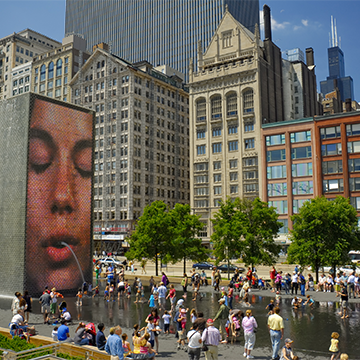 Housestaff training through McGaw Medical Center of Northwestern University provides diverse and challenging clinical experiences and world-class education located in the heart of the beautiful city of Chicago. Learn more via the links to the McGaw website below.
Watch Our Videos
Physician-Scientist Training & Resources
We offer a wide range of resources, mentorship opportunities and formal training programs to help our residents and fellows excel as physician-scientists. Explore all of the resources and hear from housestaff who are making research a major part of their career development plans.
VISIT THE STARZL ACADEMY SITE