Pediatric Anesthesiology Fellowship
The Ann and Robert H. Lurie Children's Hospital of Chicago pediatric anesthesia fellowship program, administered through the McGaw Medical Center of Northwestern University, provides a comprehensive experience that encompasses all facets of pediatric anesthesiology. The ACGME-accredited pediatric anesthesiology fellowship, under the direction of Ravi Shah, MD, provides a comprehensive clinical and academic experience that is tailored to each individual. The American Board of Anesthesiology requires completion of a one-year ACGME accredited pediatric anesthesiology fellowship program to be eligible for subspecialty board certification.
Lurie Children's is a newly constructed, state-of-the-art facility situated next door to our academic partner, Northwestern University Feinberg School of Medicine. We are located in the heart of downtown Chicago, adjacent to Lake Michigan and Water Tower Place. The Northwestern University Pediatric Anesthesiology Fellowship program accepts five to 10 fellows each year and participates in the NRMP Pediatric Anesthesiology Match process.
About the Program
Our fellows work closely with our outstanding board-certified pediatric anesthesia faculty in a variety of clinical areas, including complex pediatric surgical cases, perioperative pain management services and critical care. Fellow case logs are frequently evaluated by our program director and operating room schedulers to ensure equitable clinical experiences. Our fellows consistently exceed all ACGME minimums, including over 75th percentile across the nation for neonatal cases and peripheral nerve blocks. 
| | |
| --- | --- |
| Rotation | Length |
| Perioperative Anesthesia | 7 months |
| Cardiac Anesthesia | 2 months |
| Acute / Chronic Pain | 2 weeks |
| Critical Care (PICU / NICU / CICU / Neuro ICU) | 2 weeks |
| Neuroanesthesia | 2 weeks |
| Advanced Airway | 2 weeks |
| Ambulatory Surgery | 2 weeks |
| Non-operative Anesthesia | 2 weeks |
| Elective time (optional) | 1-2 weeks |
| Vacation / Personal | 20 days |
| Meeting / Conference | 5 days |
Cardiac Anesthesia
Our fellows participate in more than 300 cardiopulmonary bypass cases and more than 1,000 cardiac catheterizations per year. In 2019, we performed 34 pediatric heart transplants, which made us the busiest pediatric heart transplant center in the United States. Many of these patients were bridged to transplant by means of mechanical circulatory support, which is utilized frequently at our institution. We provide anesthesia in the cardiac catheterization lab for both diagnostic and interventional procedures and also facilitate cardiac imaging procedures. Our fellows gain experience managing medically complex patients, including children with congenital heart disease undergoing non-cardiac surgery. This formal cardiac rotation also affords a hands-on opportunity to gain proficiency in neonatal and pediatric vascular access, including central venous and arterial cannulation. There is also a cardiac anesthesia lecture series for cardiac anesthesia fellows, pediatric anesthesia fellows and faculty.
Pain Medicine
Our internationally renowned regional anesthesia program empowers our graduates to incorporate innovative perioperative analgesic strategies into their clinical practice. Santhanam Suresh, MD, our department chairman, is world-renowned for his work in both acute and chronic pediatric pain. Our fellows master numerous regional anesthetic techniques, including neuraxial, head and neck, upper and lower extremity and truncal blocks in children of all ages. Fellows also round with our acute pain service, manage inpatient consults and participate in interdisciplinary pediatric chronic pain clinics. Fellows also receive didactic training to strengthen proficiency in advanced ultrasound-guided nerve blockade.
Transplants
Ann & Robert H. Lurie Children's Hospital of Chicago performs approximately 30 kidney, 20 liver and 30 heart transplants per year. These cases expose our fellows to medically complex pediatric patients in end-stage organ failure. Each fellow participates in several transplants during their clinical training.
Intensive Care Unit
Each fellow rotates for two weeks (minimum requirement) in the critical care setting. Fellows will spend a minimum of one week in the Regenstein Cardiac Care Unit, directed by Kenneth Brady, MD, one of our cardiac anesthesiologists. Experiencing and understanding the medical management of children who undergo cardiac intervention provides valuable insight into congenital heart disease. Complex multidisciplinary decisions often govern both surgical and medical care. As anesthesiologists, we are active participants in this decision-making process. For their second critical care week, fellows may elect to spend additional time in the CCU or may rotate with our Neurocritical Care, Neonatal ICU or Pediatric ICU services.
Craniofacial
Complex midface and cranial vault reconstructions in the pediatric population present important anesthetic challenges. These cases afford our fellows an advanced clinical experience in pediatric difficult airway management, invasive monitor placement and transfusion of blood products. Lurie Children's performs over 50 craniosynostosis repairs and more than 50 complex cleft lip/palate repairs annually.
Neurosurgery
There is a variety of neurosurgical pathology that the fellow will encounter during their year. Resection of malignancy, intracranial vascular repairs, neuro-interventional procedures and complex seizure surgery are examples of the cases encountered. As a myelomeningocele referral center, there will be numerous opportunities for fellows to participate in the care of these neonates in the operating theatre. In addition, fellows gain experience managing patients undergoing complex pediatric orthopedic procedures, including posterior spinal fusion surgery for scoliosis repair.
Complex General Surgery
Pyloric stenosis, gastroschisis, omphalocele, congenital diaphragmatic hernia and tracheo-esophageal fistulas are common surgical pathologies encountered at Lurie Children's. Our fellows participate in all aspects of the perioperative care of these patients.
Outpatient Surgery Centers
Fellows also administer anesthesia to pediatric patients at the Westchester Outpatient Surgical Treatment Center and the Northbrook Ambulatory Surgical Treatment Center. Our fellows go on to succeed in both academic and private practice settings; these outpatient experiences prepare our fellows to efficiently manage anesthesthetic care in the pediatric ambulatory setting.
Didactics
Fellows attend weekday morning didactic conferences. Monday mornings are typically reserved for fellow education by means of regional anesthesia and pediatric airway workshops, grand rounds, simulation sessions and departmental quality assurance meetings. Specific topics for the pediatric anesthesiology subspecialty certification examination are typically covered in Tuesday and Thursday morning fellow conferences.
Our robust Oral Board preparatory curriculum remains a highlight of the fellowship program. Fellows work with our three American Board of Anesthesiology examiners to ensure preparedness through mock examinations for both the Standard Oral Exam (SOE) and Objective Structured Clinical Examination (OSCE) components of the APPLIED exam.
Academic Enrichment
Our fellowship program offers a variety of enrichment experiences, including participation in research, quality improvement initiatives and education. Fellows participate in quarterly journal clubs, simulation training and skills-based workshops. Fellows are encouraged to present their work at national meetings and many go on to publish their work in peer-reviewed journals  Our fellows often assist faculty in teaching pediatric regional anesthesia, vascular access and difficult airway workshops at national meetings.
Research
The Department of Anesthesia participates in numerous research endeavors, and our fellows frequently publish their work in prestigious anesthesia journals. Over the past several years, our fellows have conducted research in pain medicine, regional anesthesia, medical education, cardiac anesthesia and airway management. Incoming fellows are paired with research mentors early in the academic year to establish reasonable timelines for project completion. Fellows typically present their work at national meetings.
In addition to McGaw Medical Center of Northwestern University benefits and wellness resources, Pediatric Anesthesiology fellows receive:
The PGY5 salary for the 2020-2021 academic year is $74,885 (as set forth by McGaw Medical Center)
20 paid vacation days for PGY-2 and above
2 weeks sick time, consistent with Northwestern GME policies
1 week meeting time with program director approval
$2,000 meeting allowance (expenses approved by the program director)
Office space with computer
E-textbooks provided by the department: Cote's Pediatric Anesthesia and Andropoulos' Pediatric Cardiac Anesthesia
To be considered for a Pediatric Anesthesiology fellowship position, candidates must either be eligible for certification or be fully certified by the American Board of Anesthesiology prior to the start of fellowship training. Candidates are required to obtain an Illinois Temporary or Permanent License and to take USMLE Step 3 prior to the start of fellowship training. All Pediatric Anesthesiology fellowship positions are filled through the NRMP Match. We are approved for 10 ACGME accredited fellowship positions (we typically take five to 10 fellows each year).
We are participating in the Electronic Residency Application Service (ERAS). Along with the necessary application materials, we ask that you please submit supplemental documents listed below to our program coordinator at anesthesiafellowship@luriechildrens.org
Curriculum vitae (submit via email to anesthesiafellowship@luriechildrens.org)
Minimum two letters of recommendation from anesthesiologists, who can attest to your clinical acumen and character (ERAS)
A letter of recommendation from your anesthesiology residency program director or chair (ERAS)
A copy of your medical school transcript (ERAS)
Results of your two most recent ABA in-training examinations (submit via email to anesthesiafellowship@luriechildrens.org)
Copy of your ABA Basic Exam completion (submit via email to anesthesiafellowship@luriechildrens.org)
USMLE Step 1-3 exam results (and/or NBOME results, if applicable) (ERAS)
Personal statement describing your interest in pursuing a pediatric anesthesiology fellowship position (ERAS)
A current photo (ERAS)
Application Timeline
Dec. 1: ERAS application submission opens (make sure supplemental materials are submitted via email and confirm that your application is complete)
February: Application review process begins
May 31: ERAS application closes
May-September: Interview season (due to the COVID-19 pandemic, ALL 2021-22 applicant interviews will be conducted via teleconferencing)
Illinois Department of Financial & Professional Regulations
Applicants must obtain a temporary or permanent Illinois Medical License before starting their fellowship training. Licensing information and application can be found at the IDFPR site. In order to apply for a permanent license, the applicant must already have taken the USMLE Step 3. Please be aware that it may take up to 120 days for IDFPR to process and grant an Illinois license.
Contact Northwestern's Office of Graduate Medical Education:
McGaw Medical Center of Northwestern University
Graduate Medical Education
240 E. Huron
Chicago, IL 60611
312-503-7975
Additional Resources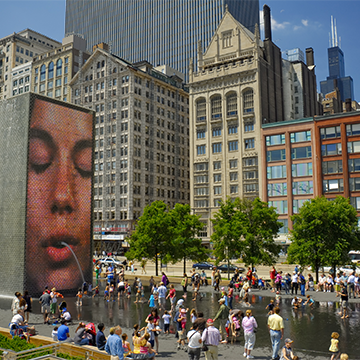 Housestaff training through McGaw Medical Center of Northwestern University provides diverse and challenging clinical experiences and world-class education located in the heart of the beautiful city of Chicago. Learn more via the links to the McGaw website below.
Watch Our Videos
Physician-Scientist Training & Resources
We offer a wide range of resources, mentorship opportunities and training to help our residents and fellows excel as physician-scientists. Explore all of the resources and hear from housestaff who are making research a major part of their career development plans.
Visit the Starzl Academy Site