Neurosurgical Anesthesiology Fellowship
The Neurosurgical Anesthesiology Fellowship of Northwestern University is the first ICPNT (International Council on Perioperative Neuroscience Training) accredited fellowship in the world. Our fellowship has graduated the most Neuroanesthesia fellows in the United States over the past 13 years, with more than 50% of those graduates going on to academic faculty positions. The Neurosurgical Anesthesiology Fellowship is designed to provide advanced clinical training in the provision of anesthesia for the surgical and endovascular management of complex intracranial disease and the surgical treatment of complex acute and chronic spine disorders. Fellows will have ample experience performing regional anesthesia and sedation for awake craniotomies. Furthermore, fellows are provided an in-depth experience in intraoperative evoked potential monitoring. In addition to a rotation in the neurosurgical intensive care unit, fellows can arrange for individual electives in anesthesia for pediatric neurosurgery.
The Department of Anesthesiology works very closely with the Department of Neurological Surgery, which is internationally recognized as a center of excellence in the surgical treatment of complex intracranial and spine disorders. Faculty in the Department of Neurological Surgery are affiliated with various Northwestern Medicine centers that are highly regarded for their advanced clinical and research endeavors, both regionally and nationally: the Robert H. Lurie Comprehensive Cancer Center of Northwestern University, the Parkinson's Disease & Movement Disorders Center, and the Northwestern University Comprehensive Epilepsy Center.
About the Program
Educational materials are provided by fellowship-trained neuroanesthesiologists or neurocritical care anesthesiologists:
Neurosurgical Anesthesia Weekly Conference
Intensive Care Rounds
Weekly Grand Rounds
Eight to 10 yearly Visiting Professor Lectures
Bi-weekly Journal Club led by one attending (all are invited)
Monthly review of a section from the annual neuroanesthesiology update from the

 

Journal of Neurosurgical Anesthesiology

 

(all section members are encouraged to attend)
Fellows will present a topic related to neuroanesthesia at Grand Rounds during the year (30-minute presentation)
Because of the fluid nature of the non-elective and elective neurosurgical schedule, fellows will be provided exposure to a variety of cases every week. In total, fellows will have exposure to roughly the following:
Equivalent of four months of intracranial surgery (NMH)
Equivalent of four months of spine surgery (NMH)
Equivalent of one month of neuroendovascular surgery (NMH)
Equivalent of one month hands-on evoked potential monitoring
Fellows may spend the equivalent of two to four weeks at Ann & Robert H. Lurie Children's Hospital of Chicago to enhance their pediatric neurosurgical anesthesia skills
One month of neurosurgical intensive care (NMH)
The 80-hour work week rules will be maintained at all times. In general, fellows will work clinically doing their own cases (with an attending) four to six days a month, with four non-clinical days per month devoted to the division's research projects and the fellows' individual projects. Fellows will take home beeper call in an alternating fashion, covering only "major" neurosurgical cases, such as aneurysm clipping/stenting/coiling, awake craniotomies, cranial tumors and acute spinal cord injuries (within 72 hours of injury). Hours worked during a call shift will count toward the fellow's 80-hour work week.
Fellows will be working solely under the supervision of the attending at times, and at other times they will have a resident working with them, which provides the fellows teaching and supervisory opportunities. Both residents and fellows are supervised by the attending. Fellows will not take call at either Ann & Robert H. Lurie Children's Hospital of Chicago or in the neurointensive care unit.
All fellows will be involved in multiple clinical research projects, assisting in the enrollment of patients and collection of research data under the supervision of the respective principle investigators. Fellows will be guided in developing a clinical research project under the direct supervision of one of the faculty of the division. Via these two mechanisms, fellows will acquire a basic understanding of research protocol preparation and submission of a protocol to the Institutional Review Board; conduct of clinical research (e.g., enrollment of patients, collection of data, research compliance documentation); discussion of research data with a statistician and understanding the research results; and research reporting (e.g., abstract preparation, conference presentation, manuscript preparation). Fellows will be paired with the faculty member whose interest most readily aligns with their area of broad interest after a series of discussion with the chief of Neurosurgical Anesthesiology and the director of Neuroanesthesia Research.
For fellows who have an interest in developing a research career that involves extramural funding (usually involving greater than 50 percent career effort to research), there is a possibility of being aligned with extramurally funded principle investigators of translational research laboratories, with the assistance and approval of the chief of Neurosurgical Anesthesiology, the director of Neuroanesthesia Research and the associate chair for Research of the Department of Anesthesiology.
During the year, fellows will learn research methodologies that provide the basis for an optional second year of fellowship training dedicated to clinical outcomes research in the neurosciences.
In addition to McGaw Medical Center of Northwestern University benefits and wellness resources, Cardiothoracic Anesthesiology fellows receive:
$500 education fund for professional development, e-books or e-devices
A copy of Cottrell and Young's Neuroanesthesia(2010)
Membership to the Society for Neuroscience in Anesthesiology and Critical Care (SNACC)
Membership to the American Society of Neurophysiological Monitoring
Funding for SNACC national meeting
Funding for scademic/research meetings; fellows who present an abstract at a national meeting/conference will receive funding for their trip, provided the program director approves the absence from training
Dedicated office space with desktop computer
The 2024-25 application season is now closed. Please check back in the future for information regarding application dates for 2025-26.
The Neurosurgical Anesthesiology fellowship is an unaccredited program, so both American and international medical graduates may apply. To be considered for a fellowship position, please send the following application materials to Sean Lynge:
Fellowship Application (Word)
A current curriculum vitae
Two letters of recommendation from anesthesiologists
A letter of recommendation from the anesthesiology training program director or chair
A copy of the medical school transcript
The results of the two most recent ABA/ASA in-training examinations and USMLE Steps 1-3 exams.
Copies of CA-1 and CA-2 Summative Performance Evaluations
A brief statement explaining interest in pursuing a fellowship position
Candidates must have taken USMLE Step 3 and obtain a temporary or permanent Illinois Medical License before starting their fellowship training. Licensing information and application can be found at the Illinois Department of Financial & Professional Regulations website. To apply for a permanent license, the applicant must already have taken the USMLE Step 3. Please be aware that it may take up to 60 days to process and grant an Illinois license.
All international medical graduates must be certified by ECFMG before starting their fellowship training. Please refer to the ECFMG site for information about eligibility for the examination, fees, application scheduling and preparation. Candidates must submit documentation with an English translation. Photocopies of all examination results, letter/score results and visa/citizenship papers must bear official seals and include dates and certificate numbers. If the applicant possesses a current visa, the status must include entry and expiration dates. IMGs must possess an ECFMG certificate before applying for a permanent medical license.
For more information, contact Northwestern's Office of Graduate Medical Education:
McGaw Medical Center of Northwestern University
420 E. Superior St.
Suite 9-900
Chicago, IL 60611
312-503-7975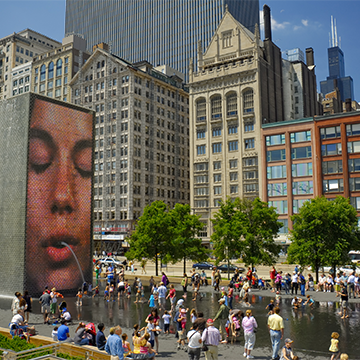 Housestaff training through McGaw Medical Center of Northwestern University provides diverse and challenging clinical experiences and world-class education located in the heart of the beautiful city of Chicago. Learn more via the links to the McGaw website below.
Watch Our Videos
Physician-Scientist Training & Resources
We offer a wide range of resources, mentorship opportunities and training to help our residents and fellows excel as physician-scientists. Explore all of the resources and hear from housestaff who are making research a major part of their career development plans.
Visit the Starzl Academy Site