Leadership Message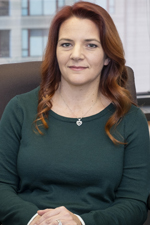 Louanne Carabini, MD
Residency Program Director
Anesthesiology at Northwestern has a deep tradition of excellence in clinical care, scholarship and education. We're proud to be part of a team of dedicated physicians and educators who built a premier training program. We are delighted that you are interested in our residency and hope to convey how thoughtfully we have constructed a graduate medical education program that will prepare you to become an accomplished anesthesiologist.
The specific elements of anesthesia residency at Northwestern include a clinical caseload that is superb in volume, breadth and complexity and the institutional resources to support a thorough, structured and dynamic didactic program. We are constantly striving to improve the delivery of anesthetic care and invest in innovative educational processes. Most importantly, though, we promote a departmental culture that reflects our dedication to diversity and inclusion and passion for supporting career development. We recognize that our residents and fellows are our most valuable assets, and we focus the goals for organization accordingly.
At completion of training, our residents uniformly perform well on their board examinations, secure the most desirable fellowships and obtain their ideal practice opportunities. We believe our future as anesthesiologists includes a broader role in the perioperative management of patients. The structure of our residency program reflects that belief with comprehensive training in preoperative medical management, critical care medicine, obstetrics, pediatrics, regional anesthesia and pain medicine.
We emphasize more than just clinical proficiency; we focus on career development, professionalism and good citizenship with a "patients first" mission throughout the institution. In seeking applicants for our residency and fellowship programs, we are looking for diligent, motivated and well-rounded candidates from diverse backgrounds who aspire to advance perioperative medicine. We are particularly interested in individuals who have demonstrated compassionate care, resiliency and intellectual curiosity.
Many of us at Northwestern chose a career in academics because we are passionate about developing the next generation of anesthesiologists. We count among our greatest professional rewards the opportunity to witness young colleagues advance to become our profession's best clinicians, educators and scientists — in essence, the core of our community.
It would be a pleasure to show you all there is to know about resident life at Northwestern.