Regional Anesthesiology & Acute Pain Medicine Fellowship
The ACGME-accredited Regional Anesthesiology & Acute Pain Medicine Fellowship is a collaboration between two of the main teaching centers at McGaw Medical Center of Northwestern University: Northwestern Memorial Hospital (NMH), directed by Antoun Nader, MD, and Ann & Robert H. Lurie Children's Hospital of Chicago, directed by Santhanam Suresh, MD, FAAP. The fellowship will emphasize the perioperative management of patients receiving neuraxial or peripheral neural blockade for anesthesia or analgesia. Fellows will become experts in the practice and theory of regional anesthesiology.
About the Program
 Education
Fellows routinely works week days from 6:30 a.m. to 5 p.m. However, they will work until the case is completed. Fellows will be on home beeper call one-two times a week and possibly one-two weekends a month. The 80-hour week rules will be maintained at all times. Fellows may take internal moonlighting OB Anes call for pay during their research assigned time. Fellows will complete a monthly duty hours survey on New Innovations, and the Program Directors will review the report monthly.
Didactics
A lecture series or Grand Rounds, which covers topics relevant to, but not limited to, regional anesthesia will be held at least 12 times per year.
A "Journal Club" (current literature review) will be held at least once monthly.
Fellows should present articles at least twice in 12 months under the supervision of an attending anesthesiologist.
A case conference specifically designed for fellows and supervised, or given, by a qualified faculty member shall occur at least once per month.
Fellows shall be expected to deliver a Grand Rounds lecture, including a relevant literature review, at least once during the course of the fellowship.
Fellows will routinely teach hands-on ultrasound-guided techniques to residents at a weekly workshop during their Lurie Children's rotations.
 Research
Fellows will have the opportunity to participate in clinical and/or laboratory research and will be given appropriate non-clinical time (one day a week) to fulfill these goals. There will be opportunities for the fellow to become involved in research already in progress or to develop an original project. Fellows will have the opportunity to participate in current extramural funded (NIH) projects as well as other multidisciplinary and or multi-institutional funded studies. In either case, an appropriate attending anesthesiologist will be appointed to mentor and assist the fellow to facilitate these goals. The program director at each one of the sites (NMH, Lurie Children's) will provide the mentorship for fellows during their fellowship year.
The types of activities that would suffice as academic projects include:
Research paper and/or case report submitted to a peer-reviewed journal and presented
Clinical chart review or a review article submitted to and accepted by a peer-reviewed journal
Book chapter or other endeavors
Grant submission for extramural funding
Fellows will have the opportunity to participate in regional anesthesia workshops at national meetings including the American Society of Anesthesiology (ASA), American Society of Regional Anesthesia and Pain Medicine (ASRA), Society for Pediatric Anesthesia (SPA) and the International Anesthesia Research Society. Fellows will attend at least one national meeting.
 Clinical Training
Fellows will complete a formal, six-to-seven-month rotation in adult regional anesthesia and acute pain management at NMH. This rotation includes multimodal analgesic techniques, such as neuraxial and peripheral nerve catheters, local anesthetics and narcotic infusions and non-narcotic analgesic adjuvants with emphasis on indications, contraindications, side effects, potential complications and daily management of patients on the acute pain service.
Fellows will complete a formal five-to-six-month rotation in regional anesthesia and pediatric acute and chronic pain management at Lurie Children's. This will include the use of multimodal analgesic management, including the use of neuraxial techniques, peripheral nerve catheters as well as opioid infusions and non-opioid adjuvants with emphasis on indications, adverse effects, potential complications and everyday management of infusions. The fellow will be involved in the regional anesthesia service that will provide regional anesthesia techniques in infants, children and adolescents, including head and neck bocks, upper and lower extremity blocks and truncal blocks and thoracic and lumbar epidural catheters. The fellow will be provided an opportunity to supervise anesthesia residents in anesthesia in the use of ultrasonography for peripheral and central neuraxial blocks.
 Benefits
In addition to McGaw Medical Center of Northwestern University benefits and wellness resources, Regional Anesthesiology & Acute Pain Medicine fellows receive:
Memberships to SPA and ASRA
Funding to attend the ASA, ASRA, SPA or an academic/research meeting (the department will fund a second meeting for fellows who present an abstract at an approved national scientific meeting)
$700 educational fund
 How to Apply
To be considered for a fellowship position, please send the following application materials to Alison Mah:
Fellowship Application (Word)
A current curriculum vitae
Two letters of recommendation from anesthesiologists
A letter of recommendation from the anesthesiology training program director or chair
A copy of the medical school transcript
The results of the two most recent ABA/ASA in-training examinations and USMLE Steps 1-3 exams
Copies of CA-1 and CA-2 Summative Performance Evaluations
A brief statement explaining interest in pursuing a fellowship position
The Regional & Acute Pain Anesthesiology Fellowship is currently an unaccredited program, so both American and international medical graduates may apply.
Candidates must have taken USMLE Step 3 and obtain a temporary or permanent Illinois Medical License before starting their fellowship training. Licensing information and application can be found at the Illinois Department of Financial & Professional Regulations website. To apply for a permanent license, the applicant must already have taken the USMLE Step 3. Please be aware that it may take up to 60 days to process and grant an Illinois license.
All international medical graduates must be certified by ECFMG before starting their fellowship training. Please refer to the ECFMG site for information about eligibility for the examination, fees, application, scheduling and preparation. Candidates must submit documentation with an English translation. Photocopies of all examination results, letter/score results and visa/citizenship papers must bear official seals and include dates and certificate numbers. If the applicant possesses a current visa, the status must include entry and expiration dates. IMGs must possess an ECFMG certificate before applying for a permanent medical license. McGaw Medical Center of Northwestern University sponsors H1-B and J-1 Visas.
For more information, contact Northwestern's Office of Graduate Medical Education:
McGaw Medical Center of Northwestern University
420 E. Superior St.
Suite 9-900
Chicago, IL 60611
312-503-7975
 Why Northwestern?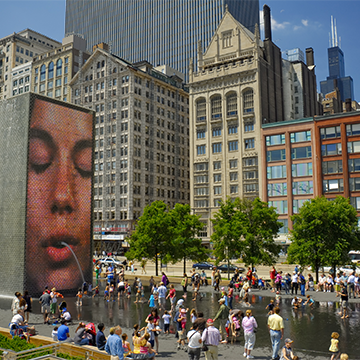 Housestaff training through McGaw Medical Center of Northwestern University provides diverse and challenging clinical experiences and world-class education located in the heart of the beautiful city of Chicago. Learn more via the links to the McGaw website below.
Watch Our Videos
Graduate Research Resources
We offer a wide range of resources, mentorship opportunities and training to help our residents and fellows excel as physician-scientists. Explore all of the resources and hear from housestaff who are making research a major part of their career development plans.
VISIT THE HOUSESTAFF RESEARCH PORTAL