New Director of MSTP Named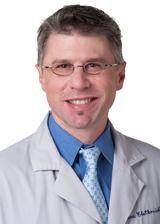 DAne chetkovich, md, phd, has been named the new director of feiberg's medical scientist training program.
After 16 years of outstanding service to Feinberg's Medical Scientist Training Program (MSTP), David Engman, MD, PhD, professor of Pathology and Microbiology-Immunology, has turned his directorship over to Dane Chetkovich, MD, PhD, associate professor of Neurology. Dr. Chetkovich begins his new role as director of MSTP effective immediately, with Hossein Ardehali, MD, PhD, and Sarah Rice, PhD, serving in new associate director roles. In addition, William Muller, MD, PhD, chairman of the Department of Pathology, will serve as a senior advisor to the director and continue to be involved in the educational activities of the program.
Under Dr. Engman's leadership, Feinberg's MSTP has become one of the top programs in the country. Since 1995 the number of students has tripled and several innovative features such as MSTP Grand Rounds, the Clinical Skill Refresher Course, and the MSTP Women's Forum were implemented. Dr. Engman has been on the Feinberg faculty since 1990 working on the cell biology and molecular genetics of various human parasitic diseases.
"We thank David for his successful stewardship and know Dane will continue to enhance our MSTP on many fronts," said Eric G. Neilson, MD, vice president for Medical Affairs and Lewis Landsberg Dean. "We have superb students and faculty, and a wonderful research-intensive environment poised for new discovery and accomplishment. This is an exciting moment for Northwestern Medicine."
Dr. Chetkovich is a practicing neurologist and active investigator focusing on the molecular mechanisms that control ion channel localization and function in the brain, processes that are critical for normal brain function and that are disrupted in neurological diseases such as epilepsy, Alzheimer's disease, and autism. The NIH and numerous private foundations fund his work, and he has served on a number of important national research committees, including study section at the NIH and American Epilepsy Foundation that reviews graduate and postdoctoral training grant applications. In addition, Dr. Chetkovich has been actively engaged in the MSTP, where he has served on the Admissions Committee and as director of the Grand Rounds course. He currently serves as class mentor for the MSTP first year class.
Dr. Ardehali is currently an associate professor of Medicine, Division of Cardiology, and of Molecular Pharmacology and Biological Chemistry. He has chaired the MSTP Admissions Committee since 2008 and will continue to lead the admissions process.  Dr. Ardehali completed his internal medicine residency and cardiology fellowship at Johns Hopkins University, and was recruited to Northwestern in 2005. He is a fellow of the American Heart Association and the American College of Cardiology, and numerous awards, including 4 active NIH grants, fund his research.
Dr. Rice is currently an assistant professor in Cell and Molecular Biology. Her emphasis in the MSTP program is mentorship during the graduate phase of training. Dr. Rice received her AB in physics from the University of Chicago and her PhD in biophysics from UCSF. After postdoctoral work at Stanford, she became an assistant professor of Cell and Molecular Biology at Northwestern in 2003. Dr. Rice has received a "V" Scholar Award, Schweppe Foundation Award, March of Dimes Basil O'Connor Award, and an American Heart Association Award, among others. Her research is focused on regulators of molecular motor proteins, and has been continually funded by the NIH since 2005.
Dr. Muller, an internationally recognized expert on inflammatory response, has been involved with the MSTP at Northwestern since his arrival in 2007, and was also active in the MSTP at Cornell Weill Medical School prior to his move to the University. He is the editor of the Journal of Experimental Medicine, and currently holds a merit award from the National Heart Lung and Blood Institute.
In addition, a new MSTP assistant director position has been created and will be filled with broad-based input from students, faculty, and staff.