Welcome from the Dean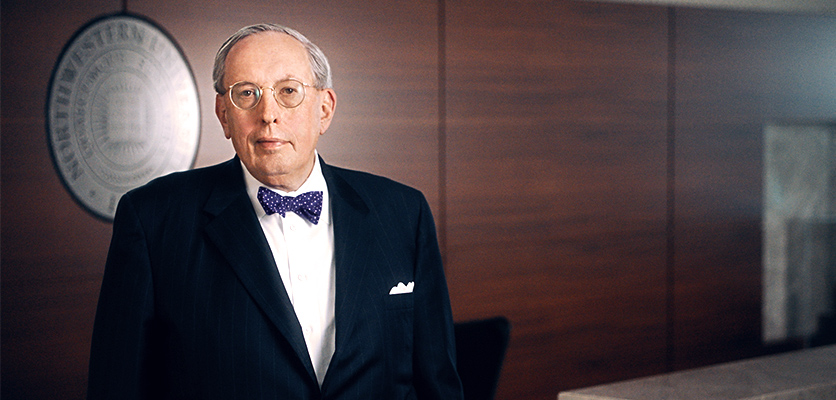 Welcome to our website at Northwestern University Feinberg School of Medicine. American medicine has entered an era of boundless possibilities, and Feinberg is poised for even greater accomplishment. Today, we are a superb research-intensive medical school in a wholly integrated academic environment. By building on our strong foundations in biomedical research, education and clinical care, we will continue advancing our collective mission to transform the field of medicine and profoundly impact human health. 
Indeed, the quality of our healthcare delivery is among the highest in the country; our three honor roll hospitals and clinical practices at Northwestern Memorial Hospital, Ann and Robert H. Lurie Children's Hospital of Chicago and the Shirley Ryan AbilityLab are destinations for the critically ill and those who will benefit from the latest innovations in medical science. But how can we further advance our commitment to public health beyond the individual patient?
To address this question, we have achieved new alignment with our healthcare partners in Northwestern Medicine, a partnership that brings Northwestern Memorial HealthCare, the Northwestern Medical Group and the Feinberg School of Medicine into closer approximation. Northwestern Medicine offers patients greater access to high quality care and growing functionality for our health system, ensuring strategic planning and resources to execute on common goals and raising our national identity as a leader in medicine. Collaboration creates teamwork and nimbleness that puts patients first by offering inspired care embedded in the best science medicine has to offer. 
Our commitment to breakthrough biomedical science and thriving scholarship is reflected in our ambitious plan to bring the world's tallest medical research building to our campus. In 2015, we broke ground on the Louis A. Simpson and Kimberly K. Querrey Biomedical Research Center, which will support collaborations between scientists at Feinberg and other schools at Northwestern University, and add more than 2,000 permanent, full-time positions. In its first phase, the 600,000 square-foot tower will rise 14 stories and will house nine floors dedicated solely to biomedical research. We expect more than $1.5 billion in federal research funding over the next 10 years following the construction of the new building, and we are thankful to our clinical partners and generous benefactors who have helped realize our vision. 
Against this steady drumbeat of progress, we prepare the next generation of physicians and scientists to become leaders in their fields. Through our innovative education programs, progressive and rigorous curriculum, and emphasis on mastery learning, we train students to become excellent clinicians and to impact the profession of medicine. 
Eminent medical schools have other desirable traits, particularly the pursuit of academic excellence and intellectual diversity in an environment where scientists, clinicians, and translational faculty come together for interdisciplinary accomplishment around bright students, trainees, and dedicated staff. Feinberg enjoys the company of exceptional students and trainees working through an ever-evolving curriculum of new knowledge. Our mission going forward, quite simply, is to improve the health of people, and I invite you to join us in this important work.
Eric G. Neilson, MD
Vice President for Medical Affairs
Lewis Landsberg Dean
Northwestern University
Feinberg School of Medicine