Radiation Oncology Residency Overview
Our four-year Radiation Oncology Residency is available to those who have completed their first postgraduate year. Physicians will be accepted through the National Resident Matching Program (NRMP). Residents will work in the Department of Radiation Oncology in the Robert H. Lurie Comprehensive Cancer Center of Northwestern University in an academic clinical setting and in the laboratory. 
Program Details
Residents are expected to participate in academic conferences (didactic lectures and case presentations), journal clubs, chart rounds and multidisciplinary tumor board conferences. Attendance at academic sessions is required unless the resident is rotating in non-radiation oncology electives. Residents will also participate in dedicated physics and radiobiology courses.
Residents who desire to perform basic science, clinical or translational research are able to work with a mentor to develop and execute a research plan if approved by the program director.
Each resident is expected to be involved with at least one research project during the program. Project possibilities are:
Retrospective chart review, case report and literature review
Development of a clinical research project
Bench research project
Physician Scientist Training Program: Residents may participate in faculty mentored research projects and apply formally during residency to PSTP
Generally, more junior residents will be involved with retrospective reviews, which also serve as the basis for practice-based improvement analyses. More senior residents may choose to become involved in basic science research or prospective protocol development.
Residents are encouraged to prepare research projects for presentation at regional and national scientific societies. Each resident presenting will receive a travel allowance.
In addition to clinical rotations, residents can choose electives, specialized rotations (medical oncology, diagnostic imaging, etc.), laboratory and clinical research.  
The clinical rotations offer residents the opportunity to:
Learn to evaluate patients for the full range of oncology care necessary, including gathering the appropriate information, performing a physical exam, reviewing diagnostic test results and presenting the case to the faculty
Learn the principles of treatment planning and technical aspects of simulation
Understand the acute effects of treatment and their management
Participate in follow-up clinics to understand the late effects of treatment and management of complications and recurrences.
Throughout the course of their training, residents will gain experience with simulation scanning, on-treatment patient management and the technical aspects of brachytherapy. All residents will rotate in all subspecialty areas of radiation oncology within the first three years of the residency.
Residents are provided with a budget they can use to purchase textbooks, travel and other resources that enrich their learning experience. Office desk space is available in the department with access to all of Northwestern's online resources.
Selected reference materials are maintained within the resident office. Staff files, journals and tests are also available for resident use as well as the medical libraries of Northwestern. Residents may also have articles electronically requested and delivered through the libraries as well as PubMed.
The residency program complies with the ACGME regulations governing resident work hours. Time spent in the clinic/hospital performing patient care counts toward the 80-hour per week maximum. 
In keeping with the requirements of the American Board of Radiology training requirements, 20 workdays of leave (including vacation and sick leave) are authorized during each year of residency. Typically, the maximum amount of leave taken during any single rotation should not exceed more than five workdays. However, more may be allowed if approved by the program director.
The department does not offer a preliminary year, so only PGY-2 residents will be accepted. All applications must be submitted to the National Resident Matching Program by or before Nov. 1. 
Supporting documents required are:
Three letters of recommendation
Dean's letter (not due with application)
Applicants selected for interviews are notified in November, and interviews are typically scheduled in December and January. 
The invitation letter will include a list of hotels. Breakfast and lunch are provided for interviewees. In addition, applicants will usually have an opportunity to meet with current residents in a social and informal setting the night before interviews.
Applicants meet with the department chair and the residency program director, in addition to interviews with members of the faculty and a senior resident. Interviewees will tour the department and hospital, and current residents will be available for discussions and to answer questions.
More information and applications are available from the McGaw Medical Center of Northwestern University website.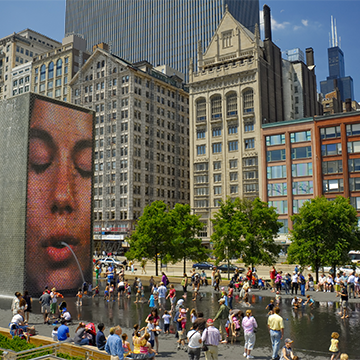 Housestaff training through McGaw Medical Center of Northwestern University provides diverse and challenging clinical experiences and world-class education located in the heart of the beautiful city of Chicago. Learn more via the links to the McGaw website below.
Watch Our Videos
Physician-Scientist Training & Resources
We offer a wide range of resources, mentorship opportunities and formal training programs to help our residents and fellows excel as physician-scientists. Explore all of the resources and hear from housestaff who are making research a major part of their career development plans.
Visit the Starzl Academy Site