Medical Physics Residency Overview
The Radiation Oncology Department at Northwestern University Feinberg School of Medicine/Northwestern Memorial Hospital offers a two-year Medical Physics Residency Program. The objective of this clinically-orientated Program is to educate and train future medical physicists to engage in high quality medical physics clinical research and services in radiation oncology. The Program is designed in accordance with the essential guidelines from the American Association of Physicists in Medicine (AAPM) and is initially accredited in December 2012 by the Commission on Accreditation of Medical Physics Educational Program (CAMPEP).  
To learn more, browse below or see our Statistics page to see how we've tracked certain success criteria related to the Medical Physics Residency Program.
Program Details
The two-year program is divided into multiple clinical rotations including but not limited to the following topics:
Treatment Planning & Dosimetry
Linac Calibration & QA
CT Simulation, Patient Immobilizations, and Pre-treatment Imaging (CT, MRI, PET-MR, etc.)
Radiation Dosimetry and Detectors
IGRT (kV, MV imaging, CBCT)
MR-Linac/Adaptive therapy
Special procedure: SBRT, TBI, TESI
SRS/SRT (linac/Gamma Knife)
Brachytherapy (HDR, Prostate Seed Implant)
Radiation Protection & Shielding Design
Hands-on clinical trainings are provided to the residents through working with the staff/faculty medical physicists as a mentor and instructor. The department is currently staffed with 9 physicists and 8 dosimetrists. Department treats 120-150 patients per day. It provides an extensive external beam treatments and imaging modalities, such as 3D Conformal, TBI, IMRT, IGRT, SBRT, VMAT, OBI, XVI, CBCT, Gamma Knife, Linac-based Radiosurgery, IntraOp and Hyperthermia besides various Low Dose Rate and High Dose Rate Brachytherapy. An MR-Linac  (view Ray) real-time IGRT treatment machine is currently in the process of being installed.
Northwestern Memorial Hospital has been consistently ten years in a row ranked by US News & World Report as the one of the Top 10 Best Hospitals in the US. The cancer ranking is currently at number 8 in the USA. It is located at the heart of the Magnificent Mile in Downtown Chicago, which offers an un-matched culturally rich and diverse environment among all major cities in the US. The Northwestern Medicine associated Prentice Women's Hospital and Robert H. Lurie Children's Hospital of Chicago are right on campus while other associated Hospitals (Lake Forest Hospital, Central DuPage Hospital (with Proton Beam Facility) & Delnor Hospital) are located in the suburbs of the Metropolitan Chicago areas.
Program only admits candidates that meet the following conditions:
A:   Should have an MS or a PhD degree from a CAMPEP-accredited graduate program or
B:   Completed a CAMPEP-accredited certification program after a PhD in Physics or related Sciences or Engineering with an equivalency of Physics minor.
The candidates must also have completed the following 6 required courses as outlined by the CAMPEP:

1. Radiological Physics & Dosimetry
2. Radiation Protection & Radiation Safety
3. Fundamental of Imaging in Medicine
4. Radiobiology
5. Anatomy & Physiology
6. Radiation Therapy Physics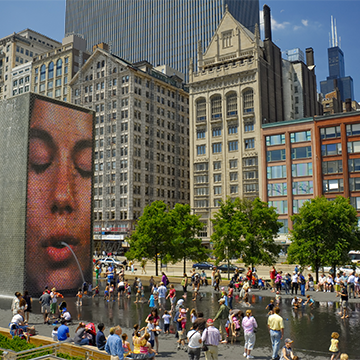 Housestaff training through McGaw Medical Center of Northwestern University provides diverse and challenging clinical experiences and world-class education located in the heart of the beautiful city of Chicago. Learn more via the links to the McGaw website below.
Watch Our Videos
Physician-Scientist Training & Resources
We offer a wide range of resources, mentorship opportunities and formal training programs to help our residents and fellows excel as physician-scientists. Explore all of the resources and hear from housestaff who are making research a major part of their career development plans.
VISIT THE STARZL ACADEMY SITE