Grand Rounds Seminars
Please join us for our upcoming virtual Grand Rounds Seminars! All seminars can be accessed via Zoom Webinar:
Link: https://northwestern.zoom.us/j/98695486122
Meeting ID: 986 9548 6122
Tuesday, September 27, 2022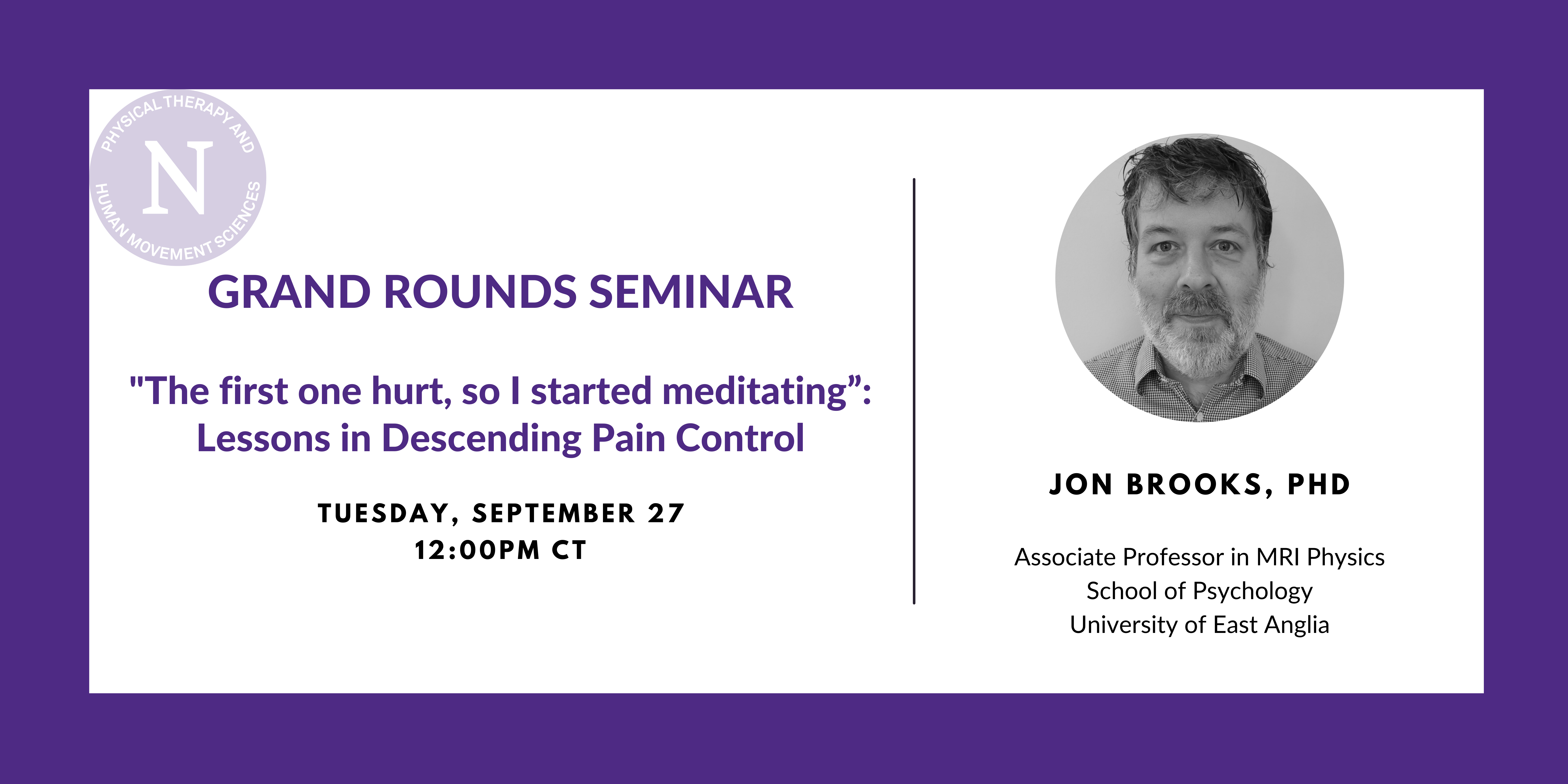 Please join our next seminar presented by Jon Brooks, PhD, on Tuesday, September 27, 2022 from 12:00-1:00pm CT via Zoom and in-person at 645 N. Michigan Avenue, Room 800. 
Pain can be transient, here one minute and gone the next. We possess a finely balanced system that can amplify or suppress incoming nociceptive signals from damaged tissues, which can (in some cases) lead to pain becoming chronic and debilitating, and for others: to a lessening, perhaps through coping mechanisms. At a fundamental level this is a system that allows us to carry on functioning in the presence of pain that would otherwise leave us unable to do so. During this talk I will discuss why we need to consider the entire central nervous system when thinking about pain control, what techniques can be leveraged to enable imaging of function in tricky parts of the CNS (particularly brainstem and spinal cord), and what neurotransmitter systems are implicated when keeping pain out of mind.
Dr. Brooks studied physics at undergraduate level, before pursuing a PhD in neuroscience utilizing magnetic resonance spectroscopy and imaging to study healthy brain ageing. He began to study pain when working at the Pain Research Institute in Liverpool, before moving to Oxford to work in the pain neuroimaging group at FMRIB led by Professor Irene Tracey. Subsequently he received an MRC Fellowship to investigate spinal cord function using MRI, before moving to Bristol where he focused on developing whole central nervous system imaging techniques. This approach allowed him to examine how the brain modulates pain experience through the concerted action of the brain, brainstem and spinal cord. He is now Head of MRI at the newly established imaging centre at the University of East Anglia, where he is (slowly) building a new pain lab.
Wednesday, September 28, 2022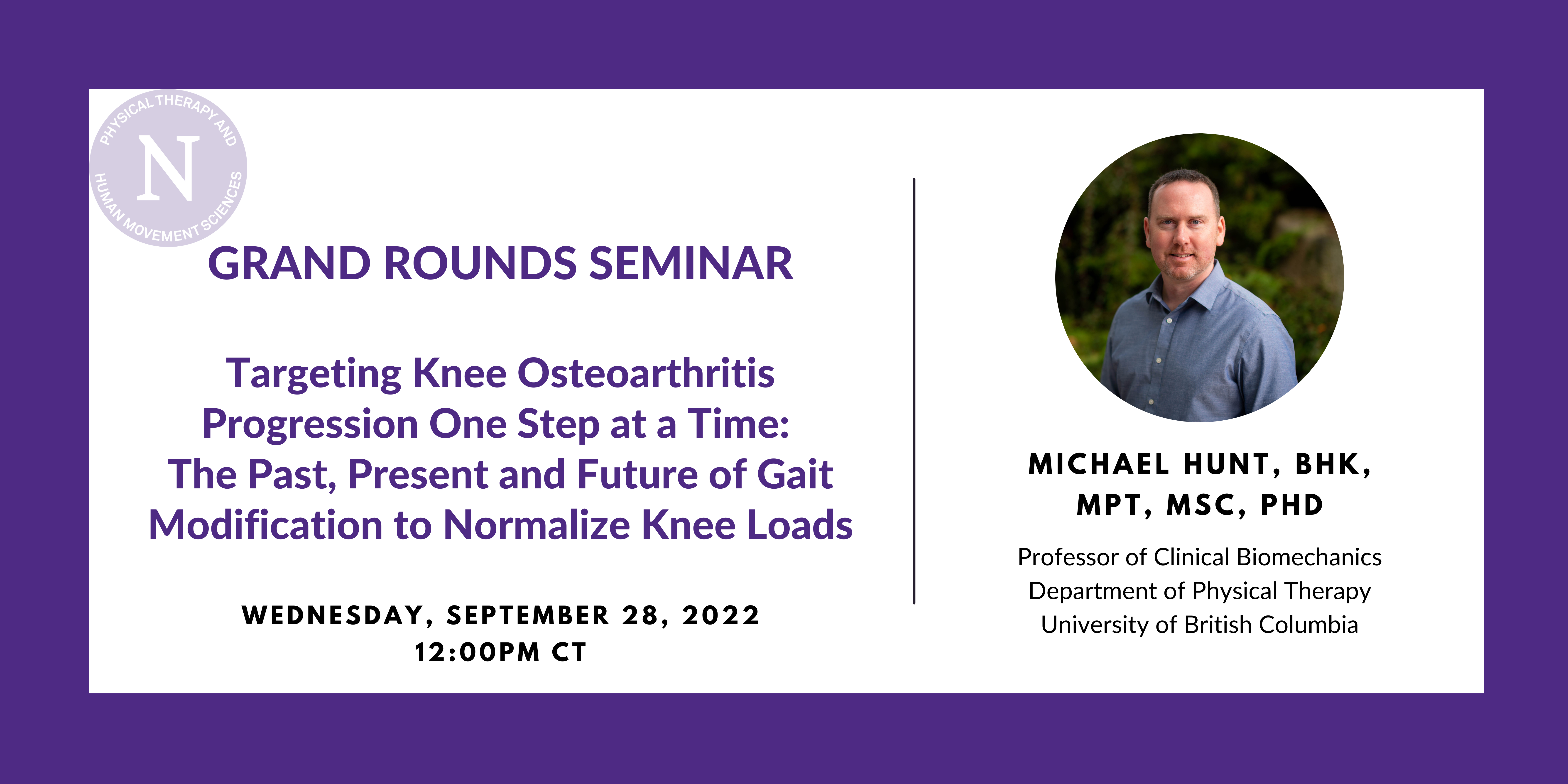 Please join our next seminar titled "Targeting Knee Osteoarthritis Progression One Step at a Time: The Past, Present and Future of Gait Modification to Normalize Knee Loads" presented by Michael Hunt, BHK, MPT, MSc, PhD, on Wednesday, September 28, 2022 from 12:00-1:00pm CT via Zoom and in-person at 645 N. Michigan Avenue, Room 800. 
It is widely accepted that excessive and unbalanced loading in the knee joint is an important risk factor for the clinical and structural progression of knee osteoarthritis. Importantly, these loads are modifiable through a variety of strategies at the disposal of physical therapists. Gait modification – the conscious change of one or more gait characteristics – is one of the more widely studied approaches. While a viable component of the overall management of knee osteoarthritis, current research-based approaches to gait modification are not conducive to widespread clinical implementation. We currently struggle with a number of clinical paradoxes – how to standardize and constrain prescribed changes, while trying to provide patient-centered care; how to capitalize on feedback of performance to guide change, while removing geographic and sociodemographic barriers to access. The purpose of this talk will be to provide new data and approaches to gait modification that will significantly enhance uptake and transition care from the lab to the real world. These findings can be applied to many current and emerging physical therapy interventions and patient conditions.
Dr. Michael Hunt is a Professor of Clinical Biomechanics in the Department of Physical Therapy at the University of British Columbia. His research combines his clinical training as a physical therapist with research training in biomechanics to best examine the interplay between human movement, injury/disease, and treatment. Specializing in musculoskeletal disorders such as knee osteoarthritis, he has a special interest in the development and assessment of biomechanically-informed conservative treatments to restore function, improve symptoms, and slow disease progression. Through his work as an Associate Dean in the Faculties of Medicine as well as Graduate and Postdoctoral Studies, he has developed a passion for enhancing the graduate student experience and training. He has led a number of initiatives that promote inclusivity, diversity, and respectful environments, as well as programs to better support career preparation and wellbeing.
Wednesday, October 26, 2022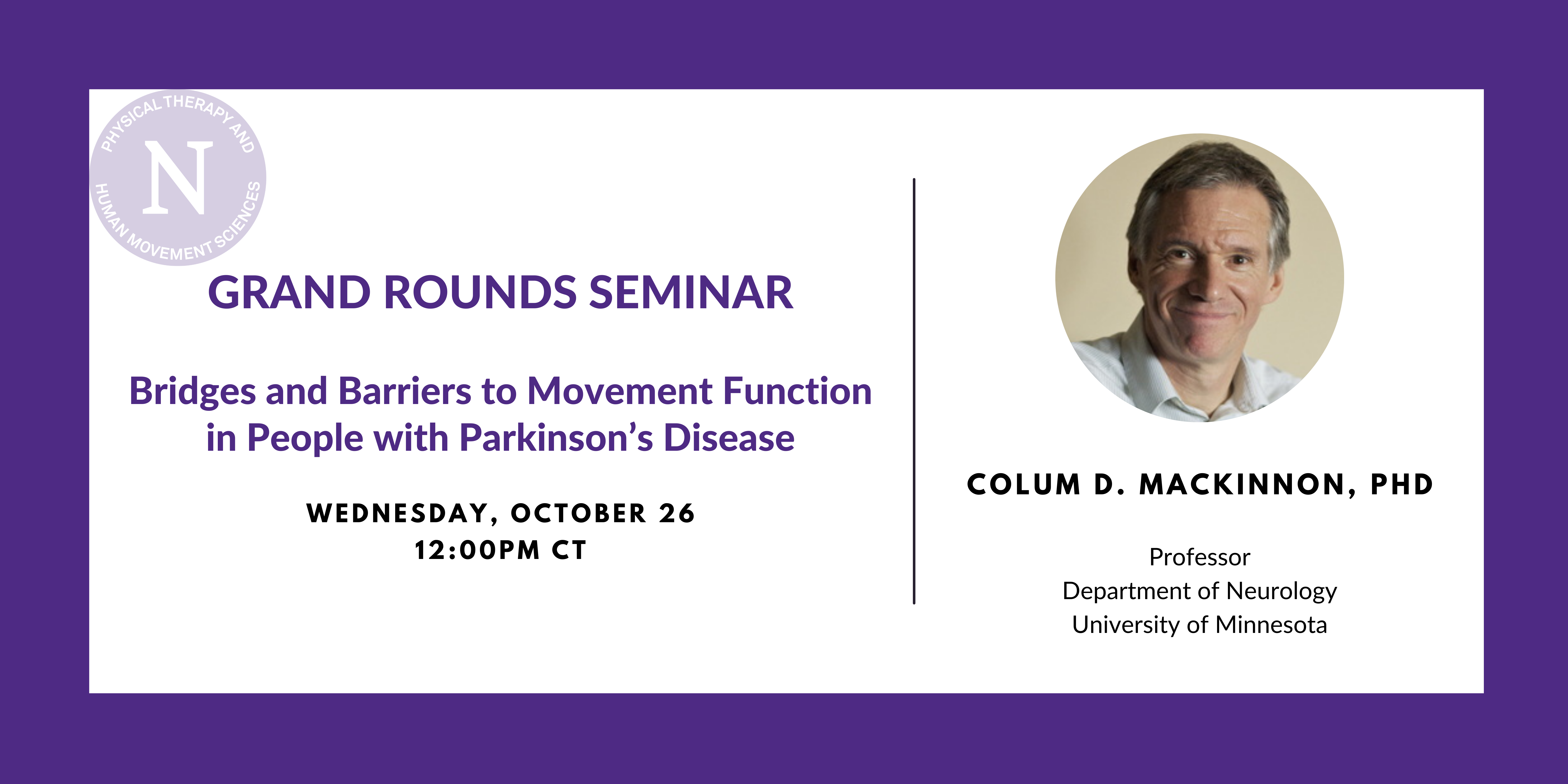 Please join our next seminar presented by Colum D. MacKinnon, PhD, on Wednesday, October 26, 2022 from 12:00-1:00pm CT via Zoom and in-person at 645 N. Michigan Avenue, Room 800. 
Parkinson's disease is a progress neurodegenerative disorder leading to deficits in the capacity to initiate and execute voluntary movements. Yet, there is considerable heterogeneity in the expression of motor deficits and the rate of progression of disease across individuals. The first part if this presentation will review evidence that the presence of a rare sleep disorder, termed REM sleep behavior disorder, is a harbinger of phenoconversion to a phenotype of Parkinson's disease or related disorder that is dominated by postural instability, gait disturbances and cognitive impairment. The second part of the presentation will describe evidence that, even in individuals with profound akinesia, the capacity to initiate and execute good quality movements can be intact, but is highly dependent upon the mode of movement initiation. Practical examples of interventions that can be used by physical therapists and caregivers to facilitate movement initiation and execution will be described.
Dr. MacKinnon received his PhD in Physiology from the University of Toronto and did postdoctoral training in neurophysiology and movement disorders at University College London. He was a faculty member in the Department of Physical Therapy and Human Movement Sciences at Northwestern University for 10 years and is a Professor of Neurology, Fellow in the Institute of Translational Neuroscience, and the Director of the Movement Disorders Laboratory at the University of Minnesota. His laboratory is focused on understanding the mechanisms contributing to impaired movement control in people with Parkinson's disease and other movement disorders. The laboratory uses motion capture, neuroimaging and non-invasive brain stimulation techniques to examine the cortical, subcortical and spinal mechanisms contributing to movement impairment. The Movement Disorders Laboratory is part of the University of Minnesota Udall Center of Excellence in Parkinson's Disease Research.
Wednesday, November 2, 2022
Please join our next seminar presented by Richard Mizelle, PhD, on Wednesday, November 2, 2022 from 12:00-1:00pm CT. 
Wednesday, November 30, 2022
Please join our next seminar presented by Kathleen A. Martin Ginis PhD, OMC, FCAHS, on Wednesday, November 30, 2022 from 12:00-1:00pm CT via Zoom.
Dr. Martin Ginis is the Director of SCI Action Canada, a Professor in the School of Health and Exercise Sciences at UBC Okanagan, and an ICORD Principal Investigator. She is also a Fellow of the National Academy of Kinesiology and a recipient of the Ontario Medal for Good Citizenship. Her research program focuses on understanding and changing physical activity behavior. She has a particular interest in physical activity among people with spinal cord injury and other types of physical disabilities. Dr. Martin Ginis often collaborates with multi-disciplinary teams to study various health-related outcomes associated with physical activity participation (e.g., weight loss, cardiovascular disease risk, pain). r. Martin Ginis has a profound commitment to knowledge translation, specifically the development and implementation of evidence-based best practices to improve health and well-being among people with disabilities. Examples of best practices developed by her team, include the formulation of the first evidence-based physical activity guidelines for people with spinal cord injury; implementation of a nationwide service to provide telephone-based physical activity counseling to adults with physical disabilities; and creation of an online physical activity resource centre to serve the international spinal cord injury communities.