Amit Ayer, MD, MBA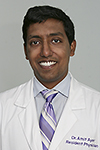 Year: PGY7
Undergraduate School: Queen's University, B.Sc (Hons) Life Sciences (Immunology)
Medical School: Wake Forest School of Medicine, MD
Hometown: Calgary, Alberta, Canada
Honors
Dean's List
Publications
Krishnan SR, Ray TR, Ayer AB, Ma Y, Gutruf P, Lee K, Lee JY, Wei C, Feng X, Ng B, Abecassis Z, Murthy N, Stankiewicz I, Freudman J, Stillman J, Kim N, Young G, Goudeseune C, Ciraldo J, Tate M, Huang Y, Potts M, Rogers JA. Epidermal electronics for noninvasive, wireless, quantitative assessment of ventricular shunt function in patients with hydrocephalus. Sci Transl Med. 2018 Oct 31.
Ayer A, Arnaout O, Reddy CD, Ganju A. Peripheral Nerve Grafting and Harvesting Techniques. Atlas of Neurosurgical Techniques; Spine and Peripheral Nerves. Fessler RG, Sekhar LN. Chapter 146; pp 928-931. 2016. 
Schumacher AJ, Lall RR, Lall RR, Nanney AD, Ayer A, Sejpal S, Liu BP, Marymont M, Lee P, Bendok BR, Kalapurakal JA, Chandler JP. Low-Dose Gamma Knife Radiosurgery for Vestibular Schwannomas: Tumor Control and Cranial Nerve Function Preservation after 11 Gy. J Neurol Surg. 2016.
Ayer A, Page BR, Lucas JT, Bourland D, Oliver ER, Tatter SB, Ellis TL, Chan MD. Cavernous Sinus Metastases Treated with Gamma Knife Stereotactic Radiosurgery. J Radiosurg SBRT. 2014.
Smith TR, Nanney AD, Ayer A, Cybulski GR. The Meaningful Use of Health Information Technology to Increase Value of Neurosurgical Care. Neurosurgical Society of America. 2014. St. Andrews, NB, Canada .
Abecassis IJ, Adel JG, Ayer A, Batjer HH. A Ruptured Infectious Intracranial Aneurysm with a Combined Fungal and Bacterial Etiology. Clin Neurol Neurosci. 2013. Sep 1.
Ayer A, Hwang BY, Appelboom G, Connolly ES. Clinical Trials for Neuroprotective Therapies in Intracerebral Hemorrhage: A New Roadmap from Bench to Bedside. Transl. Stroke Res. 2012. Aug 14.
Guzzo C, Ayer A, Basta S, Banfield BW, Gee K. IL-27 Enhances LPS-Induced Proinflammatory Cytokine Production via Upregulation of TLR4 Expression and Signaling in Human Monocytes. J. Immunol. 2012 Jan 15, 188;864-73. PMID: 22156348
Hwang BY, Appelboom G, Ayer A, Kellner CP, Kotchetkov IS, Gigante PR, Haque R, Kellner M, Connolly ES. Advances in neuroprotective strategies: potential therapies for intracerebral hemorrhage. Cerebrovasc Dis. 2011;31(3):211-22. PMID: 21178344
Ayer A, Campbell A, Appelboom G, Hwang BY, McDowell M, Piazza M, Feldstein NA, Anderson RC. The sociopolitical history and physiological underpinnings of skull deformation. Neurosurg Focus. 2010 Dec;29(6):E1. PMID: 21121715
Ortega-Gutierrez S, Amaro-Delgado S, Szeder V, Linares G, Vibbert M, Lay C, Choi A, Ko S-B, Ayer A, Gilmore E, Kellner S, Claassen J, Lee K, Mayer S, Schmidt M, Badjatia N. Tracheostomy after subarachnoid hemorrhage; predictors at admission and associated risk factors. Neurocritical Care Society 8th Annual Meeting. September 2010. San Francisco, CA.
Guzzo C, Ayer A, Che Mat NF, Gee K. Interleukin-27 induces TLR-4 Expression in Human Monocytes via JAK/STAT and NF-kB Signaling Pathways. Canadian Health Science Research Forum; Infectious Disease and Global Health. June 2-4, 2010. Winnipeg, MB., Canada
Guzzo C, Ayer A, Che Mat NF, Gee K. Interleukin-27 induced TLR-4 expression is mediated by JAK/STAT signaling and NF-kB activation in human monocytes. Canadian Society for Immunology. April 2010. Niagara Falls, ON, Canada.
Interests
Neurooncology, spinal deformity, hydrocephalus, health care economics