Pediatric Neurosurgery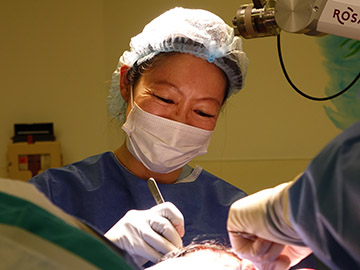 Our experts in pediatric neurosurgery focus on education and research related to medical and surgical treatments for many infant and childhood neurological conditions and syndromes.
The Department of Neurological Surgery hosts multiple academic events related to pediatric neurosurgery topics every year. Through clinical rotations at Ann & Robert H. Lurie Children's Hospital of Chicago, residents and fellows work closely with faculty on the medical and surgical treatment of patients with congenital, degenerative, vascular, inflammatory, traumatic and neoplastic disorders of the central and peripheral nervous system.
Some of our current clinical trials and technological development work include:
Pediatric Brain Tumor Consortium clinical trials
A Phase I Study of AdV-tk + Prodrug Therapy in Combination with Radiation
Collection and Banking of CNS Tumor Specimens for Biologic Research Studies
Syringomyelia / Chiari National DB Registry
Our basic science activities include:
Molecular diagnosis and therapy of neural tube defects
Cytogenetic and molecular epigenetic studies on pediatric brain tumors
Interstitial convection enhanced chemotherapy for pediatric brain tumors
Integrated molecular analysis of pediatric low grade gliomas
Our faculty offer excellent care for a wide variety of conditions involving the brain and nervous system through our affiliated pediatric hospital, Ann & Robert H. Lurie Children's Hospital of Chicago, including:
Arteriovenous malformations
Brachial plexus
Brain tumors
Cavernoma
Cerebral aneurysm
Cerebral palsy
Head trauma
Moyamoya Disease
Pediatric epilepsy
Spina bifida
Strokes in children
Tethered cord
Vein of Galen malformations
The Falk Brain Tumor Center ranks among the top pediatric centers in the world for pediatric brain tumor diagnosis and treatment.