Cerebrovascular/ Neurointerventional Surgery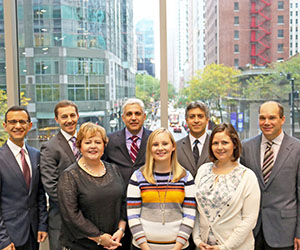 Our faculty who specialize in cerebrovascular/neurointerventional surgery include a diverse group of cerebrovascular neurosurgeons, pediatric neurosurgeons and neuro-interventional radiologists, who provide an integrated surgical and endovascular approach to treating stroke, TIA, subarachnoid and intracerebral hemorrhage, brain aneurysms, vascular malformations, carotid and intracranial stenosis and other complex cerebrovascular disorders.
The Department of Neurological Surgery hosts multiple academic events related to cerebrovascular topics each year. Through our affiliated hospitals and care sites, residents and fellows work with faculty to help treat patients with complex cerebrovascular pathology including stroke, brain aneurysms, cerebral and spinal arteriovenous malformations, carotid stenosis and moyamoya disease. Residents and fellows have extensive exposure to diagnostic and imaging interpretation skills and learn cranial, skull-base and spinal approaches to diverse vascular pathology in the CNS. They also receive instruction in the use of catheters, guidewires, stents, endovascular devices/materials, and augment their proficiency in technical aspects of modern high-resolution biplanar neuroangiography. Attention to the complete spectrum of multimodal, team-based, individualized treatment planning for each patient is emphasized, including preoperative and long-term postoperative follow-up care.
Some of our current clinical trials and technological development work include:
Aneurysm Wall Histology Registry
CREST-2: Carotid Revascularization and Medical Management for Asymptomatic Carotid Stenosis Trial
DEFUSE-3: Endovascular Therapy Following Imaging Evaluation for Ischemic Stroke 3
FRED: Flow Redirection Intraluminal Device
HEAT: Hydrogel Endovascular Aneurysm Treatment Trial
High Resolution Intracranial Vessel Wall MRI imaging
ISIRTN: Illinois Stroke Intervention Registry and Trials Network
MYRIAD: Mechanisms of Early Recurrence in Intracranial Atherosclerotic Disease
MISTIE-III: Minimally Invasive Surgery Plus rt-PA for Intracerebral Hemorrhage Evacuation
STARRT: Evaluation of Targeted Radiofrequency Ablation and Vertebral Augmentation Prior to or Following Radiation Therapy to Treat Painful Metastatic Vertebral Body Tumors
In collaboration with the Stroke Center at Northwestern Memorial Hospital, our faculty provide a thoughtful, multidisciplinary, team-based approach, tailored to each specific patient's presentation and preferences. We provide the most advanced treatments (medical, surgical, endovascular and/or radiosurgery) for a broad range of cerebrovascular conditions, including:
Acute ischemic and hemorrhagic stroke
Cavernous malformations/angiomas (craniotomy, radiosurgery)
Cerebral aneurysms(coiling, clipping, flow diversion)
Cerebral/spinal arteriovenous malformations and dural arteriovenous fistulas (craniotomy, embolization, radiosurgery)
Carotid/vertebral artery disease (stenosis, dissection, endarterectomy, stenting)
Embolization for head/neck/spin, epistaxis
Extracranial AVMand lymphatic/venous malformations of the head, neck and spine
Idiopathic intracranial hypertension/venous stenosis (dural venous sinus stenting)
Intracranial stenosis (angioplasty, stenting, bypass)
Moyamoya Disease (direct/indirect EC-IC bypass surgery)
Neurovascular compression syndromes (trigeminal neuralgia, hemifacial spasm)
Additionally, Northwestern hosts a quarterly Brain Aneurysm and AVM Support Group, dedicated to providing an open and supportive environment where patients and families can learn more about their conditions, treatments and outcomes.