We're committed to continued scientific evaluation and innovation in order to find advanced neurosurgical interventions that will alleviate the impact of debilitating neurologic illness and injury worldwide.
The department's faculty members serve on numerous editorial boards, regularly contribute to scientific journals and frequently lecture at local, regional, national and international forums to scientific and lay audiences. Department faculty are leaders in the dissemination of scientific information to neurosurgeons, including editing major textbooks in the field, writing the "Science Times" column in the journal Neurosurgery and directing the national Research Update in Neuroscience for Neurosurgeons.
Learn more about the scientific work we do via the links below.
Clinical Trials
Read more about our actively recruiting clinical trials.
Labs
Learn about the broader goals for study within our labs.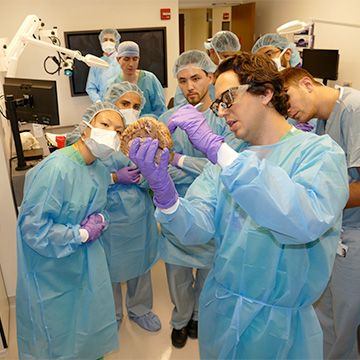 The Skull Base Lab: Shaping the Future of Neurosurgery
Residents, fellows, and practicing surgeons work with highly trained faculty using state-of-the-art technologies and hands-on dissection emphasizing a comprehensive and translational approach using real surgical techniques that better equip trainees with the skills they need in the operating room.