Learning Health System Research Alignment
Aligning our work with the Northwestern Medicine priorities and strategic areas of focus.
We aim to create better opportunities for research alignment through transparency on Northwestern Medicine priorities, strategic areas of focus, and processes for research proposal review.
Scroll down to learn more about:
Research Alignment Process
Health System Clinical Collaboratives
NM Quality Plan
Key Initiatives Program
NM Research Alignment Process
The research alignment process, facilitated by the Northwestern Medicine (NM) Office of Research, provides researchers looking to leverage NM as a living laboratory with a navigator to guide them through the health system. This process applies to research that will be conducted at NM and includes one or more of the following:
Intervention(s) requiring IS/Epic Application Teams to build new capabilities and/or optimize the electronic medical record (EMR)
Work requiring commitments for Quality, Registries, and/or Performance effort to facilitate completion of aims.
Proposals that have a significant impact on clinical care or clinical workflows
Interventions that seek to involve 2 or more regions within the health system
This alignment process reviews research proposals, PRIOR to grant submission, to facilitate co-development of research ideas with clinical, operational, and administrative partners. This includes connecting researchers to local leaders for buy-in and partnership, consultations with information technology to identify tools most appropriate for solutions in the clinical environment, and a review to guide considerations around regulatory compliance to prevent barriers once the study is ready to be activated. The goals of this process are to facilitate successful implementation of research interventions and promote models for sustainability through clinical and operational partnership.
Research Alignment Overview
Pre-Award Alignment Process
Post-Award Alignment Process
Health System Clinical Collaboratives
Health System Collaboratives consist of 27 multidisciplinary clinical and 14 business workgroups that work together on building consensus and recommending essential changes to NM care processes and electronic health record system to support the Patients First mission. Many Collaboratives are already underway, while others will launch shortly.
Who is involved?
Each Collaborative has been thoughtfully structured to unite physicians, nurses, subject matter experts and administrative leaders from each NM hospital with support from Informatics, Information Systems, Analytics, Quality and Performance Improvement.
What types of issues do the Clinical Collaboratives address?
Clinical collaboratives work together to identify and diffuse best practices, as well as optimize the content and functionality of Epic. Priority requests have included creating an order set, building a menu of useful Smart Links, or interfacing additional physiologic monitoring systems.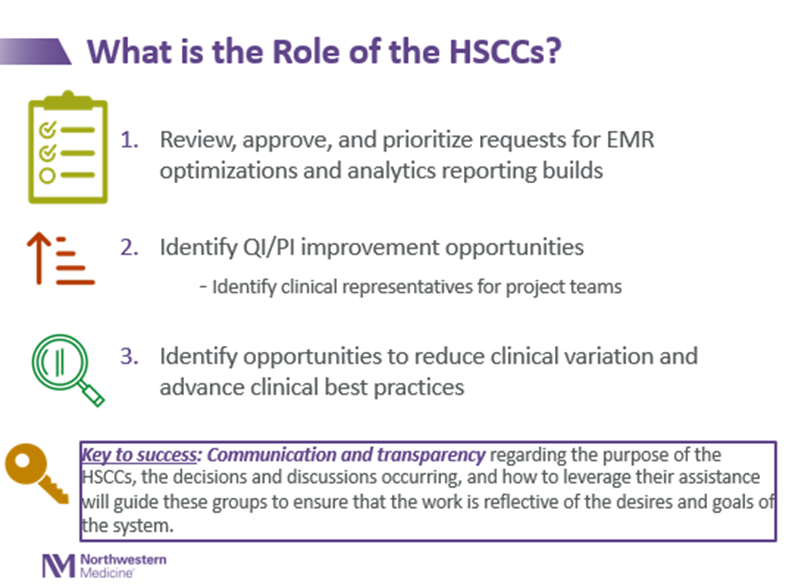 Northwestern Medicine Quality Plan and Key Initiatives
Advance the Patients First mission by delivering clinical excellence and safe care across an integrated, academic health system.
The Northwestern Medicine Quality Plan consists of four domains: Patients First, Safe Care, Clinical Excellence, Integrated Care. Each of these domains has a set of 5-year goals and Fiscal Year targets.
Northwestern Medicine utilizes the Key Initiative program to accomplish important projects each year. Click the image below to download a list of FY2021 Key Initiatives.
Key Initiatives - or KIs - are top priority health system projects. Each year, NM chooses 15-20 projects that meet the following criteria:
MUST DO: If we don't advance the project in the current fiscal year, it could lead to regret.
HIGH IMPACT: The project is critical to advancing long range plans across the health system.
HIGH COMPLEXITY: The project requires a high degree of collaboration and has a high degree of risk