Finding the Internal Fountain of Youth in Amish Country with Douglas Vaughan, MD
A rare blood disorder related to people missing a protein, called PAI-1, was identified in a small Amish community. Douglas Vaughan, MD, studies the community and found that those without the protein seem to live longer and healthier lives.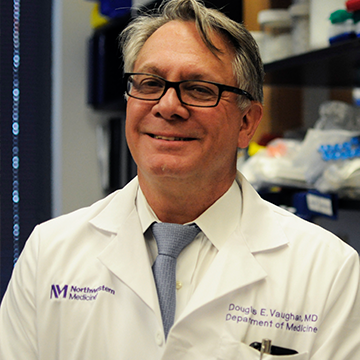 "The reality is, in 2019, the curtain on aging is being pulled back ... it's likely that we will be able to address aging in a tangible way in the next decade or two."
Chair, Department of Medicine
Irving S. Cutter Professor of Medicine in the Division of Cardiology
Northwestern Medicine Cardiologist
Episode Summary
In the early 1990s, an article published in the New England Journal of Medicine caught the eye of Douglas Vaughan, MD. It was about a little girl who was a member of an old order Amish community in and around Berne, Indiana. She had an odd bleeding disorder that caused unusually severe bleeding after injury or surgery. After some investigation, it was determined that she had no PAI-1 (plasminogen activator inhibitor) in her blood, a genetic mutation never before seen. PAI-1 is a protein that comprises part of a "molecular fingerprint" related to aging or senescence of cells. Vaughan had been studying PAI-1 and how it was related to disease in animals. This little girl's disorder intrigued him.
Douglas Vaughan: "I had a lingering desire to go study that population in a way, but I didn't have a very well formed hypothesis about what I would test. In a generic sort of way, I just wanted to go study their cardiovascular system, trying to understand if PAI-1 impact on blood pressure or atherosclerosis and things like that. But that's not a very robust or valid way to go test the population. I kept the idea in my mind that someday I wanted to go. I wanted to have an opportunity to go study this very unique population."
Later, in his lab at Northwestern, Vaughan discovered that mice missing one copy of their PIA-1 gene seemed to be protected them from aging-like changes.
Douglas Vaughan: "We hypothesized that the carriers of the mutation in the Amish population might be protected from aging in some kind of way."
In May 2015, with funding from the National Heart, Lung and Blood Institute, Vaughan and a team from Northwestern were given an introduction to the Amish community from Dr. Amy Shapiro, the hematologist who first identified the young woman with a bleeding disorder in the early 1990s along with Dr. Sweta Gupta. They were able to recruit members of the community over a two-day period and performed a variety of tests on them, including taking blood samples to identify carriers of the mutation.
Results were published Nov. 15, 2017, in the journal Science Advances. They found the that carriers (about 10 percent of the group as a whole) live 10 percent longer, have 10 percent longer telomeres (a protective cap at the end of our chromosomes that is a biological marker of aging) than their peers in the community without the mutation and have significantly less diabetes and lower fasting insulin levels.
At the same, Vaughan had been working with Toshio Miyata of Tohoku University in Japan to develop and test an oral drug, TM5614, which inhibits the action of PAI-1. There is hope the drug could affect insulin sensitivity in individuals with type 2 diabetes and obesity because of the mutation's effect on insulin levels in the Amish.
NIH funding has been approved to continue studying this special group of Amish people. Among other aims, Vaughan hopes to study Alzheimer's disease in the population. PAI-1 has been linked experimentally to Alzheimer's-like pathology in mice. 
Douglas Vaughan: "We already know (PAI-1) impacts on aging, that that affects everybody, but talk about a devastating and challenging disorder, Alzheimer's disease falls in that category. If the mutation present in the Amish population provides some insight into how to prevent or treat Alzheimer's disease? Well, that would be very interesting."
Continuing Medical Education Credit
Physicians who listen to this podcast may claim continuing medical education credit after listening to an episode of this program.
Target Audience
Academic/Research, Multiple specialties
Learning Objectives
At the conclusion of this activity, participants will be able to:
Identify the research interests and initiatives of Feinberg faculty.
Discuss new updates in clinical and translational research.
Accreditation Statement
The Northwestern University Feinberg School of Medicine is accredited by the Accreditation Council for Continuing Medical Education (ACCME) to provide continuing medical education for physicians.
Credit Designation Statement
The Northwestern University Feinberg School of Medicine designates this Enduring Material for a maximum of 0.5 AMA PRA Category 1 Credit(s)™. Physicians should claim only the credit commensurate with the extent of their participation in the activity.
Disclosure Statement
Douglas Vaughan, MD, has nothing to disclose. Course director, Robert Rosa, MD has nothing to disclose. Planning committee member, Erin Spain, has nothing to disclose. Feinberg School of Medicine's CME Leadership and Staff have nothing to disclose: Clara J. Schroedl, MD, Medical Director of CME, Sheryl Corey, Manager of CME, Jennifer Banys, Senior Program Administrator, Allison McCollum, Senior Program Coordinator, and Rhea Alexis Banks, Administrative Assistant 2.
Claim your credit