Research Day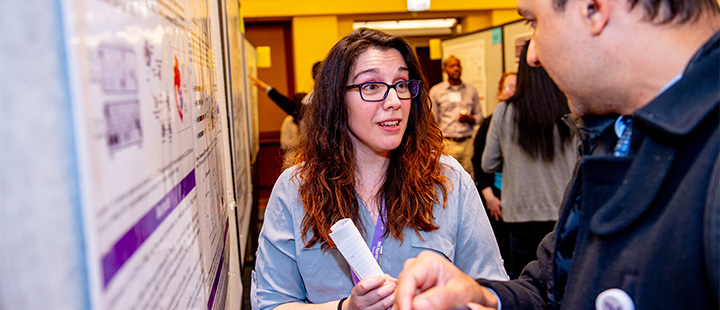 The Annual Lewis Landsberg Research Day is a campuswide event to promote faculty and trainee development through the sharing of exciting research and conversation with colleagues. Due to the latest risks, we have unfortunately made the difficult decision to once again postpone Research Day.
The 16th Annual Lewis Landsberg Research Day has been postponed until September 2022.
The keynote speaker will be Joshua Denny, MD, MS, Chief Executive Officer of the National Institutes of Health's All of Us Research Program.
Those who have already submitted abstracts will be carried over to the spring, with an opportunity to update their work. There will also be a spring window for submissions, which will be announced at a later date.
Read about the most recent Research Day event in 2019 or browse abstracts.  
Poster Competitions & Awards
Research Day offers students and researchers at Feinberg a public forum for presenting their findings and an opportunity to receive valuable feedback from their colleagues. It also allows them to see how their research compares to that of their peers in a competitive arena. Learn about the prizes, eligibility and instructions for our poster sessions.
Each year, Research Day participants compete for awards in basic science research, clinical research, public health and social sciences research and women's health research by submitting their research in poster format for review and judging. See an archived list of all previous winners.  
The following awards are also presented on Research Day: Tripartite Legacy Faculty Prize, Faculty Mentor of the Year and ARCC Award.
Contact Us
Have a question? Contact Feinberg Research.