About Feinberg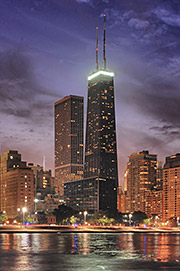 Of Interest
Feinberg Experience 

Feinberg and Northwestern Medicine Online Store
Primary Clinical Affiliates
Ann & Robert H. Lurie Children's Hospital of Chicago
Northwestern Medical Faculty Foundation 
Northwestern Memorial Hospital
Northwestern University Feinberg School of Medicine, founded in 1859, attracts talented individuals to its faculty, staff, and student body through its cutting-edge research initiatives, superb clinical affiliates, global outlook, and innovative curriculum. Located in the heart of Chicago's Magnificent Mile, Feinberg has built a national reputation for excellence through a strong history of collaborative, interdisciplinary medical education and research, and along with Northwestern Memorial Hospital and Northwestern Medical Faculty Foundation is part of the  premier academic medical center known as, Northwestern Medicine. Feinberg stands out among the nation's research-intensive medical schools and consistently receives high marks in U.S. News & World Report surveys. Through its affiliates, it provide patient care to thousands of individuals every year, and plays an integral part in the communities it serves.
Rankings
Feinberg holds the No. 18 spot in the 2013 U.S. News & World Report ranking of top research-oriented medical schools in the country. Among departmental rankings, women's health ranks No. 10, AIDS research No. 15, pediatrics No. 15, and internal medicine No. 16.
Feinberg continues to ascend the National Institutes of Health funding rankings, moving from No. 39 in 2001 to No. 21 in 2012. The medical school also boasts eight departments ranked in the top 10 of their respective research areas.
Northwestern Memorial Hospital and Ann & Robert H. Lurie Children's Hospital of Chicago are ranked Nos. 12 and 9 respectively, in the U.S. News & World Report lists of Honor Roll hospitals for 2012-13, and the Rehabilitation Institute of Chicago has been ranked No. 1 among rehabilitation hospitals each year since 1991.
Fast Facts
Students
Students have opportunities to participate in over 70 student organizations and 19 global clinical experiences. In the 2012-2013 academic year, Northwestern University Feinberg School of Medicine serves 712 MD students and 1074 residents and fellows. Learn more about the student population from academic years 2013 to 2016.
Class of 2016
The Class of 2016 is made up of a diverse group of students from different cultural, ethnic, and educational backgrounds.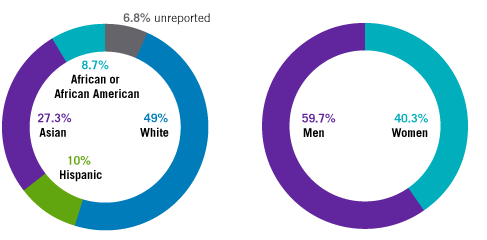 Learn more about the Class of 2016.
Faculty
Our approximately 3,700 distinguished faculty members teach, provide patient care, and conduct basic and clinical research through:
Six basic science departments
Twenty-six clinical departments
Twenty-four centers
Seven institutes
Research at a Glance
Feinberg provides 60 percent of all research across Northwestern University.
Researchers received 1,361 awards totaling $281.4 million dollars in the 2010-2011 academic year.
Feinberg's research space totaled 650,000 total sq. ft. in academic year 2010-2011 with a plan for an additional 90,000 sq. ft. of leased space for dry labs and renovation of 100,000 sq. ft. of existing lab space by 2015.
Nearly 1,000 clinical trials take place at Feinberg and its affiliates every year.
Curriculum
The new curriculum started in fall 2012, and focuses on four major elements:
Clinical Medicine centers on the development of clinical skills, including medical decision-making and clinical reasoning, and patient safety and quality improvement.
Science in Medicine fosters the scientific knowledge necessary to practice medicine.
Health and Society explores ways in which wellness is promoted in a population, including health disparities and outcomes, as well as the global integration of medicine with societal elements.
Professional Development includes topics for personal and professional development, such as teamwork and leadership.
This page last updated May 22, 2013