The annual 2019 "State of IPHAM" address: reflecting on the past and making plans for the future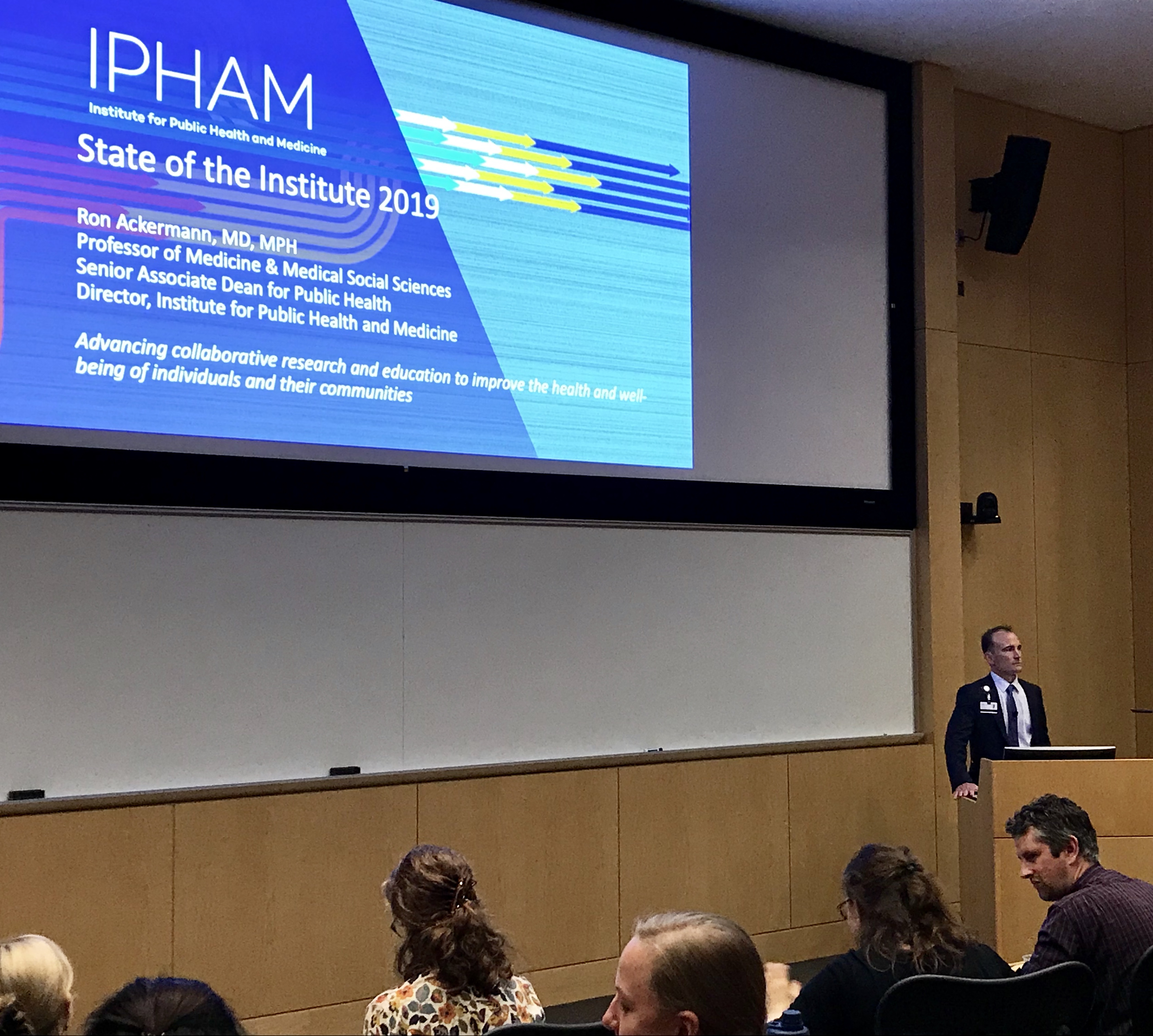 September 20, 2019
Ronald Ackermann, MD, MPH, director of the Institute for Public Health and Medicine (IPHAM), delivered the annual "State of IPHAM" to a standing room crowd in Baldwin Auditorium on Thursday.
The address kicked off the academic year's IPHAM Seminar Series by telling the story of IPHAM through its values: impact, health equity, diversity, respect, collaboration, research excellence, and sharing knowledge and benefits.
Ackermann emphasized the impact that IPHAM members have had on the overall growth in research awards at the Northwestern University Feinberg School of Medicine. In 2019, Feinberg received $534 million in awards; IPHAM members contributed about $181 million, or 34%, of that total.
Ackermann also announced the launch of two new centers that will be housed within IPHAM: the Center for Applied Health Research on Aging (CAHRA) and the Center for Food Allergy and Asthma Research (CFAAR). These centers will be pivotal in helping IPHAM achieve its mission to advance collaborative research and education that improves health and well-being for all individuals and their communities.
The Center for Applied Health Research on Aging will be led by Michael Wolf, PhD, MPH, associate vice chair for Research in the Department of Medicine. CAHRA promotes informed decision making and actions leading to optimal health and well-being among individuals and families over the life span.
Ruchi S. Gupta, MD, MPH, professor of Pediatrics has been named director of CFAAR, which aims to find answers and shape policies surrounding childhood food allergy and asthma.
"Through CFAAR, we are creating an interdisciplinary and collaborative research core to make meaningful improvements in the health of children, adults and families living with allergic disease," said Gupta.
In addition to the launch of two new IPHAM centers, Ackermann highlighted eight new faculty, six new K awards, and the transition of the Center for Global Health to an Institute. Underscoring the success of the 2018 IPHAM Population Health Forum, he noted that the second annual IPHAM Forum will be held on Monday, December 9. He also made the very exciting announcement that Dr. Ana Diez Roux, Dean and Distinguished University Professor of Epidemiology at Drexel University, will be the keynote speaker. The call for abstracts for the poster session that will take place during the forum has also been released.
"I hope to illustrate to you our enthusiasm for multiple dimensions of the areas we work in in the Institute for Public Health and Medicine. I hope it inspires you; I hope it excites you; I hope that it recognizes the work that you are doing because the intention was to be inclusive of what everybody is accomplishing," said Ackermann.
Webinar recording (start at 18:00)