The 2022 IPHAM Forum Celebrates a Long History of Public Health at Northwestern

December 20, 2022
The Institute for Public Health and Medicine (IPHAM) hosted its annual Population Health Forum on December 8, 2022. The event was a celebration of the ten-year anniversary of the institute and brought together hundreds of public health researchers, trainees, and community partners from the Chicago area to Northwestern.
This year's forum featured a 10-year review, scientific poster session, and a keynote lecture. The IPHAM Forum provided a space for public health researchers and trainees to meet and build relationships for future collaborations.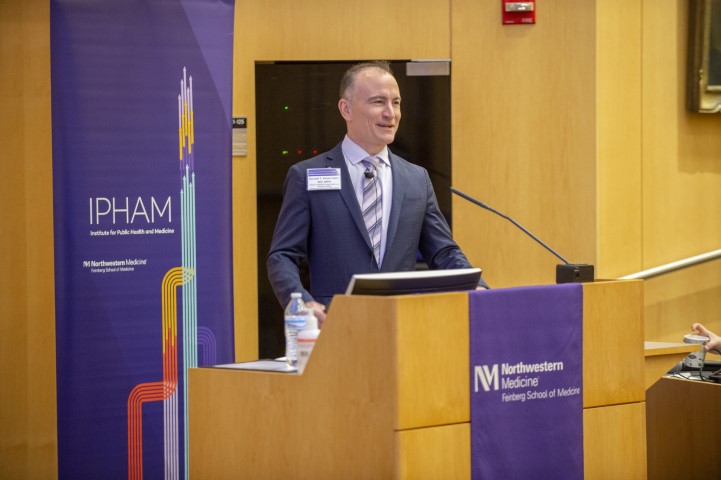 Opening remarks and the 10-year review were given by Ronald Ackermann, MD, MPH, senior associate dean for public health and director of IPHAM. His remarks looked back at the last ten years and beyond to draw lessons and build frameworks for future work. He reviewed the progress that IPHAM has made in the last ten years by examining the founding aims of the institute, which included research collaboration, infrastructure initiatives, community impact, sharing knowledge, faculty recruitment, and education and training. 
"When I talk about IPHAM and when I talk about things that have happened here in the past 10 years, it's really not about a place called the Institute for Public Health and Medicine," said Ackerman at the opening remarks. "It's not about a person. It's not about a few people. It's really about the collective efforts of almost 500 faculty and hundreds of staff, distributed across 51 departments and 6 schools, as well as a tremendous number of stakeholders that engage with us daily in efforts to try to elevate the visibility and the impact of public health and public health science from a medical school of all places. And I think that's truly exceptional."
A few of the many impressive accomplishments that Ackermann highlighted during his opening remarks were:
An increase in sponsored research from $81 million in FY12 to $213 million in FY22. Over the last five years, IPHAM members received $872 million in research funding.
A strong focus on community partnership through the Alliance for Research in Chicagoland Communities (ARCC), resulting in $1.4 million in seed grants to 100+ community partners to fund community-academic partnerships that resulted in $24 million in external funding and 42 publications.
Over the last 10 years, IPHAM members have published 21,894 papers with 664,605 citations.
45+ new faculty were recruited in collaboration with 10 different Feinberg departments.
322 MPH degrees were awarded since 2012.
The IPHAM Forum keynote lecture, titled "Healing and Justice through the Lens of Racial Trauma and Health Equity," was delivered by John A. Rich, MD, the inaugural director of RUSH BMO Institute for Health Equity. His moving presentation highlighted the challenges that young black men face and identified trauma is a contributing factor.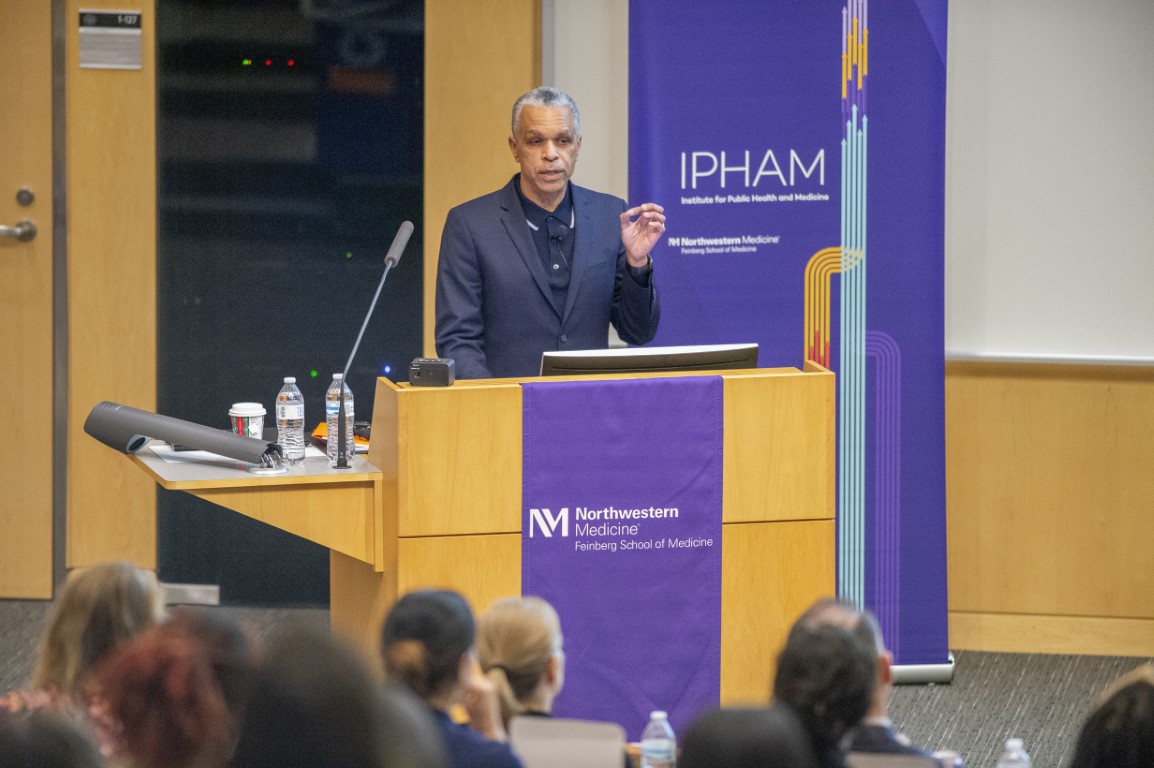 "It was really about their experiences in the world that fed them into a cycle of violence that began with trauma. As a colleague of mine says, 'if violence is contagious, then trauma is the virus.'," said Rich. "We have to understand the context in which trauma happens and the consequences for us as a society and as healthcare professionals."
Rich described his work in Philadelphia with a hospital-based violence intervention prevention program that was focused on trauma. The intervention included a 6-8 month healing program that aimed to disrupt the cycle of trauma. He also talked about his work with a community health worker peer training academy that trained those young people who went through the program and underwent their own healing journey to help future cohorts of participants.
"This issue is really about us in medicine and public health and what can we bring to the discourse about violence, trauma, structural racism in our own work," said Rich. "And that's why I'm really grateful for this opportunity to be with you today and to hear your thoughts, to see your brave work, to understand the history of the Institute, and to engage in this conversation – because all of us, more than ever, are talking about the social determinants of health. We're talking about the context of race as it applies across the board. We have to incorporate an understanding of the way in which the social determinants of health themselves are impacted by structural racism."
Upon concluding his lecture, Rich received a long standing ovation by the audience of nearly 300 people.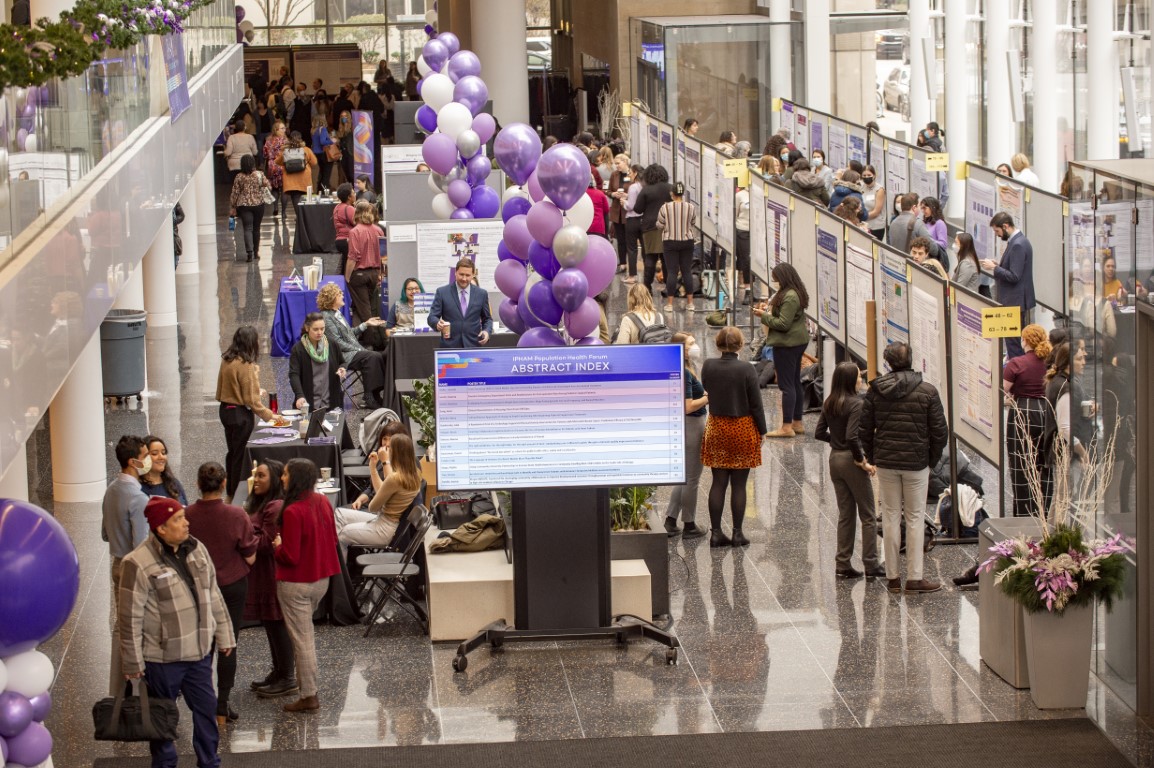 The scientific poster session, held in the Ryan Family Atrium, featured 140 posters by faculty, staff, students, and community partners from around the Chicagoland area. The poster session encouraged conversations and networking among session attendees.
Two poster awards were presented before the keynote lecture. Lindsay Allen, PhD, received the Rowland "Bing" Chang Award for Excellence in Research for her poster titled "The Impact of Staggered Benefit Disbursement on Illicit Opioid Use." This award is named after IPHAM's inaugural director, Rowland "Bing" Chang, MD, MPH. Dr. Diana Ingram of Pastors4PCOR received the Community Partner Award for Research Excellence for her team's poster titled "Community Emotional Stability through a faith-based community-academic partnership."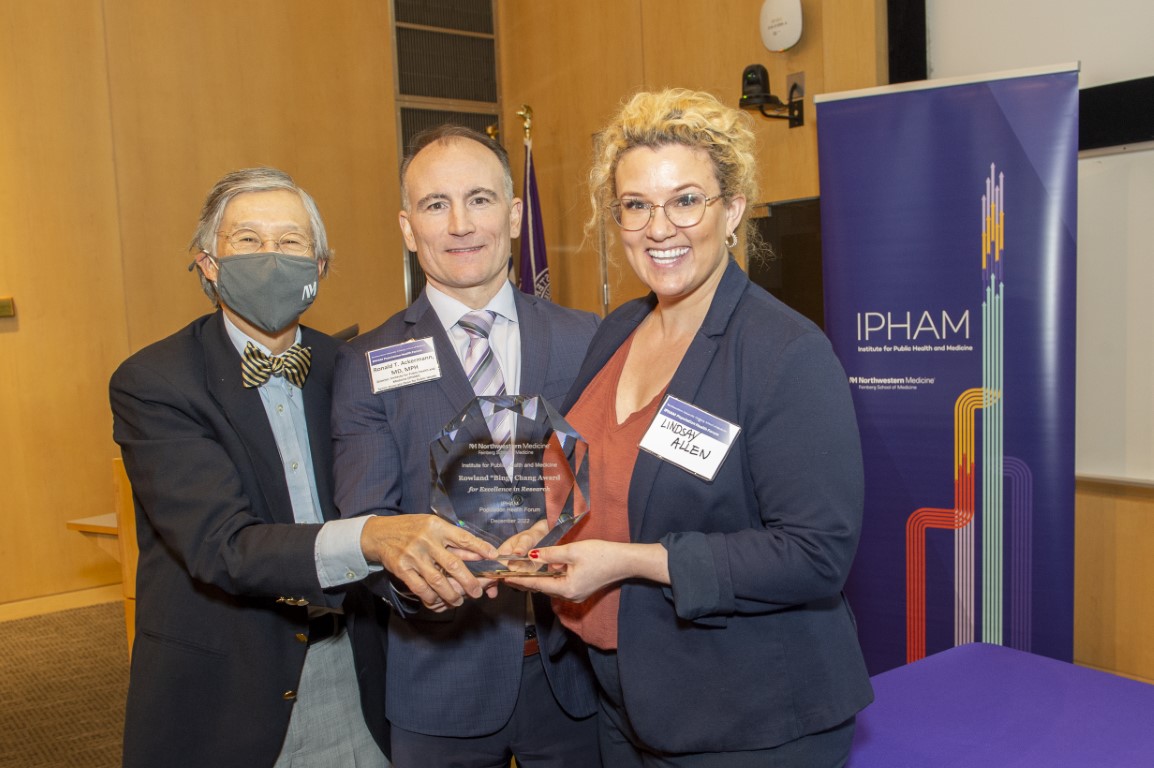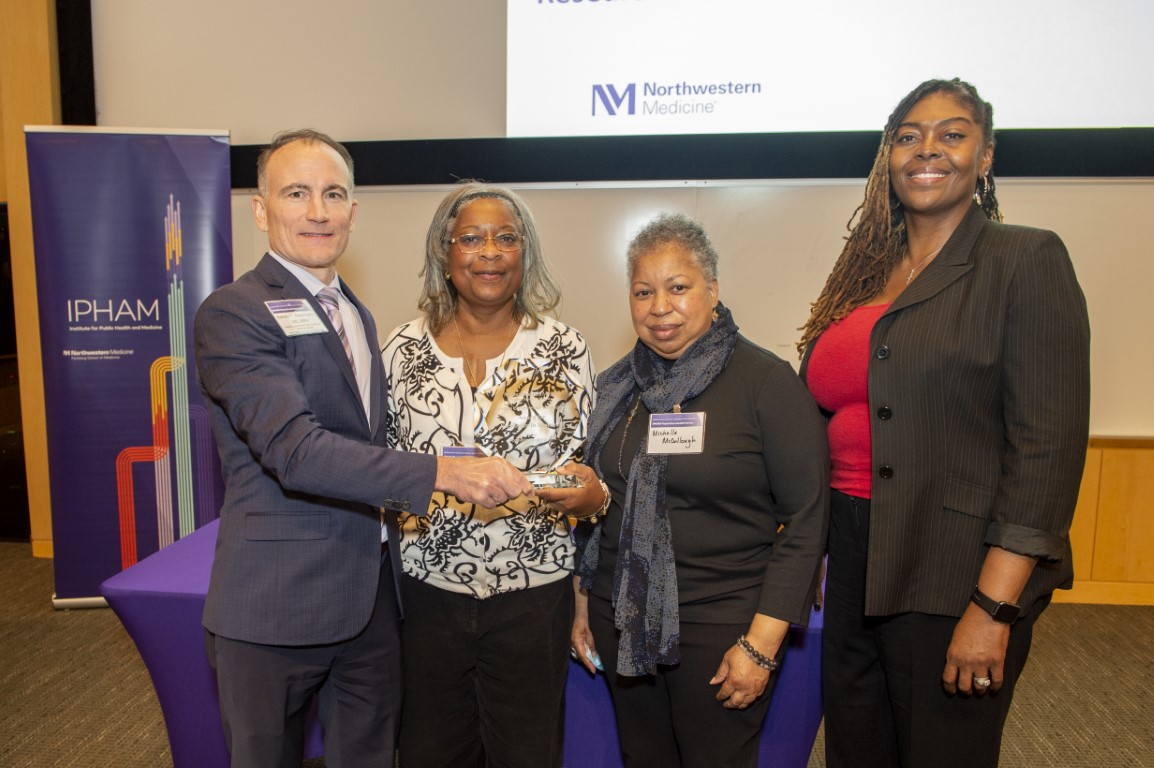 The IPHAM Forum also honored the memory of Dr. Virginia (Gini) Bishop, a beloved member of the Northwestern community, who passed away in February 2020.  Dr. Bishop co-founded the Alliance for Research in Chicagoland Communities (ARCC) and served as ARCC's co-director from 2007–2010. In his opening remarks, Ackermann announced that in 2023 the Program in Public Health will award two full scholarships to students from underrepresented groups to honor Dr. Bishop's legacy.
The IPHAM Forum was a resounding success and the Institute is looking forward to hosting another IPHAM Population Health Forum next year.
Resources: