New Faculty Spotlight: Lindsay Allen, PhD, MA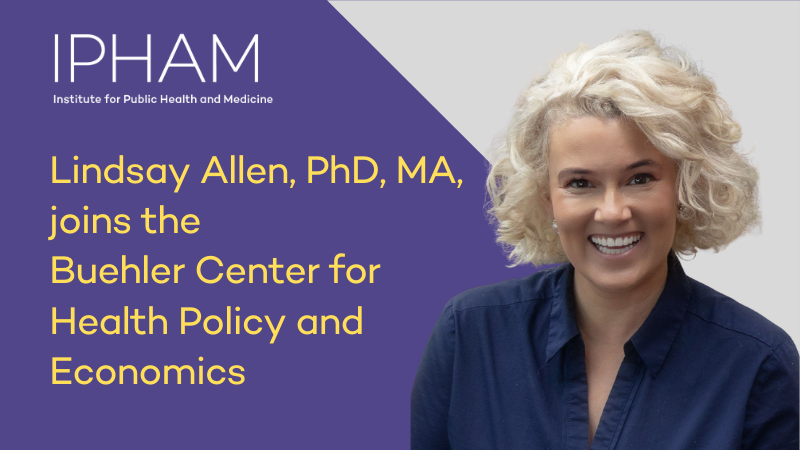 Lindsay Allen is a new member of IPHAM's Buehler Center for Health Policy and Economics. She is a health economist and health services researcher and has joined the Department of Emergency Medicine. Dr. Allen was kind enough to answer a few questions so we can get to know her better.
What is your research focus and how did you become interested in the topic?
I work on a few different streams of research. The first focuses on behavioral health. I'm especially interested in how state policy—especially that introduced by Medicaid—affects substance use treatment access, use, and outcomes. Though I've always had an interested in behavioral health topics, it wasn't until I took my first faculty position in West Virginia—at the epicenter of the opioid epidemic—that I really had the chance to dive into these types of questions. My second line of work looks at how alternative care delivery models can affect health care use, especially in the emergency department setting. It's been great being able to collaborate with my new colleagues in emergency medicine on those projects.


What is the potential impact of your research?
A key theme throughout my work right now is that of unintended consequences. For example, along with my colleagues David Powell at RAND, and Robin Pollini and Rick Vaglienti at WVU, I'm examining the impact that opioid prescription duration limits had on a host of outcomes. The purpose of those policies is to reduce rates of opioid use disorder among patients who might become dependent on opioids when they are given a new prescription for them. However, pain is a very real concern in health care, and there may be ways we can improve such policies in a way that keeps OUD rates low while also ensuring patients who need effective pain care can access it. With this project, and others, my goal is to provider policy and other decision makers with the information they need to help improve issues of cost, quality, and access in health care.
How can IPHAM researchers contact you to collaborate?
Email at lindsay.allen@northwestern.edu or on Twitter @_Lindsay_Allen.
Published on October 11, 2021.