Investigating New Glioblastoma Therapies with Rimas Lukas, MD
Northwestern scientists are conducting dozens of experiments and clinical trials aimed at understanding and fighting glioblastoma, the most common and aggressive primary brain tumor in adults. Rimas Lukas, MD, shares results of a promising Phase 1 clinical trial and other projects underway.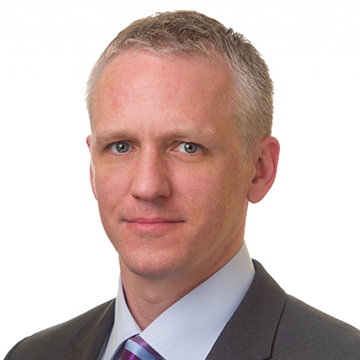 "It creates a spark of hope that in this disease, which has been extremely difficult to treat, that we have the potential to make positive impacts."
—Rimas Lukas, MD
Associate Professor of Neurology in the Division of Nuero-Oncology

Member of the Robert H. Lurie Comprehensive Cancer Center of Northwesern University

Lou and Jean Malnati Brain Tumor Institute of the Lurie Cancer Center at Northwestern Memorial Hospital
Episode Summary
Glioblastoma often makes headlines when a high-profile person, such as Sen. John McCain, is diagnosed, but about 12,000 Americans every year are afflicted with this deadly brain tumor. The median survival rate is just 15 months. Rimas Lukas, MD, is part of a robust brain tumor research enterprise at Northwestern with a unique focus on this disease.
A member of the Lurie Cancer Center, which was recently awarded an $11.5 million Specialized Program of Research Excellence (SPORE) grant, Rimas and his colleagues are pursuing many different tactics to improve treatment of glioblastoma. He is also part of the Lou and Jean Malnati Brain Tumor Institute of the Lurie Cancer Center at Northwestern Memorial Hospital.
Rimas Lukas: "We have many different investigators here at Northwestern, all working at the same time on glioblastoma in different ways, different areas ... we're not putting all of our eggs in one basket and we have, I think, a very diverse and complementary portfolio."
Most people diagnosed appear to be completely normal and healthy, then, out of the blue, present with symptoms such as weakness, difficulty either comprehending or expressing themselves and/or headaches that are usually worse when lying flat and oftentimes present when they first wake up in the morning and sometimes even waking them from sleep. Nausea and vomiting can also accompany the headaches. They may also develop seizure activity.
Most patients arrive at an emergency room for treatment where CT and MRI scans are performed. The images reveal that a tumor may be the underlying explanation for the symptoms and, in turn, will lead to the surgical intervention to establish a diagnosis and resect the tumor. After removing as much of the tumor and tumor cells as possible, standard treatment includes radiation therapy, the chemotherapy drug temozolomide. Standard treatment can also include a tumor-treating field device, worn on the scalp and designed to disrupt cancer cell division."
Despite these advances in treatment that have improved survival, most people succumb to this disease.
Rimas Lukas: "It's the multibillion-dollar question that we don't have an answer to: Why do our treatments fail? And this is something that our group here at Northwestern is particularly interested in. We have this track record of therapies that have made incremental gains. Surgery has improved survival. Radiation has improved survival, temozolomide has improved survival, tumor-treating fields have improved survival, yet we don't know why any of those things fail."
Immunotherapy has been successful in treating other cancers, such as melanoma and bladder cancer, but there has not been the same success, to date, with glioblastoma. Lukas was the co-author of a recent phase 1 clinical trial, published in Science Translational Medicine, that showed promise when using immunotherapeutic approaches to treat glioblastoma. He is now in phase 2 of the trial.
Rimas Lukas: "This study used gene therapy to really step on the accelerator for the immune system."
The cytokine interleukin-12 (IL-12) has been shown to be effective in fighting recurrent brain tumors in laboratory models. However, they have not been tolerated well by patients when delivered intravenously, according to Lukas.
To avoid this, the current study uses a one-two punch: an injection of a viral vector near the tumor site that transports a gene for IL-12 production into the tumor, followed by an orally delivered activator, which combine to cause transcription of genes that produce IL-12.
This system allows clinicians to transform the brain into its own IL-12 "factory," turning production on and off with a pill, all while avoiding the toxicity seen when IL-12 is administered throughout the body, according to Lukas.
In the study, investigators found that patients tolerated the drug combination well and determined an optimal dosing schedule for future studies. Importantly, they also confirmed production of IL-12 and observed the expected downstream effects, such as increased production of certain immune compounds.
Rimas Lukas: "It creates a spark of hope that in this disease, which has been extremely difficult to treat, we have the potential to make positive impacts."
Lukas is also part of a different phase 1 clinical trial with the lab of Derek Wainwright, PhD, assistant professor of Neurological Surgery, that seeks to address the problem of local immune suppression in patients with glioblastoma. Other approaches taking place at Malnati Brain Tumor Institute of the Lurie Cancer Center include oncolytic virotherapy. A team is now testing this treatment in a clinical trial for people with malignant brain tumors. Northwestern scientists are also are conducting a clinical trial using nanoparticles for patients with glioblastoma.
Rimas Lukas: "The field of neuro-oncology is really exciting because it is something that has a large black box within it, where we don't know a lot and we need to know a lot, and I think the stakes are high. My anticipation is that during the course of my career we will learn a lot and make positive impacts on it. That aspect is a strong driver for wanting do this for a living day in, day out."
Subscribe to Feinberg School of Medicine podcasts here:
Target Audience
Academic/Research, Multiple specialties
Learning Objectives
At the conclusion of this activity, participants will be able to:
Identify the research interests and initiatives of Feinberg faculty.
Discuss new updates in clinical and translational research.
Accreditation Statement
The Northwestern University Feinberg School of Medicine is accredited by the Accreditation Council for Continuing Medical Education (ACCME) to provide continuing medical education for physicians.
Credit Designation Statement
The Northwestern University Feinberg School of Medicine designates this Enduring Material for a maximum of 0.5 AMA PRA Category 1 Credit(s)™. Physicians should claim only the credit commensurate with the extent of their participation in the activity.
Disclosure Statement
Rimas Lukas, MD, disclosed external professional relationships with (consulting) Abbvie, NewLink Genetics, ReNeuron, (honoraria for medical editing or presenting) Medlink Neurology, EBSCO, and American Physician Institute. Course director, Robert Rosa, MD, has nothing to disclose. Peer reviewer, Leo Gordon, MD, disclosed external professional relationships (advisory) with Gilead, Bayer Corporation, Celgene/Juno, (founder) Zylem, Inc. Planning committee member, Erin Spain, has nothing to disclose. Feinberg School of Medicine's CME Leadership and Staff have nothing to disclose: Clara J. Schroedl, MD, Medical Director of CME, Sheryl Corey, Manager of CME, Jennifer Banys, Senior Program Administrator, Allison McCollum, Senior Program Coordinator, and Rhea Alexis Banks, Administrative Assistant 2.