Epigenetics and Cancer with Ali Shilatifard, PhD
For three decades, Ali Shilatifard, PhD, has dedicated his career to revealing the causes of childhood leukemia, providing detailed molecular insight into the role of epigenetics in cancer. He hopes his discoveries will lead to a super drug that could end childhood leukemia and other cancers.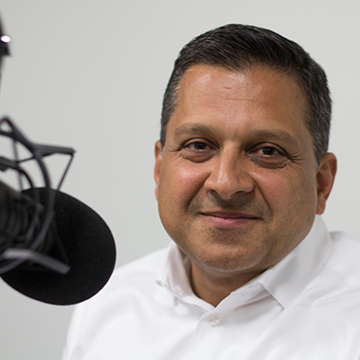 "Our goal here at Northwestern Medicine is to work our heart out and try to come up with something that can benefit humanity."
— Ali Shilatifard, PhD
Chair, Department of Biochemistry & Molecular Genetics
Director, Simpson Querrey Center for Epigenetics
Robert Francis Furchgott Professor
Professor of Biochemistry & Molecular Genetics and Pediatrics

Leader, Cancer Epigenetics and Nuclear Dynamics Program at the Robert H. Lurie Comprehensive Cancer Center of Northwestern University
Episode Summary
Ali Shilatifard, PhD, fell in love with science at an early age. His grandfather was a radiologist who also had a lab. As a young boy, Shilatifard spent much of his time with his grandfather, learning about medicine and science.
Ali Shilatifard: "While boys my age were running around playing soccer or having fun, I just wanted to be with him in the lab, hanging around in his clinic."
Shilatifard came to the United States from Iran as a teenager, learned English and passed the General Educational Development (GED) test. From there, he obtained a degree in organic chemistry and a PhD in biochemistry. As postdoc in a lab in 1996, he was part of a team that reported the identification of transcription elongation control in the pathogenesis of leukemia. He has spent the past three decades working to understand childhood leukemia at the molecular level in hopes of figuring out why elongation control is involved in that process.
Ali Shilatifard: "Last year we published a major breakthrough in Cell identifying an inhibitor against this activity. And now we're in the process of getting this inhibitor hopefully into IND [investigational new drug filing] within the next five years to have some clinical trials."
At Northwestern, Shilatifard is the chair of the Department Biochemistry & Molecular Genetics and the Simpson Querrey Center for Epigenetics. Epigenetics in cancer is his area of expertise. The center investigates the link between environmental factors in the regulation of the expression of genes packaged within our chromatin. Such studies aim to define how the misregulation of epigenetic processes can result in pathological conditions and how scientists can take advantage of such molecular information to develop treatments through targeted therapeutics.
Shilatifard says the combination of epigenetic therapy with immunotherapy seems to hold the most potential for treating for cancer and other diseases.
Ali Shilatifard: "What we are learning in the scientific community, what we are learning at the clinical communities, that is the combination therapy, you know, one-two punch, one-two-three punch (is the most powerful). Let's find those drugs, immunotherapy and epigenetic therapy and something else, and that probably going to be successful within the next five to 10 years."
In his lab, Shilatifard develops and tests new therapies with the help of cells from young patients who were treated for leukemia at the Ann & Robert H. Lurie Children's Hospital of Chicago. Their cells are collected with permission, and the patients are not identified. Having cells directly from patients is crucial to the success of his lab.
Ali Shilatifard: "There are a lot of cell lines that exist in the literature, a lot of cells that exist within different laboratories, but these cells have been around for decades. God knows what has happened to them genetically. But, fresh out of the patients and into a xenograft model system, we have a much better probability of finding something that can cure these cancers than work with the cell lines that have been around for three decades."
Shilatifard says the sick children he meets through his work inspire him every day.
Ali Shilatifard: "I have a little frame in my office that is a drawing of a little girl who died of leukemia, and I look at it every day. I have four kids of my own. I look at them every day. And that's an inspiration. And I think, as a parent, when you look at a sick child, that's hard to take. And I think our goal here at Northwestern Medicine is to work our heart out and try to come up with something that can benefit humanity."
Subscribe to Feinberg School of Medicine podcasts here:
Continuing Medical Education Credit
Physicians who listen to this podcast may claim continuing medical education credit after listening to an episode of this program.
Target Audience
Academic/Research, Multiple specialties
Learning Objectives
At the conclusion of this activity, participants will be able to:
Identify the research interests and initiatives of Feinberg faculty.
Discuss new updates in clinical and translational research.
Accreditation Statement
The Northwestern University Feinberg School of Medicine is accredited by the Accreditation Council for Continuing Medical Education (ACCME) to provide continuing medical education for physicians.
Credit Designation Statement
The Northwestern University Feinberg School of Medicine designates this Enduring Material for a maximum of 0.5 AMA PRA Category 1 Credit(s)™. Physicians should claim only the credit commensurate with the extent of their participation in the activity.
Disclosure Statement
Course director, Robert Rosa, MD, has nothing to disclose. Planning committee member, Erin Spain, has nothing to disclose. Feinberg School of Medicine's CME Leadership and Staff have nothing to disclose: Clara J. Schroedl, MD, Medical Director of CME, Sheryl Corey, Manager of CME, Jennifer Banys, Senior Program Administrator, Allison McCollum, Senior Program Coordinator, and Rhea Alexis Banks, Administrative Assistant 2.