A Promising Obesity Drug with Robert Kushner, MD
The drug semaglutide, typically prescribed for treatment of Type 2 diabetes, was used in a phase 3 clinical trial as a treatment for obesity with very promising results. Northwestern's Robert Kushner, MD, led this study published in the New England Journal of Medicine and shares the results.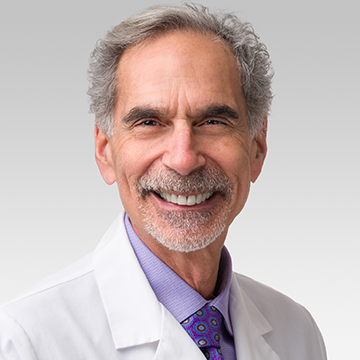 "This the first time that we have seen this magnitude of weight loss compared to current medications on the market for obesity. It's 1.5 to 2.5 times more effective than currently available drugs."
Episode Notes
According to the latest CDC data, nearly two-thirds of Americans are either overweight or obese. Robert Kushner, MD, calls America the epicenter of populations that are suffering from obesity. And the problem is getting worse. 
However, a new anti-obesity medication, semaglutide, was shown to be almost twice as effective at helping individuals lose weight than current weight-loss drugs on the market, according to a recent landmark study conducted at Northwestern Medicine and other institutions which was published in the New England Journal of Medicine.
Kushner was the corresponding author for the Semaglutide Treatment Effect in People with obesity (STEP) 1 study group. Here are the topics covered in this episode:
Kushner describes many factors that lead to obesity and the difficulties in treatment.
He discusses dangers of the COVID-19 pandemic for people with obesity. Kushner says this is the first time in his 40-year career that obesity has been a risk factor for an infectious disease.
Kushner explains the multi-site study that investigated the effectiveness and safety of injecting 2.4 mg of semaglutide weekly along with individual lifestyle counseling sessions.
He shares how the drug mimics a gut hormone called Glucagon-Like Peptide 1 (GLP-1), a naturally occurring hormone that helps us feel full when we eat.
The drug is now in the process of FDA approval and follow-up studies with STEP 1 participants are underway. Kushner is hopeful the drug will change the landscape of obesity treatment.


Funding for the study was provided by Novo Nordisk, which manufacturers Rybelsus and Ozempic (semaglutide intended for diabetes treatment). Kushner received advisory board fees from Novo Nordisk.
Additional Reading: 
Subscribe to Feinberg School of Medicine podcasts here:
iTunes 
Spotify
Google Play Music
Recorded on Feb 17, 2021.
Continuing Medical Education Credit
Physicians who listen to this podcast may claim continuing medical education credit after listening to an episode of this program.
Target Audience
Academic/Research, Multiple specialties
Learning Objectives
At the conclusion of this activity, participants will be able to:
Identify the research interests and initiatives of Feinberg faculty.
Discuss new updates in clinical and translational research.
Accreditation Statement
The Northwestern University Feinberg School of Medicine is accredited by the Accreditation Council for Continuing Medical Education (ACCME) to provide continuing medical education for physicians.
Credit Designation Statement
The Northwestern University Feinberg School of Medicine designates this Enduring Material for a maximum of 0.25 AMA PRA Category 1 Credit(s)™. Physicians should claim only the credit commensurate with the extent of their participation in the activity.
Disclosure Statement
Robert Kushner, MD, receives a consulting fee from Novo Nordisk and Weight Watchers. Course director, Robert Rosa, MD, has nothing to disclose. Planning committee member, Erin Spain, has nothing to disclose. Feinberg School of Medicine's CME Leadership and Staff have nothing to disclose: Clara J. Schroedl, MD, Medical Director of CME, Sheryl Corey, Manager of CME, Allison McCollum, Senior Program Coordinator, Katie Daley, Senior Program Coordinator, and Rhea Alexis Banks, Administrative Assistant 2.
Claim your credit