What Causes ALS? With Robert Kalb, MD
Northwestern has long been on the forefront of studying the causes of amyotrophic lateral sclerosis (ALS or Lou Gehrig's disease) and treating patients with the disease. Robert Kalb, MD, Director of the Les Turner ALS Center at Northwestern Medicine, is optimistic that more breakthroughs in the basic biology of the disease are on the way and a cure is possible.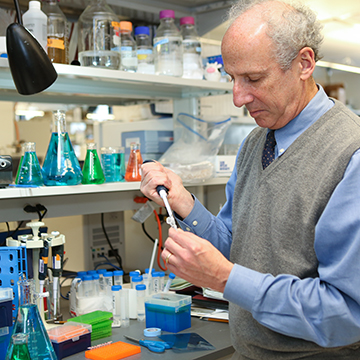 "I'm quite sure that at some point there will be a pill, you take the pill in the morning, once a day in the disease never progresses. I'm confident in that, but whether that's six years from now or 15 years from now, I can't see that into the crystal ball and make that prediction."
Director, Les Turner ALS Center

Les Turner Professor

of Neurology

Chief of Neurology in the Division of Neuromuscular Disease in the Department of Neurology 
Episode Summary
Amyotrophic lateral sclerosis, ALS, or Lou Gehrig's disease, is one of the most serious of motor neuron diseases. It can progress quickly with life expectancy of only three to five years after diagnosis. Robert Kalb, MD, details how someone is diagnosed with ALS why they come to Northwestern for treatment.
Robert Kalb: "ALS is a clinical diagnosis. There is no test, there's no blood test. There are no imaging tests. There's no electrophysiologic test that makes the diagnosis. It's a constellation of signs and symptoms. Once a person gets to our clinic, and we assemble all of the pieces of information, and include the positive and the negative results, we're pretty confident that if a person has ALS, that we can give them that diagnosis. And then once they are enrolled in the ALS clinic, they can get a variety of services and support through the Les Turner Center."

He is optimistic that a treatment can be found.

Robert Kalb: "I'm quite sure, that at some point, there will be a pill, you take the pill in the morning, once a day, and the disease never progresses." 

Kalb is investigating the use of antisense oligonucleotides or ASOs in the treatment of ALS. This technology is already being used to treat children with spinal muscular atrophy. Nusinersen, an antisense oligonucleotide drug, is being administered at Ann & Robert H. Lurie Children's Hospital of Chicago.

Robert Kalb: "We are basically curing or having a huge impact on children and infants with spinal muscular atrophy. So, this is a template. This is a pathway I know works. Identify the mutant gene, devise therapies that use antisense oligos, give them to patients. The patients will get better. So with that pathway ahead of me, I think that it's overwhelmingly likely that antisense oligos technologies will turn out to be useful for patients with ALS." 

Most people who have ALS have a sporadic form of disease, which means that there's no clear genetic cause. In about 10 or 15 percent of cases there is a single gene, which is mutated, that causes the disease, and it can be passed along in families.

Robert Kalb: "We think that a major problem in ALS is the recognition of damaged proteins and disposal of them. And because this disposal process, or the recognition and the disposal process, is impaired, what ends up happening is an accumulation of damaged proteins and cells don't like that. Cells are very unhappy when misfolded damaged proteins accumulate."

Currently, part of the research in Kalb's lab is focusing on making a drug for treating patients and also working on different aspects of ALS.

Robert Kalb: "I think everybody in the clinic or the physicians, Senda Driss and Mike Li and Teepu Siddique and myself and Robert Sufit, I think we're all very committed to taking care of the patients and going long hanging in there and willingness to see it through to the end and that's my goal is to get to the end, to put myself out of business."
Read more about Kalb's work.
Subscribe to Feinberg School of Medicine podcasts here:
Continuing Medical Education Credit
Physicians who listen to this podcast may claim continuing medical education credit after listening to an episode of this program.
Target Audience
Academic/Research, Multiple specialties
Learning Objectives
At the conclusion of this activity, participants will be able to:
Identify the research interests and initiatives of Feinberg faculty.
Discuss new updates in clinical and translational research.
Accreditation Statement
The Northwestern University Feinberg School of Medicine is accredited by the Accreditation Council for Continuing Medical Education (ACCME) to provide continuing medical education for physicians.
Credit Designation Statement
The Northwestern University Feinberg School of Medicine designates this Enduring Material for a maximum of 0.5 AMA PRA Category 1 Credit(s)™. Physicians should claim only the credit commensurate with the extent of their participation in the activity.
Disclosure Statement
Robert Kalb, MD, has nothing to disclose. Course director, Robert Rosa, MD, has nothing disclosure. Planning committee member, Erin Spain, has nothing to disclose. Feinberg School of Medicine's CME Leadership and Staff have nothing to disclose: Clara J. Schroedl, MD, Medical Director of CME, Sheryl Corey, Manager of CME, Jennifer Banys, Senior Program Administrator, Allison McCollum, Senior Program Coordinator, and Rhea Alexis Banks, Administrative Assistant 2.
Claim your credit