Wearable Technology in Medicine with John A. Rogers, PhD
John A. Rogers, PhD, has created a fleet of wireless, wearable devices that have the potential to change the way physicians collect data and treat patients, from NICU preemies to stroke patients in recovery.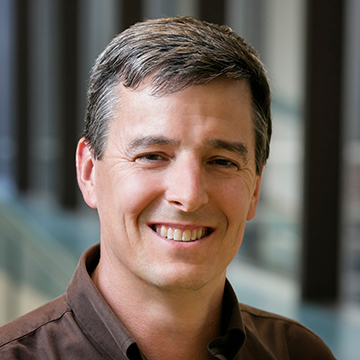 "We can do real-time biomarker analysis of sweat, we have devices that can measure ambient conditions, pollution levels, UV exposure levels and so on. It's a platform and we take it in different directions. Typically, identifying unmet clinical needs in close collaboration with folks at Feinberg."
— John A. Rogers, PhD
Professor of McCormick School of Engineering and Neurological Surgery

Episode Summary
Rogers' wearable devices can take measurements far beyond those made by an Apple Watch or FitBit.
John Rogers: "The electronics modules in those kinds of wearables are basically rigid, planar blocks of electronics. And it's great for a lot of things, but it rattles around in a loosely coupled fashion to the wrist or sometimes the chest, and the absence of that intimate interface really only allows you to make measurements of things like steps or activity level, a rough approximation of heart rate. But it can't allow you to capture electrocardiograms for example."
His wireless devices use new electronic materials and biosensors that are naturally compatible with the skin.
John Rogers: "What we're trying to do is reproduce electronic function in a platform that's reminiscent of a children's temporary tattoo. We feel that kind of technology represents the optimal way to integrate devices with the skin, in a way that's essentially imperceptible, because the technology adopts the physical characteristics of the skin itself. That provides a continuous intimate interface to the skin such that you can use the skin itself as a window into making all of these sort of clinical grade measurements of health status."
The devices send results to specially designed apps on smart phones and tablets, using the same kind of wireless capability present in all smartphones.
John Rogers: "The devices themselves, they don't have switches or displays or there anything else. Everything is happening in a virtual mode through, through an app typically running on a tablet or a smartphone....one thing that is important is working directly with the patients and with physicians, to understand what kind of interface is most valuable, what kind of information is superfluous, what kind of information is critical, how should that be presented to the individual?"
Doctors and scientists at the Ann and Robert H. Lurie Children's Hospital of Chicago are using his devices to aid preemies and critically ill babies in NICU, replacing the wires and taped on sensors used to monitor vital signs with small, wireless, skin-like patches. The wireless technology allows easier access to holding and caring for the infants.
John Rogers: "We are in the NICU and a regular basis these days, working with about two babies a week, validating the technology, comparing the data streams that we can capture against those that are being recorded with the old technology approach. And it looks very, very promising. Everything works extremely well. I think the parents are happy."
Shirley Ryan AbilityLab scientists and physicians are using Rogers' technology to address challenges around rehabilitation of patients who have suffered from a stroke.
John Rogers: "One type of device that we've designed to integrate with the throat. It actually mounts on a very special part of the body known as the suprasternal notch. It's sort of a soft tissue region just above the collar bone. And, that location was identified to us as important for stroke patients because a device placed at that position can be used to monitor the mechanical acoustic characteristics of speech and swallowing."
The technology for another device he's created, a tiny UV sensor that can be applied to fingernails or on clothing, to detect overexposure to sun. The device is being studied by June K Robinson, MD, a Northwestern Medicine skin cancer expert and the technology has been acquired by L'Oréal for mass production.
John Rogers: "We've tailored an app to extract information (from the UV device), then present it to the user in a way that's most impactful. Dr. Robinson has designed an hour glass to graphically represent the dose that you received up to a particular point and how much additional UV you can you can tolerate before, before it becomes problematic."
Subscribe to Feinberg School of Medicine podcasts on iTunes or SoundCloud.
Recorded on June 25, 2018.
This podcast episode is not eligible for AMA PRA Category 1 Credit(s)™.