New Ways to Diagnose Sleep and Circadian Rhythm Disorders with Phyllis Zee, MD, PhD
A new blood test developed at Northwestern has the potential to advance treatments of a variety of disorders and diseases. Phyllis Zee, MD, PhD, explains the test, which can reveal if an individual's circadian clock is running too fast or too slow and how circadian clocks impact far more than sleep.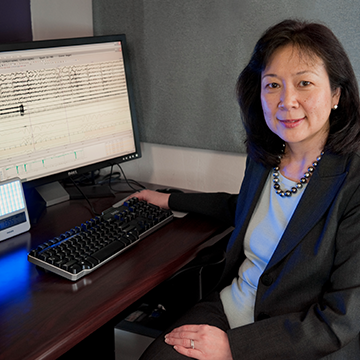 "Time signature, which is a blood test, is really a major breakthrough for my field and perhaps the first type of blood test that will have implications for how we treat and identify patients with sleep and circadian disorders."
Chief of Sleep Medicine in the Department of Neurology

Benjamin and Virginia T. Boshes Professor of Neurology

Director, Center for Circadian and Sleep Medicine
Episode Summary
About 70 million Americans suffer from sleep problems such as sleep apnea, insomnia and restless leg syndrome. But physicians often miss circadian rhythm sleep-wake disorders.

Phyllis Zee: "They present like somebody who may have insomnia or somebody who may have what we call hypersomnia, excessive daytime sleepiness, but it's actually due to an alteration or pathology in the circadian clock system."

Everyone has an internal clock that produces circadian rhythms, intrinsic rhythms that keep a time of approximately 24 hours. They're not driven by light-dark cycles; instead, these rhythms are generated at a molecular level. This circadian clock system exists in every single cell of the human body and is regulated by a core clock genetic mechanism. There are also more than 10 "clock genes" that reside in the nucleus of cells and produce proteins that determine whether you are a "night owl" or "morning lark."

Phyllis Zee: "How quickly these proteins get degradated in the cytoplasm determines whether you're going to be an owl or a lark. So if you're an owl, it is because your clock genetic system is taking a little slower than the 24-hour cycle. If you're a lark (your clock) is probably going a little faster. That's why larks wake up early, because they finished that circadian cycle, that molecular circadian cycle, a little faster than the rotation of the earth on its axis around the sun."

Northwestern Medicine is home to the first circadian medicine clinic in the country. People come from around the world for treatment. Typical patients are younger adults who have had problems sleeping since their teenage years. Many cannot fall asleep until after 2 a.m. They can't wake up in time for school or work and many end up being diagnosed with mental health issues such as depression or anxiety. After a diagnosis, patients can be treated successfully with melatonin and blue light therapy.

Phyllis Zee: "I actually see physiology in play and I can say, 'I think your melatonin rhythm is going to be at 4 a.m. instead of 9 p.m. Let's sample this. Let's take a look at this!' … you feel like every day you're discovering something."
Zee was part of a Northwestern team that recently developed the first simple blood test to identify individuals' precise internal clock times as compared to external time. The test, Time Signature, requires only two blood draws. Previously, measurements this precise could only be achieved through a costly and laborious process of taking samples every hour over a span of multiple hours.

Phyllis Zee: "This is a first step towards providing what I call a biomarker, a time based biomarker, for circadian timing, and it isn't just for sleep."

The blood test could advance personalized medicine and help physicians determine the best time of the day for a person to take certain medications, such as blood pressure medication, and other medications that target "clock genes."  

Phyllis Zee: "We can maximize not just the effectiveness, but also decrease the side effects of medications."

The recent publication about Time Signature test is a a proof of concept, to show that it works, Zee says. The study was done in healthy young people; next it will move into patient populations.

Rosemary Braun, PhD, MPH, assistant professor of Preventive Medicine in the Division of Biostatistics was the lead author of the study and Ravi Allada, MD, professor of Neurobiology at Northwestern's Weinberg College of Arts and Sciences and of Pathology at Feinberg, was a co-author. The study was published in the journal PNAS. Read more about the study. 

Subscribe to Feinberg School of Medicine podcasts here:
Continuing Medical Education Credit
Physicians who listen to this podcast may claim continuing medical education credit after listening to an episode of this program.
Target Audience
Academic/Research, Multiple specialties
Learning Objectives
At the conclusion of this activity, participants will be able to:
Identify the research interests and initiatives of Feinberg faculty.
Discuss new updates in clinical and translational research.
Accreditation Statement
The Northwestern University Feinberg School of Medicine is accredited by the Accreditation Council for Continuing Medical Education (ACCME) to provide continuing medical education for physicians.
Credit Designation Statement
The Northwestern University Feinberg School of Medicine designates this Enduring Material for a maximum of 0.5 AMA PRA Category 1 Credit(s)™. Physicians should claim only the credit commensurate with the extent of their participation in the activity.
Disclosure Statement
Phyllis Zee, MD, PhD, has nothing to disclose. Course director, Robert Rosa, MD, has nothing disclosure. Planning committee member, Erin Spain, has nothing to disclose. Feinberg School of Medicine's CME Leadership and Staff have nothing to disclose: Clara J. Schroedl, MD, Medical Director of CME, Sheryl Corey, Manager of CME, Jennifer Banys, Senior Program Administrator, Allison McCollum, Senior Program Coordinator, and Rhea Alexis Banks, Administrative Assistant 2.
Claim your credit