Serious Eczema Symptoms Beyond the Skin with Jonathan Silverberg, MD, PhD, MPH
The health issues facing people with severe eczema are not only skin-deep. Aside from intense itching and dry, irritable skin, people with a type of eczema known as atopic dermatitis also have significantly higher rates of medical and mental health issues. Why does atopic dermatitis come with so many other health issues, and what can be done to give patients relief? Northwestern's Jonathan Silverberg, MD, PhD, MPH, explains.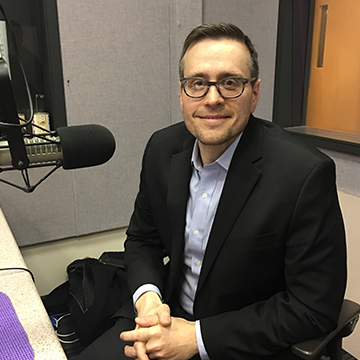 Episode Summary
Jonathan Silverberg, MD, PhD, MPH, studies eczema and treats some of the toughest cases at Northwestern Medicine's Multidisciplinary Eczema Center. He is an associate professor of dermatology at Northwestern and has recently published a study in the British Journal of Dermatology that shows half of all adults with atopic dermatitis (severe form of eczema) experience anxiety or depression.
Jonathan Silverberg: "Pretty much all patients had some symptoms of depression and anxiety, and the more severe their eczema, the stronger those symptoms were. It actually got to the point where patients who had severe eczema, when you looked at like combinations of a bunch of different endpoints, 100 percent of them had abnormal depression and anxiety scores."
Silverberg says the finding is reflective of what he sees clinically. Patients with severe atopic dermatitis often feel inundated with symptoms such as pain and itchiness, which leads to lack of sleep.
Jonathan Silverberg: "When patients ... don't sleep well, there's impact in terms of workplace productivity, there's impacts on mood and mental health symptoms."
Because mental health issues are not commonly talked about as a symptom of eczema, many patients with anxiety or depression may also feel isolated. Silverberg hopes this new study will help confirm that mental health is a recognized issue for people with eczema.
Jonathan Silverberg: "Many of these (mental health) symptoms will actually be improved by the dermatologist if the dermatologist is really achieving tighter control of the eczema, and that's an area that we still need some more research on. I kind of look at this as part and parcel of managing the skin disease in a multidisciplinary care setting."
New treatments are showing great success in the clinic, and Silverberg says the next 10 years will be known as the "decade of eczema" in the dermatology community.
Jonathan Silverberg: "The last decade [was] ''the decade of psoriasis,' and we've had a lot of improvements there, but now there's just been this renaissance of research and clinical investigation and treatment for eczema patients, and I think for those patients out there listening, it's an exciting time and a time when you can really have hope that some really cool new options will be coming soon."
Subscribe to Feinberg School of Medicine podcasts here:
Continuing Medical Education Credit
Physicians who listen to this podcast may claim continuing medical education credit after listening to an episode of this program.
Target Audience
Academic/Research, Multiple specialties
Learning Objectives
At the conclusion of this activity, participants will be able to:
Identify the research interests and initiatives of Feinberg faculty.
Discuss new updates in clinical and translational research.
Accreditation Statement
The Northwestern University Feinberg School of Medicine is accredited by the Accreditation Council for Continuing Medical Education (ACCME) to provide continuing medical education for physicians.
Credit Designation Statement
The Northwestern University Feinberg School of Medicine designates this Enduring Material for a maximum of 0.5 AMA PRA Category 1 Credit(s)™. Physicians should claim only the credit commensurate with the extent of their participation in the activity.
Disclosure Statement
Jonathan Silverberg, MD, PhD, MPH, disclosed external professional relationships (consulting, speaking or contracted research) with Abbvie, AnaptysBio, Asana, Arena, Boehringer-Ingelheim, Dermavant, Eli Lilly, Galderma, GlaxoSmithKline, Glenmark, Regeneron-Sanofi. Course director, Robert Rosa, MD, has nothing disclosure. Planning committee member, Erin Spain, has nothing to disclose. Feinberg School of Medicine's CME Leadership and Staff have nothing to disclose: Clara J. Schroedl, MD, Medical Director of CME, Sheryl Corey, Manager of CME, Jennifer Banys, Senior Program Administrator, Allison McCollum, Senior Program Coordinator, and Rhea Alexis Banks, Administrative Assistant 2.
Claim your credit