Eyes May Reveal Risk of Alzheimer's Disease with Amani Fawzi, MD
A new approach from the field of ophthalmology shows promise in detecting non-invasive biomarkers of mild cognitive impairment, the precursor to Alzheimer's disease. Northwestern's Amani Fawzi, MD, explains.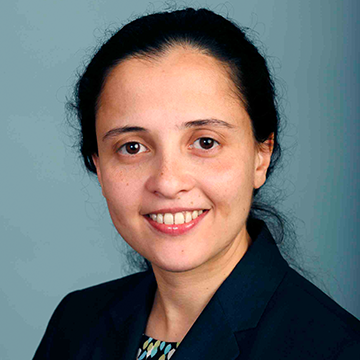 "I see the potential for the eye to provide this extra layer to diagnosing something so complex and so daunting, with a simple test. If the eye becomes part of (Alzheimer's disease risk assessment), I'm hoping that will really enhance the ability to detect these high-risk subjects and allow them to be treated earlier."
— Amani Fawzi, MD
Cyrus Tang and Lee Jampol Professor of Ophthalmology
Episode Summary
They say the eyes are windows to the soul, but with new infrared camera technology (OCT angiography), the eyes also serve as windows into the brain. In a paper published in PLOS ONE, Northwestern scientists detail a noninvasive approach that detects blood capillary changes in the eyes of people with mild cognitive impairment. These changes in the eye may be early noninvasive biomarkers of Alzheimer's disease.
Amani Fawzi: "We found that the subjects that have this mild cognitive impairment have lost a lot of their capillaries and the blood flow had decreased around their central vision. And this wouldn't be something that they notice in every day as vision loss because it's very subtle. These are microscopic changes. So they won't be suffering with vision loss. They're all 20/20, and healthy eyes otherwise, but very subtle changes in the back of the eye. And you would never have been able to discover this without this technology."
Fawzi hopes other scientists will replicate this approach. If validated, it could potentially provide an additional type of biomarker to identify individuals at high risk of progressing to Alzheimer's.
Amani Fawzi: "I see the potential for the eye to provide this extra layer of being able to diagnose something so complex and so daunting, with a simple test."
Individuals identified with this biomarker can then be followed more closely and could be prime candidates for new therapies aimed at slowing down the progression of the disease or preventing the onset of the dementia associated with Alzheimer's. Therapies for Alzheimer's are more effective if they are started before extensive brain damage and cognitive decline have occurred.
Amani Fawzi: "All the clinical trials in Alzheimer's now have either failed caused worsening of the disease because they were started so late when, when you've already developed dementia. So the hope is by taking the treatment to ... the earlier stages, the disease will be cured one day."
Subscribe to Feinberg School of Medicine podcasts here:
Continuing Medical Education Credit
Physicians who listen to this podcast may claim continuing medical education credit after listening to an episode of this program.
Target Audience
Academic/Research, Multiple specialties
Learning Objectives
At the conclusion of this activity, participants will be able to:
Identify the research interests and initiatives of Feinberg faculty.
Discuss new updates in clinical and translational research.
Accreditation Statement
The Northwestern University Feinberg School of Medicine is accredited by the Accreditation Council for Continuing Medical Education (ACCME) to provide continuing medical education for physicians.
Credit Designation Statement
The Northwestern University Feinberg School of Medicine designates this Enduring Material for a maximum of 0.5 AMA PRA Category 1 Credit(s)™. Physicians should claim only the credit commensurate with the extent of their participation in the activity.
Disclosure Statement
Amani Fawzi, MD, has nothing to disclose. Course director, Robert Rosa, MD, has nothing to disclose. Planning committee member, Erin Spain, has nothing to disclose. Feinberg School of Medicine's CME Leadership and Staff have nothing to disclose: Clara J. Schroedl, MD, Medical Director of CME, Sheryl Corey, Manager of CME, Jennifer Banys, Senior Program Administrator, Allison McCollum, Senior Program Coordinator, and Rhea Alexis Banks, Administrative Assistant 2.
Claim your credit