Our program offers assistance to faculty experiencing difficulties stemming from stress, mental health concerns, substance abuse or other personal issues.
Feinberg administration recognizes that many stressors are present in any workplace and wants to ensure that assistance is available for those in need. A crucial element to this approach is early identification of problems so that they can be resolved quickly and, in doing so, minimize their impact on one's personal and professional life. The overarching goal of the program is to help faculty be successful in their professional lives at Northwestern University.
Contact Us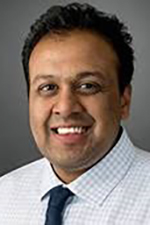 Gaurava Agarwal, MD, director of the Faculty Wellness Program, is a psychiatrist and certified leadership, organizational and well-being coach who specializes in occupational and organizational psychiatry with an emphasis on workplace mental health. He also serves as associate professor of Psychiatry and Behavioral Sciences and of Medical Education at Feinberg and director of Physician Well-Being for Northwestern Medicine Medical Groups.
Dr. Agarwal will provide initial consultation and help provide referrals as needed to appropriate services within or outside the Northwestern system. To learn more, download our brochure. To get in touch, you may contact Dr. Agarwal at gagarwal@nm.org.