Jen Brown Appointed to National Research Institute's Advisory Panel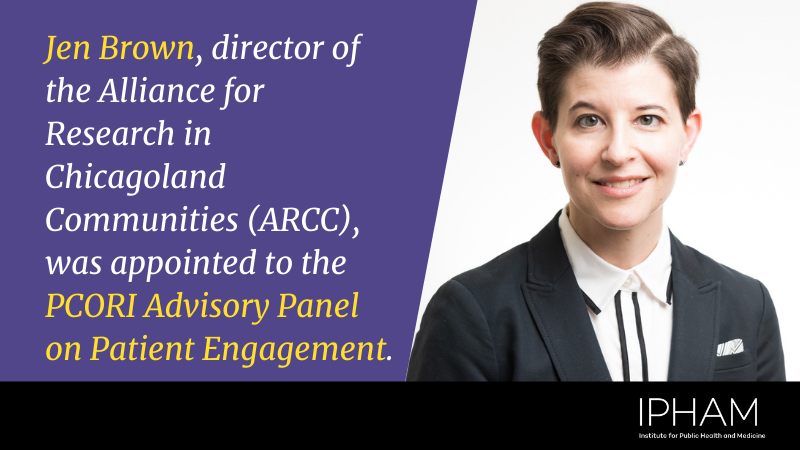 October 4, 2021
Jen Brown, MPH, director of the Alliance for Research in Chicagoland Communities (ARCC), has been appointed by the Patient-Centered Outcomes Research Institute (PCORI) as a member of its Advisory Panel on Patient Engagement. 
Brown will join other members of the panel in applying her experience and expertise to helping PCORI refine and prioritize the research it funds. She will also ensure that the research PCORI supports centers on the outcomes that matter to patients and other healthcare decision makers. PCORI is an independent, nonprofit organization authorized by Congress to fund research that will provide patients, their caregivers and clinicians with the evidence-based information needed to make better-informed healthcare decisions.
Brown was selected on the basis of her experience, expertise and ability to contribute to the panel's mission. Panel members represent a broad range of healthcare stakeholder groups and perspectives, including patients, family caregivers, clinicians, drug and device makers and researchers, among others.
Brown is the co-director/co-founder or the Alliance for Research in Chicagoland Communities (ARCC). ARCC was established in 2008 and supports authentic community-academic research partnerships between Chicagoland communities and Northwestern University that benefit the people being researched and improve health and equity. ARCC advocates for a collaborative approach to research that honors, is driven by, and shares power with communities, as local, cultural, and lived experience experts. Guided by a Steering Committee of Chicagoland community- and faith-based organizations, public agencies and Northwestern scientists, ARCC supports community-academic research partnerships by providing partnership facilitation, capacity-building resources and technical assistance, seed grants, monthly information and resource updates, and advocacy for supportive structural and institutional systems and policies in the research enterprise. ARCC is a program of the Center for Community Health (CCH) and serves Northwestern's Institute for Public Health & Medicine (IPHAM) and the Northwestern University Clinical & Translational Sciences Institute (NUCATS). 
More information about the Advisory Panel on Patient Engagement, including its scope of work and a list of all members, is available on the PCORI website: http://bit.ly/1thgoss.