Wearable Device to Monitor COVID-19 Symptoms with John A. Rogers, PhD
Monitoring patients and frontline health care workers for symptoms of COVID-19 could get much easier with a small wireless sensor developed by scientists at Northwestern and the Shirley Ryan AbilityLab. Northwestern's John A. Rogers, PhD, explains.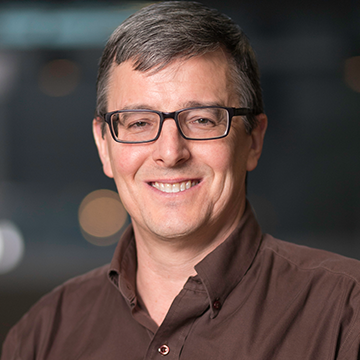 "This opportunity was brought to us. As engineers we don't want to be in a position where we're pushing technology on people, but if physicians come to us and they say that they need these monitoring capabilities, then we go into our toolbox and see what we can do to help them with that."
Louis Simpson and Kimberly Querrey Professor of Materials Science and Engineering, Biomedical Engineering, McCormick School of Engineering
Professor of Neurological Surgery
Center for Arrhythmia Research
Institute for Innovations in Developmental Sciences
Skin Biology and Diseases Resource-Based Center
Episode Notes
In the weeks after the COVID-19 pandemic was declared, physicians realized the need for technology to monitor symptoms of the disease in sick patients and in healthcare workers on the frontline, who are at risk of contracting the virus.
Scientists at Northwestern University and Shirley Ryan AbilityLab responded to this call and developed a novel wearable device and a set of data algorithms tailored to catch early signs and symptoms associated with COVID-19 and to monitor patients as the illness progresses. The device is the size of a postage stamp. It is soft, flexible, wireless and sits just below the suprasternal notch, the visible dip at the base of the throat.
John A. Rogers, PhD, is leading this work, using wireless technology similar to what his team developed to monitor NICU babies and people recovering from stroke. His team is manufacturing the devices in the Simpson Querrey Biomedical Research Building on the Chicago campus. They have deployed 25 devices so far and hope to produce hundreds more. 
Additional Reading: 
Read the press release about this device and how it is being used at the AbilityLab and Northwestern Medicine.
Read more about Rogers's sensors used in the NICU in a paper published in Science.
Subscribe to Feinberg School of Medicine podcasts here:
iTunes 
SoundCloud
Spotify
Google Play Music
Recorded on: May 4, 2020
This podcast episode is not eligible for AMA PRA Category 1 Credit(s)™.