Kidneys, COVID-19 and ACE2 Connection with Daniel Batlle, MD
Daniel Batlle, MD, professor of medicine in the Division of Nephrology and Hypertension at Northwestern, has been studying ACE2 and its potential therapeutic uses for many years. When the pandemic began, he proposed a hypothesis that soluble ACE2 could treat the SARS-CoV-2 virus and lead to survival and full recovery, and now he has some exciting preliminary results.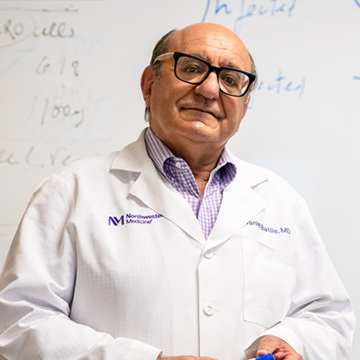 "What we have theoretically, in my opinion, is the very best you can offer (for treatment of COVID-19) and again, it is limited to the results and experience with the animals that we were able to infect recently."
Episode Notes
Daniel Batlle, MD, was one of a handful of scientists studying and publishing about ACE2 
(angiotensin converting enzyme-2), specifically for potential treatment of kidney disease, until early 2020. Since the onset of the pandemic,
 there has been an explosion of papers involving ACE2 as scientists around the world try to better understand the relationship between ACE2 receptors and COVID-19, because the virus enters cells in the body by attaching to these receptors. In this episode, Batlle explains how his lab's recent work could offer a new avenue to develop effective COVID-19 treatments. 
Other topics covered:
A nephrologist, Batlle explains how COVID-19 has damaged patients' kidneys and how many patients with severe COVID-19 develop kidney disease. There is no cure for kidney disease other than supportive care and dialysis. He says it is still unclear how COVID-19 is damaging kidneys. 

The spike of the coronavirus looks for the ACE2 receptor. 

In his lab's study, a novel decoy protein designed by Northwestern Medicine scientists deceived SARS-Cov-2 by intercepting the spike of the coronavirus and rendering it impotent.
Batlle says a recent experiment using the proteins in his lab was "one of these experiences of a lifetime." 

The novel protein significantly reduced lung damage and resulted in only mild symptoms in mice infected with SARS-Cov-2, while untreated animals in this model all succumbed to the infection.

The study is the first proof of concept that a soluble human ACE2 protein is effective in vivo in a preclinical study using an appropriate animal model. The soluble ACE2 protein variant developed by Batlle and his colleagues binds well to the coronavirus and has been enhanced to be effective for days. 
The study is a pre-print, which means the findings should be considered preliminary until it is published in a peer-reviewed journal.
Additional Reading: 
Subscribe to Feinberg School of Medicine podcasts here:
iTunes 
Spotify
Google Play Music
Recorded on March 17, 2021.
Continuing Medical Education Credit
Physicians who listen to this podcast may claim continuing medical education credit after listening to an episode of this program.
Target Audience
Academic/Research, Multiple specialties
Learning Objectives
At the conclusion of this activity, participants will be able to:
Identify the research interests and initiatives of Feinberg faculty.
Discuss new updates in clinical and translational research.
Accreditation Statement
The Northwestern University Feinberg School of Medicine is accredited by the Accreditation Council for Continuing Medical Education (ACCME) to provide continuing medical education for physicians.
Credit Designation Statement
The Northwestern University Feinberg School of Medicine designates this Enduring Material for a maximum of 0.50 AMA PRA Category 1 Credit(s)™. Physicians should claim only the credit commensurate with the extent of their participation in the activity.
Disclosure Statement
Daniel Batlle, MD, receives a consulting fee from Relypsa and Tricida. Batlle also receives grant support from AstraZeneca and is the co-inventor of three patents at Angiotensin Therapeutics Inc. Course director, Robert Rosa, MD, has nothing to disclose. Planning committee member, Erin Spain, has nothing to disclose. Feinberg School of Medicine's CME Leadership and Staff have nothing to disclose: Clara J. Schroedl, MD, Medical Director of CME, Sheryl Corey, Manager of CME, Allison McCollum, Senior Program Coordinator, Katie Daley, Senior Program Coordinator, and Rhea Alexis Banks, Administrative Assistant 2.
Claim your credit