Can Exercise Slow Parkinson's Disease Progression? with Daniel Corcos, PhD
A $30 million dollar, phase 3 clinical trial at Northwestern is set to investigate whether exercise can slow Parkinson's disease progression. Daniel Corcos, PhD, a professor of Physical Therapy and Human Movement Sciences, is leading the trial and explains what he hopes to accomplish.
"The question we want to answer is whether there is a benefit to exercising at the higher intensity in terms of slowing down the rate at which (Parkinson's) disease progresses. No drug has been shown to slow down the rate at which the disease progresses."
Professor of Physical Therapy and Human Movement Sciences
Principal Investigator of SPARX3 (NCT04284436) study
Member of Northwestern University Clinical and Translational Sciences Institute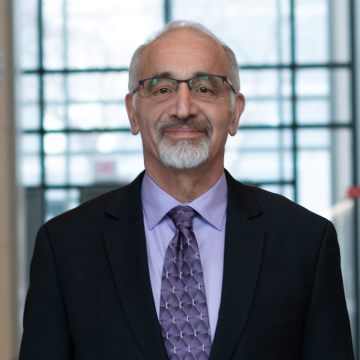 Episode Notes
Parkinson's disease is the second most prevalent neurodegenerative disease behind Alzheimer's disease. Nearly one million people have Parkinson's disease in the U.S., and 60,000 people are newly diagnosed each year.
The disease signs and symptoms include progressive loss of muscle control, trembling, stiffness, slowness and impaired balance. As the disease progresses, it may become difficult to walk, talk and complete simple tasks. Most people who develop Parkinson's are 60 and older.
A phase 2 clinical trial, led by Daniel Corcos, PhD, found endurance exercise is a safe and important treatment for people with Parkinson's disease. But is high-intensity or moderate-intensity exercise the most effective in slowing the progression of the disease?
A new phase 3, multi-site clinical research trial from Northwestern Medicine will test if high-intensity treadmill exercise is more effective in decreasing the signs of Parkinson's disease in individuals who have not initiated medication for Parkinson's. In this study, high-intensity exercise means that the heart is beating at 80 to 85 percent of its maximum for a 30-minute period, four times a week. 
The study is going to be conducted over two years. Over the first 18 months, participants will be tightly supervised and supported by study teams. The investigators will then follow participants for six additional months to see how well they continue to exercise on their own. 
This is the first time high-intensity endurance exercise is being studied across a large number of sites in both the U.S. and Canada and in a diverse population. Find out more about the study and the study site locations.
Additional Reading:
Read about the results of the phase 2 SPARX trial published in JAMA Neurology

Find out more about Parkinson's in a paper published in The Lancet
Subscribe to Feinberg School of Medicine podcasts here:
iTunes 
SoundCloud
Spotify
Google Play Music
Originally released on November 13, 2020.
Re-released on February 6, 2023.
Continuing Medical Education Credit
Physicians who listen to this podcast may claim continuing medical education credit after listening to an episode of this program.
Target Audience
Academic/Research, Multiple specialties
Learning Objectives
At the conclusion of this activity, participants will be able to:
Identify the research interests and initiatives of Feinberg faculty.
Discuss new updates in clinical and translational research.
Accreditation Statement
The Northwestern University Feinberg School of Medicine is accredited by the Accreditation Council for Continuing Medical Education (ACCME) to provide continuing medical education for physicians.
Credit Designation Statement
The Northwestern University Feinberg School of Medicine designates this Enduring Material for a maximum of 0.50 AMA PRA Category 1 Credit(s)™. Physicians should claim only the credit commensurate with the extent of their participation in the activity.
Disclosure Statement
Daniel Corcos, PhD, has nothing to disclose. Course director, Robert Rosa, MD, has nothing to disclose. Planning committee member, Erin Spain, has nothing to disclose. Feinberg School of Medicine's CME Leadership and Staff have nothing to disclose: Clara J. Schroedl, MD, Medical Director of CME, Sheryl Corey, Manager of CME, Allison McCollum, Senior Program Coordinator, Katie Daley, Senior Program Coordinator and Rhea Alexis Banks, Administrative Assistant 2.
Claim your credit