Artificial Intelligence and Medicine with Mozziyar Etemadi, MD, PhD
Mozziyar Etemadi, MD, PhD, a research assistant professor in Anesthesiology and Biomedical Engineering, is leading deep learning projects in his lab at Northwestern. He talks about a collaboration between Northwestern and Google that uses a deep learning system to predict lung cancer.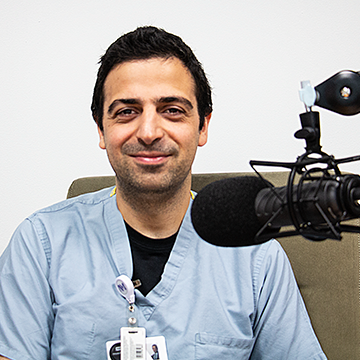 "I think, contrary to what it may seem, these AI (artificial intelligence) tools are going make doctors (better) doctors and make computers help us, as opposed to standing in our way."
— Mozziyar Etemadi, MD, PhD
Research Assistant Professor in the Department of Anesthesiology

Research Assistant Professor of Biomedical Engineering, Northwestern Engineering


Episode Summary
Mozziyar (Mozzi) Etemadi, MD, PhD, grew up near the Northwestern University football stadium and formed his path to biomedical engineering in his Evanston neighborhood. He and a childhood friend who is now a scientific collaborator spent time going through neighborhood dumpsters to find discarded electronics and gadgets.
Mozzi Etemadi: "We would take them apart, put them back together and fix this stuff. It was a lot of fun. People throw away a lot of nice things there."
Now, Etemadi, who is a research assistant professor at both Feinberg and Northwestern Engineering, runs a lab at Northwestern, nestled inside a hospital building on the Northwestern Medicine Chicago campus. 
Mozzi Etemadi: "Northwestern is very unique in that they allowed me to put engineers a couple inches away from patient care. The room that we work in is right next to where patient care is happening. So that really allows for fluid interactions between healthcare providers of all levels."
Etemadi, who is also completing a residency in anesthesiology at Northwestern, recently published a paper in Nature Medicine about a project with Google that focused on deep learning, a form of artificial intelligence (AI). This Google deep-learning system was able to detect malignant lung nodules on low-dose chest computed tomography scans with a performance meeting or exceeding that of expert radiologists.
Mozzi Etemadi: "Many folks have asked me, 'Oh, like is this taking away radiologist?' or 'Are we all being replaced by robots?' And I think this project actually highlights specifically why that's not the case. The computer model can see very nuanced patterns that really are not visible to the human eye. But in all studies in the past where a similar thing has been created, where there are these slight patterns being seen by the computer that can't be seen by the human, when you put that computer program together with the human, they together outperform either the human by itself or the computer by itself. We now have this computer system can detect these cancers very early. But imagine what we can do now if we combine the human back together with the system, maybe it'll work even better."
Ultimately, the goal of integrating AI into medicine is to help doctors spend more time with patients, Etemadi says.
Mozzi Etemadi: "We spend so much time in our electronic medical record, and we spend a lot of time on relatively routine diagnostic activities. If there's a way that a computer can do some of this stuff automatically and even more accurately than a human, then we can focus on, I think, the two most important things, which the computer will never be able to do."
Those things, Etemadi says, are focusing on tough, nuanced patient cases and spending more time talking with their patients.
Mozzi Etemadi: "I think that's why most of us went into one into healthcare. So, contrary to what it may seem, these AI tools are going make doctors (better) doctors and make computers help us as opposed to standing in our way."
Etemadi is continuing the project with Google. Their next step is to identify the exact workflow and customize and build software to allow the groundbreaking Google algorithm to be used to fit the workflow.
As a medical and graduate student, Etemadi established a collaborative research program creating novel wireless clinical sensing devices. Over five years, the program created more than 10 medical devices and trained over 20 medical and graduate students. He directly oversaw three Phase I patient trials of novel devices and participated in development of three now FDA-cleared devices. From wearables to pulling data from electronic medical records, he plans to continue using his lab at Northwestern to find more ways to integrate technology and AI into patient care. 
Mozzi Etemadi: "I think this is a great place and that we're able to bring some of the best people (here) and bring them right into the environment and see the problems to solve and then actually solve them." 
Subscribe to Feinberg School of Medicine podcasts here:
Continuing Medical Education Credit
Physicians who listen to this podcast may claim continuing medical education credit after listening to an episode of this program.
Target Audience
Academic/Research, Multiple specialties
Learning Objectives
At the conclusion of this activity, participants will be able to:
Identify the research interests and initiatives of Feinberg faculty.
Discuss new updates in clinical and translational research.
Accreditation Statement
The Northwestern University Feinberg School of Medicine is accredited by the Accreditation Council for Continuing Medical Education (ACCME) to provide continuing medical education for physicians.
Credit Designation Statement
The Northwestern University Feinberg School of Medicine designates this Enduring Material for a maximum of 0.5 AMA PRA Category 1 Credit(s)™. Physicians should claim only the credit commensurate with the extent of their participation in the activity.
Disclosure Statement
Mozziyar Etemadi, MD, PhD, has nothing to disclose. Course director, Robert Rosa, MD, has nothing to disclose. Planning committee member, Erin Spain, has nothing to disclose. Feinberg School of Medicine's CME Leadership and Staff have nothing to disclose: Clara J. Schroedl, MD, Medical Director of CME, Sheryl Corey, Manager of CME, Jennifer Banys, Senior Program Administrator, Allison McCollum, Senior Program Coordinator, and Rhea Alexis Banks, Administrative Assistant 2.
Claim your credit